United Kingdom Shakespeare's A Midsummer Night's Dream (from the Watermill Theatre and directed by Paul Hart): Wilton's Music Hall, London, 29.1.2020. (JB)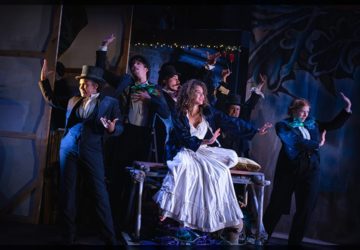 Production:
Director – Paul Hart
Designer – Katie Lias
Movement director – Tom Jackson Greaves
Lighting designer – Tom White
Sound designer – David Gregory
Video Projection designer – Louise Rhoades-Brown
Musical director – Joey Hickman
Magic consultants – Katherine Mills and Simon Slater
Cast:
Puck – Molly Chesworth
Bottom – Lauryn Redding
Theseus – Tom Sowinski
Hermia – Lucy Keirl
Lysander – Billy Postlethwaite
Demetrius – Mike Slader
Tatiana / Hippolyta – Emma McDonald
Oberon – Jamie Satterthwaite
Quince – Peter Mooney
Helena – Robyn Sinclair
Aristophanes was the first to establish theatrical comedy, only a decade or so after its more respectable sister, tragedy. His comedies continue to be performed today, largely by public school boys (which comically means private school boys in England) where they still teach ancient Greek. Ralph Vaughan Williams wrote his overture to The Wasps for such a school. These comedies were hugely popular with Athenian audiences (and eventually with English ones) largely because of their bawdiness and lavatorial humour. But those old spoilsports, the Victorians, were not amused and banned the plays unless they were rewritten with 'proper decorum'. That might have been the death of them except for the likes of W S Gilbert who based two of his plots for Sullivan (The Pirates of Penzance and The Gondoliers ) on Aristophanes's plots, as did RVW when he wrote his overture to The Wasps. The history of comedy is richly comic itself.
The Watermill Theatre live and work together as an ensemble theatre in a converted watermill in rural Berkshire with Arts Council, England support. On this visit to Wilton's Music Hall they return with Macbeth as well as A Midsummer Night's Dream, both previously seen at the venue in 2018 and 2019. I wasn't able to get to Macbeth on their present visit or previously.
Audiences in Elizabethan England loved bawdiness and William Shakespeare duly catered for it. His comedies today can often fall as flat as beer left out in the sun.  So the answer is to evoke comedy's younger son, mischief. Come hither gentle Puck! And stand up straight that changeling boy!
When asked about Shakespeare by an Italian journalist, Lindsay Kemp famously replied, well it's all right but there are too many words. Dead right he was too. Lindsay's A Midsummer Night's Dream was a masterpiece of mime, song and dance incorporating Mendelssohn's incidental music, played live within those three arts.
Mime, song and dance, please note, are Watermill Theatre's greatest strengths too. The trouble with what I saw was they made precious few appearances in the show. Still, those rare moments when they engage with their strengths are a joy.
Has no one told Paul Hart that Benjamin Britten made a whole opera of AMND, delightful from start to finish? Mr Hart requires his actors to grapple with words which they blatantly do not understand. They bark out the words, sounding like a dog that has been tied up for the night. Emma McDonald (Titania) was the worst offender. You could hear her hating every minute of her delivery. That may be judged comic by some. Not by me. You cannot pastiche what is already a pastiche. Jamie Satterthwaite (Oberon) alone had the rhythms and nuances right for the Shakespearean pentameter. Clear and confident, delivered in rich baritone. Mike Slader (Demetrius) came a close second.
Molly Chesworth (Puck) gets the top prize for movement, not just athletic but meaningful, except putting Puck in black evening dress distracts more than it adds to the role. She struggled nobly with this handicap. But struggle is not part of Puck's character. Mischief is. And I left the theatre feeling that Ms Chesworth knew a thing or two about mischief. If only she'd been encouraged to deliver it. And where was the changeling boy? Given their decision to update the play to our own times, this was another sadly missed opportunity. The boy is scarcely mentioned. (Kemp had the boy's appearance accompanied by a Mendelssohn pastorale. And Jack Birkett – known by his stage name as the Incredible Orlando – as Titania.)
Most of the ensemble are gifted singers, contradicting Gilbert's assertion that not a single word is never heard when singers sing in chorus. There was not enough of this. The audience was longing for the show to burst into song and dance, and to abandon the wrestling with an 'obsolete text'. They are also gifted instrumentalists with a more-than-passable flute, two good brass players and a fine percussionist. If music be the food of love, play on said the bard. But tonight this was rarely heeded. Put your courage where your talent is, dear Watermill Theatre. That should be your investment.
My own favourite song was 'Blue Moon' (Rogers and Hart) which could only have been improved by better lighting – a department otherwise well attended to by Tom White. The company have performed at Wilton's before, so have a feel for the place. But where was to invitation to join in the singing? 'Blue Moon' was a missed opportunity there. Along with the missed opportunity to make something meaningful for our own times of the changeling boy.
I see that there are more songs in their Macbeth than their AMND. I cannot begin to conceive where songs might belong in Macbeth unless they are written by Giuseppe Verdi and sung by Maria Callas.
Jack Buckley