Austria Cavalleria rusticana / Pagliacci: Soloists, Chorus and Orchestra of the Vienna State Opera / Marco Armiliato (conductor). 2.11.2020 performance reviewed as a live stream (directed by Ella Gallieni) on 5.11.2020. (JPr)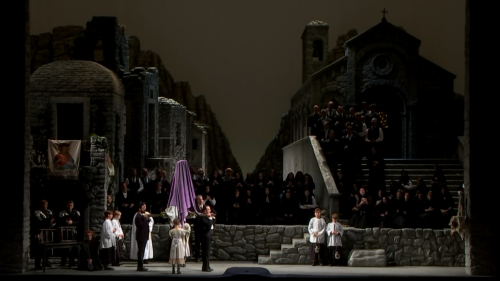 Production:
Director, Set designer, & Costume designer – Jean-Pierre Ponnelle
Revival director (Cavalleria rusticana) – Katharina Strommer
Revival director (Pagliacci) – Alexander Edtbauer
Cavalleria rusticana
Santuzza – Eva-Maria Westbroek
Turiddu – Brian Jagde
Alfio – Ambrogio Maestri
Lucia – Zoryana Kushpler
Lola – Isabel Signoret
Pagliacci
Canio (Pagliaccio) – Roberto Alagna
Nedda (Colombina) – Aleksandra Kurzak
Tonio (Taddeo) – Ambrogio Maestri
Beppo (Arlecchino) – Andrea Giovannini
Silvio – Sergey Kaydalov
Vienna is my spiritual home and it is where my mother was born. I was first taken there over fifty years ago and have been back many times since then. Monday 2 November was the final night at the Vienna State Opera before another temporary closure. This was a consequence of a lockdown imposed by the Austrian government in its further attempts to halt the spread of coronavirus, though sadly that night there was a terrorist attack in the city centre when four innocent victims were killed by a lone gunman and several more injured. Whether any news of this reached those in the opera house I cannot be sure. I send my condolences to a city I love and to those who lost loved ones.
For the remainder of the month that it is shutdown Vienna State Opera offers free streaming of select archive recordings (click here). It was both wonderful and sad – in equal measure in the circumstances – to see and hear this very recent performance of Cav & Pag.
As the close of the nineteenth century, audiences turned their backs on the machinations of Wagner's gods and heroes to embrace post-Verdian verismo and opera plots which reflected real-life happenings. The birth of this movement came with the première of Mascagni's Cavalleria rusticana in Rome on 17 May 1890. It was soon twinned with Leoncavallo's 1892 Pagliacci and together they caused verismo to sweep Europe influencing many diverse art forms. Of course, modern audiences seem to get an overdose of naturalism whenever the houselights dim in a theatre or opera house (remember those pre-Covid days?) and so these operas, with their tales of love triangles and bloody revenge, are often dismissed as just lurid melodramatic potboilers. But what is wrong with that once in a while as these performances prove.
In Cavalleria rusticana ('Rustic chivalry') we discover the soldier Turiddu is sleeping with Lola, the wife of the local cart-driver Alfio, while her husband is away. This makes Santuzza – who he has previously seduced – jealous and she begs Turiddu to give Lola up. When he refuses, she tells Alfio what has been going on and he kills Turiddu in a knife fight. Although we do get one melody over and over again, Mascagni rarely wastes a second of this 75-minute opera and its symphonic beauty possibly makes it 'a conductor's piece'. There is no one better in this Italian repertoire than Marco Armiliato and together with the always excellent Orchestra of the Vienna State Opera they were an unbeatable combination. Cavalleria rusticana ­– and later Pagliacci – was conducted with utmost conviction and emotional intensity. The Intermezzo was understated – and better for it – with the Easter Hymn being sung movingly by the splendidly committed chorus.
Alternatively, Pagliacci ('Clowns') can be considered 'a singer's piece'. This is clear from the moment the hunchback clown Tonio steps from behind the curtain to break the fourth wall and sing the opera's famous prologue 'Si puo?'. He is a member of a travelling commedia dell'arte troupe preparing for an evening performance. Nedda, the beautiful wife of Canio, the troupe's intensely jealous leader, is reunited with her secret lover, Silvio, and they agree to run off together after the performance. Tonio, whose advances Nedda has spurned, overhears their plans, and tells Canio about her infidelity. While they are performing a stage farce – also about a wife's betrayal – which mirrors the offstage love triangle, Canio stabs to death both Nedda and Silvio, who has leapt onstage to save her.
Like Mascagni, Leoncavallo knew exactly how to write a successful opera. In Pagliacci the action of the drama never flags, though it is not to say everything is perfect as it has its faults. The music often recalls other composers – Wagner included – and his emotional gear changes are occasionally over-exaggerated and his orchestration a bit noisy. On the other hand, Leoncavallo's dramatic grip is greater than Mascagni's, as is his power of characterisation. This is something the strong Vienna cast also showed: on this occasion Pagliacci totally eclipsed Cavalleria rusticana, though maybe it always does?
Jean-Pierre Ponnelle's production in his own sets and costumes is now 35 years old and – for me – if it ain't broke don't fix it. It is the monumental type of staging typical (historically?) of Vienna and New York's Met but few other contemporary opera houses. Sicilian mores notwithstanding, the setting of Cavalleria rusticana has been relocated possibly to 1930s' Puglia in southern Italy, because in the valley below the town shown onstage there appeared to be a number of trullis (houses built of stone with conical roofs). That is where we are for Pagliacci with the town now atop a hill in the background crowned by the church that is so prominent for Cavalleria rusticana.
Mascagni's opera begins with everyone gathering for Mass on Easter Sunday. During the prelude Santuzza catches Turiddu leaving after a night with Lola, the villagers point the finger at Santuzza who – because she is constantly clutching her stomach – is obviously pregnant with Turiddu's child. She will also be shown to be barred by the crucifix-waving priests from entering the church. It all plays out as expected right through to the tragic denouement with the women shown wailing under their black shawls.
Eva-Maria Westbroek is an experienced Santuzza but was singing the role in Vienna for the first time. The character is a complex one and she acted it very well: Westbroek wore her heart on her sleeve, distraught at being cast aside by the man she loved and shunned by a closed blinkered community where every minor indiscretion becomes public knowledge. I have heard Westbroek sing Santuzza with more freedom than she did on this occasion. Brian Jagde was making his role debut in Vienna as Turiddu and sounded effortful during his siciliana 'O Lola c'hai di latti la cammisa' yet improved somewhat as the opera proceeded. He was not much of an actor and was an implausible drunk during 'Viva, il vino spumeggiante' ('Hail to the bubbling wine!'). Jagde surely should have learnt much from watching Alagna's inebriated Canio in Pagliacci? Alfio, the carter without a cart here, was personified by the imposing figure of Ambrogio Maestri, who – least as I heard it – sounded generally underpowered throughout and not at his best. Isabel Signoret and Zoryana Kushpler provided solid support as a sultry Lola and ultimately compassionate Mamma Lucia.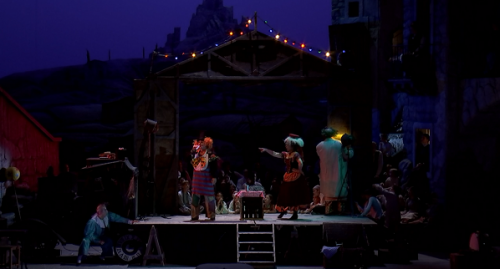 Tonio (as his commedia character Taddeo) addressed us from in front of the curtain at the start of Pagliacci. Luridly costumed in a candy-striped top, with a lime green wig and green and white spotted tie, there was a sense of Covid-related irony when he sang 'The author brings old masks back to the stage'! The itinerant theatrical troupe arrive in their battered old truck much to the delight of the villagers. Canio is suspicious of his Nedda from the get-go and the hulking Tonio (Ambrogio Maestri) is a constant threat to her. She finds solace in the arms of Silvio and their soaring duet 'Silvio! a quest' ora' has subsequently inspired many composers of Broadway musicals. Ponnelle intriguingly has the play performed with the singers' backs – for the most part – to those in the theatre (or watching online) but facing the 'audience' onstage. For the celebrated final line 'La commedia è finita!!' ('The comedy is finished!') all goes dark.
I enjoyed this Pagliacci more than any other over many years. I have never seen Canio and Nedda acted and sung better than real-life couple Roberto Alagna and Aleksandra Kurzak did in their Vienna role debuts. Alagna is at the height of his artistic powers and was utterly committed to the truth of everything his cuckolded character endured. During the play Canio/Pagliaccio must sing like an Otello whilst having (similarly) to act out every green-eyed moment. Alagna was in glorious voice: it was an open-throated, emotive lyric tenor sound with characteristically vibrant top notes. His 'Vesti la giubba' was deeply affecting and quite rightly needed no encore though the socially distanced Viennese audience were demanding one. Kurzak is always a vivacious comedienne and Nedda's birdsong aria 'Stridono lassù' was glitteringly sung with some long, exquisitely contoured, lines that is always a feature of this excellent soprano's voice.
Ambrogio Maestri was better as Tonio than Alfio though I am not sure his prologue was the best he has ever sung. Nevertheless, Maestri displayed all the vehemence of a despised figure downtrodden by life's vicissitudes. Leoncavallo does not give Andrea Giovannini's Beppo/Arlecchino much to sing but he was a witty and engaging stage presence whilst Sergey Kaydalov's baritone sounded a little tight as an earnest Silvio.
This Cav & Pag is being streamed again on 12 November and I may well watch Pagliacci again as it will live long in my memory, although it is impossible to ignore the circumstances under which it was performed.
Jim Pritchard