United Kingdom Handel, Messiah, HWV 56: Rowan Pierce (soprano), Iestyn Davies (countertenor), Ben Johnson (tenor), Ashley Riches (bass). Choir and Orchestra of the Academy of Ancient Music / Richard Egarr (director / harpsichord). Livestreamed from London's Barbican Hall, 19.12.2020. (CC)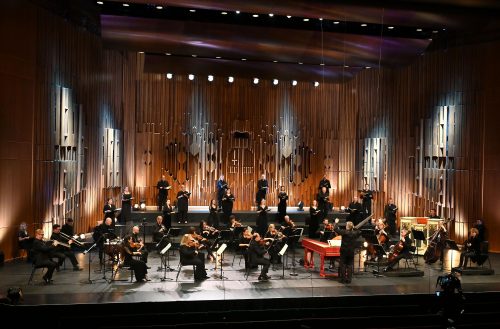 It is fascinating to compare this performance with that of ECO's shortened Messiah recently in the VOCES8 Live from London Christmas series. On the day of the AAM performance, it was announced London moved into Tier 4. Almost as if in telepathic sympathy with a city's need for healing, Egarr's performance had an added quality of balm about it, right from the opening; it acted as a beautiful counterpart to Nicholas Kraemer's Cadogan Hall ECO performance (review click here). It was wonderful to see the titles of the part of Messiah on screen as Ben Johnson sang a honeyed 'Comfort ye'; one of the benefits of this mode of delivery. As soprano Rowan Pierce pointed out in one of the interval conversations, the message of Messiah is hope; to expand, a supra-religious hope, despite its avatar-specific subject matter, a hope that transcends religion into the realm of spirituality.
Soprano Rowan Pierce goes from strength to strength: she has a radiant, angelic soprano that fits this music impeccably. Her vocal decorations at 'Come unto Him and He will give you rest' were not only stylish, but impressively natural. 'How beautiful are the feet' was the most sheerly lovely I have ever heard it; and one could just feel the inner knowing of her 'I know that my Redeemer liveth'.
No stranger to Messiah, bass Ashley Riches last dropped into my reviews of this piece in 2014, with the Orchestra of the Age of Enlightenment (review). Riches can be absolutely commanding, as he was on this occasion: his depiction of the people who walked in darkness, and their glimpse of the great light, was beautifully done, the phrasing (heard in pure octaves in the orchestra) incredibly sensitive. The fiendish 'Why do the nations' was a triumph of vocal virtuosity; overshadowed only by the expectant hush of his 'Behold, I tell you a mystery'. Riches was joined by David Blackadder on trumpet for 'The trumpet shall sound,' Riches showing his vocal strength throughout his range.
Iestyn Davies is similarly no stranger to Seen and Heard's pages. He offered such clean slurs at 'The glory of the Lord is risen upon thee'; and one could feel the weight of Christ's burden in 'He was a man of sorrows' in 'He was despised'. And how Egarr's shard-like string chords underlined the prevailing Affekt.
Perhaps Ben Johnson was the least involving of the soloists; yet his Part III duet with Iestyn Davies, 'O Death where is they sting?' showed how fine he is in company: a beautiful highlight of the performance.
The choir was phenomenally balanced; and sopranos showed no sense of strain at some difficult entries in 'And he shall purify'. But their cries of 'arise'; were less urgent than the ECO's, perhaps in line with the aesthetic of the performance itself. 'For unto us a child is born' held some gorgeous doublings between orchestra and vocal lines not always acknowledged, a (pardon the pun) testament to Egarr's ear for detail. And when it came to the cries of 'Surely,' they spoke straight to the heart. Rarely has the final 'Amen' chorus spoke so hopefully, so triumphantly.
It is clear deep thought has gone into Egarr's interpretation; 'And with His stripes' was beautifully rethought, 'All we like sheep' feather-light, while the organ offered an angelic halo at 'Behold a virgin shall conceive'. This performance was far from drama-free (the tenor's 'Thou shalt break them' and what Egarr did with the strings below him) but it nevertheless felt a Messiah for our time: balm and hope all rolled into one. As such, it was medicine for the soul; not to mention being performed at the very highest level. Bravo to all concerned.
Finally, a mention for some phenomenal camera angles with the lighting. It is indeed sad to see the seats in the Barbican empty; certainly, one could detect the acoustic difference at the choir's 'The Lord gave the word'. Nice though to dispense with bows into infinity and end with a well-judged fade at the end; this is, after all, a time for contemplation.
Colin Clarke
For more about the AAM click here.