Czech Republic Mozart, Don Giovanni: Soloists, National Theatre Chorus and Orchestra / Karsten Januschke (conductor). Performed at Národní Divadlo, Estates Theatre, Prague and premiered 24.4.2021 on Czech Television and available for streaming globally until 1.5.2021. (RP)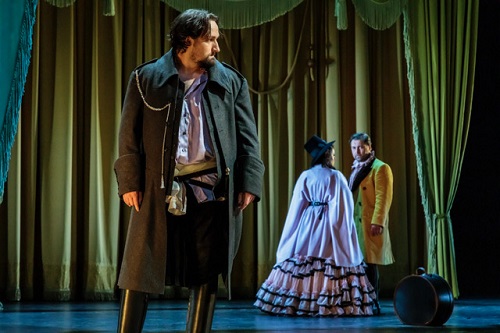 Production:
Director – Alexander Mørk-Eidem
Sets – Christian Friedländer
Costumes – Jenna Ljungberg
Film Director – Tomáš Šimerda
Cast:
Don Giovanni – Pavol Kubáň
Donna Anna – Jana Sibera
Donna Elvira – Alžběta Poláčková
Don Ottavio – Richard Samek
Leporello – Miloš Horák
Zerlina – Lenka Máčiková
Masetto – Lukáš Bařák
Il Commendatore – Zdeněk Plech
For the National Theatre's new production of Don Giovanni, Director Alexander Mørk-Eidem sought to provide the thrill of seeing Mozart's opera for the first time. To a large extent he succeeded, but the success doesn't rest solely on his shoulders. He had the benefit of the dynamic young conductor Karsten Januschke in the pit and a superb cast that embodied their roles physically and vocally to a tee.
The National Theatre has presented over 20 different productions of the opera, but this was the first time it was entrusted to a foreign creative team. Januschke is German, while set designer Christian Friedländer, costume designer Jenna Ljungberg and Mørk-Eidem are all Scandinavian. For the cast, however, the National Theatre looked no further than its own company.
The drama unfolded in an interesting and surprisingly sumptuous visual landscape, given that there was really no set. The statue of the Commendatore was there, of course, as well as a window or two. Stage curtains afforded folds where the protagonists could hide; there was a platform for the on-stage orchestra and even tables on which to dine. Often the audience was viewing the action from back stage as if eavesdropping. With the freshness of concept and intriguing characterizations, Mørk-Eidem was certainly paying homage to Ingmar Bergman's 1975 film version of Die Zauberflöte.
There was no fixed time or place. Donna Anna could have stepped out of the eighteenth century, but Leporello sported a t-shirt beneath his jacket. The clothes of Donna Anna, Donna Elvira and Don Ottavio for the masquerade came from racks of costumes in a dressing room. Masetto was a strapping young peasant lad dressed for his wedding. It could have been a jumble, but Mørk-Eidem imposed coherency on it all.
As Don Giovanni, Pavol Kubáň was dashing and sinister and brought to mind a young Basil Rathbone with his flowing dark hair, pointed beard and evil leer. Don Giovanni's life force, however, was waning: there was no stemming the blood that flowed from the wound that he received in his fight with the Commendatore. Vocally, Kubáň was equally exciting and dangerous. For all of the drama, however, it was his softly spun serenade that made time stand still.
Don Giovanni's noble pursuers were Kubáň's vocal and dramatic peers. Jana Sibera infused Donna Anna with warmth and sensuality, her limpid, crystalline soprano an ideal instrument with which to etch Mozart's beautiful melodies. The splendid Alžběta Poláčková was a pistol-packing Donna Elvira who snitched the journal that contained the names of Don Giovanni's 1,003 conquests in Spain. An artist of poise and beauty, Poláčková injected Donna Elvira with passion and just a touch of irony: it made for an exceptionally rich portrayal of a character who often emerges as little more than a shrill harridan.
Similarly, Richard Samek was a refreshingly three-dimensional Don Ottavio. His fine legato and golden tone in 'Dalla sua pace' whetted the appetite for 'll mio tesoro', which Mozart composed for the subsequent Vienna premiere of the opera but was cut in this performance.
Miloš Horák as Leporello was no buffoon but a sophisticated man of the world who, alas, was beholden to his master. Horák's deadpan, world-weary delivery of the Catalogue Aria underscored his disillusionment with his lot in life and heightened the aria's impact. The booming voice of Zdeněk Plech as the Commendatore was chilling in the final scene. He effortlessly hurled his demands that Don Giovanni repent, creating a wall of sound without the need of amplification.
The thrill of something new was found in Lenka Máčiková's Zerlina and Lukáš Bařák's Masetto. Charisma emanated from these two exciting young singers. (The camera loved them too.) Máčiková had a mischievous smile that was as captivating as her lovely soprano. Bařák was a headstrong, virile swain with a robust baritone. When Zerlina consoled and caressed the bruised and battered Masetto, Máčiková and Bařák captured the sensuality and purity that Mozart poured into the music that enveloped them.
The Estates Theatre orchestra pit is small, so intimacy is guaranteed. However, the lightness and transparency in the orchestra's sound, as well as the sure sense of drama in the music, came from Januschke. Presumably at his urging, the singers ornamented the reprises of the melodies in their arias. One's ears perked up to hear familiar melodies such as 'La ci darem la mano' and 'Non mi dir' embellished with such grace.
The only thing missing from this performance was the audience. For those who have not fulfilled their dream of experiencing Don Giovanni in the theatre in which it premiered, that day will hopefully come soon.
Rick Perdian
To view the National Theatre's Don Giovanni, click here.