Gustavo Dudamel is the new Music Director of the Paris Opera from August 2021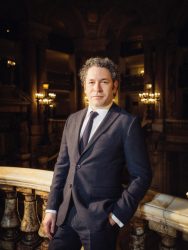 L'Opéra national de Paris and its General Manager Alexander Neef have announced the appointment of Gustavo Dudamel as Music Director for six seasons commencing 1 August 2021.
Dudamel is now in his twelfth season as the Music & Artistic Director of the Los Angeles Philharmonic. His bold programming and expansive vision led The New York Times to herald the LA Phil as 'the most important orchestra in America – period'. He will continue to work with the musicians of El Sistema in Venezuela, whom he embraced as his family during the 16 April press conference to announce his new role with the Paris Opera.
With the COVID-19 global pandemic shutting down the majority of live performances, Dudamel has committed even more time and energy to his mission of bringing music to young people across the globe, firm in his belief that the arts play an essential role in creating a more just, peaceful and integrated society.
One of the top opera conductors in the field, Dudamel has led more than 30 staged, semi-staged and concertante productions across the world's major stages, including five staged productions with La Scala and thirteen operas in Los Angeles, with repertoire ranging from Così fan tutte to Carmen, from Otello to Tannhäuser, from West Side Story to contemporary operas by composers like John Adams and Oliver Knussen.
Dudamel's first appearance with the Paris Opera was conducting La bohème in 2017. He recounts 'my experience with the artists of this world-renowned institution was simply magnificent, and it quickly became crystal clear that we share mutual feelings of trust, connection, musicality and vision'.
Dudamel's LA Phil contract runs until 2026, but his appointment in Paris cements his increasing presence on the European music scene. Since marrying Spanish actress Maria Valverde in 2017, Dudamel has taken Spanish citizenship and divides his time between Los Angeles and Madrid. He makes regular appearances with the Berlin Philharmonic, the Vienna Philharmonic, La Scala Milan and the Vienna State Opera.
Rick Perdian
For more about l'Opéra national de Paris click here.