Germany Wagner, Die Walküre Act I (concert performance): Lise Davidsen (soprano), Jonas Kaufmann (tenor), Georg Zeppenfeld (bass), Bayerisches Staatsorchester / Asher Fisch (conductor). Livestreamed from the Nationaltheater Munich, 13.5.2021. (JPr)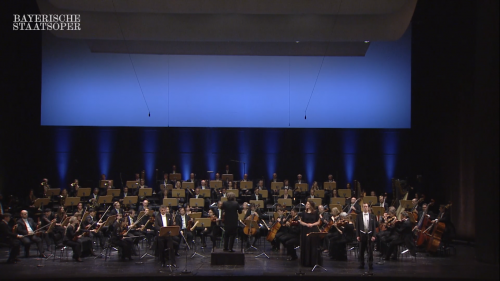 Nikolaus Bachler (the Intendant of Bayerische Staatsoper [Bavarian State Opera]) came onto the concert platform to greet those present in the opera house and began with 'I warmly welcome you to the opera, this is a special welcome for us, a special emotional moment and we have been dreaming for over a year of picturing the auditorium with you having a place there again' and he continued by saying that although it was not a full house it was a start to live performances resuming.
Until the encores the sense of occasion was actually greater than the musical performances as despite the best efforts of Asher Fisch and the Bavarian State Orchestra Die Walküre Act I was accomplished without ever taking off. There were three wonderful singers, but haven't we seen rather a lot of them during the various shutdown breakout performances. For instance, recently Jonas Kaufmann and Georg Zeppenfeld featured in Vienna's new Parsifal (click here) and Lise Davidsen reopened Milan's La Scala (click here). All praise of course to their agents and record companies – and I understand managements now will want to sell tickets, CDs or increase online viewing – but I would have liked to see other singers given an opportunity. Also, I do not know what notice Kaufmann and Davidsen had of these concert performances, but I was astonished they needed to refer so often to scores on music stands in front of them; Zeppenfeld sang without one – and he was the best of the three Die Walküre singers as a result – and notably, conductor Asher Fisch did not need the music either.
Kaufmann (as Siegmund) and Davidsen (as Sieglinde) were socially distanced (though not for coronavirus reasons) either side of Fisch and there was zero chemistry and only a few glances in either direction whilst the other was singing. Worst of all, whilst there could be no physical acting there wasn't enough vocal acting either. Kaufmann wandered across the platform and began not as someone who had been chased through a storm but who had arrived in an Uber! He was too insouciant (arms folded at one point) throughout and went for vocal beauty rather than dramatic expression or showing any real emotion. I know this is the definition of bel canto, but this is Wagner for goodness sake. This is only my personal opinion of course and others will have reacted differently but for most of the act I felt as if I was being serenaded. Kaufmann's Siegmund briefly came to life with his stentorian cries of 'Wälse! Wälse!' before – at least to my ears – a little tightness in his voice at the end of 'Winterstürme wichen dem Wonnemond' when it was under pressure suggested why Kaufmann might have been taking it easy.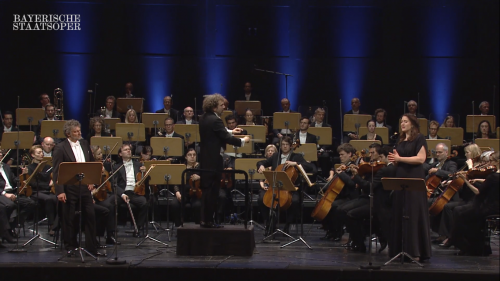 Lise Davidsen's voice is powerful, and she never makes an ugly sound. However, I think some of the sheen has gone from it and it was that which – in part – made her so exciting to listen to when she first became prominent. Her soprano is undoubtedly rich but now denser and – based on two recent performances – Davidsen does not seem entirely at her ease on the concert platform as maybe she once was. Possibly it is an odd thing to write but she did not look as if she was enjoying singing Sieglinde. I fully accept, of course, I was not there to hear her live.
Georg Zeppenfeld was all Kaufmann and Davidsen weren't and staring into the audience brought his vehement Hunding to life. Few basses of the current generation are as black-toned as he is and Zeppenfeld chillingly dominated this act in the few minutes he was involved. Just see and hear his masterclass as he spat out the words 'Verhasst ist es Allen und mir' and his hatred for Siegmund's 'wild race' was visceral.
There were some virtuosic solo moments from the mask-less members of the Bavarian State Orchestra, notably from Giorgi Gvantseladze's oboe. On the podium Asher Fisch and his musicians energetically and atmospherically conjured up the storm at the start before settling into a sweeping, lyrical reading that ended with a sensual and rapturous concluding love scene; despite Kaufmann and Davidsen not being entirely convincing themselves. Their smiles at the end seemed more in relief than anything else.
There were curtain calls in front of closed curtains, though the Munich public were demanding more than just 64 minutes of Wagner after what they have endured in the past year and a quarter. They opened for an encore from each of the singers accompanied by Fisch at the piano. Kaufmann sang a sincere 'Träume' from the Wesendonck-Lieder with a refined – and exquisite – mezza voce and there was a lovely postlude from Fisch. The beauty of Davidsen's voice has never been in doubt and Grieg's 'Våren' ('Last Spring') was heartfelt and although spring is taking its time emerging in the UK, I could almost visualise it in what Davidsen sang (despite my lack of Norwegian). Finally, and undoubtedly worthy of closing this entire concert was Zeppenfeld's reflective rendition of Richard Strauss's 'Wie schön ist doch die Musik' (the closing monologue from Die schweigsame Frau). The opening line is 'How nice the music is, but how nice only when it's over!'. Through to the concluding deeply affecting last words 'Nur Ruhe! Aaah, Aaah, Aaah!' it was something of a paean to the effects of the pandemic.
Jim Pritchard
For more about Bavarian State Opera click here.