Switzerland Stenhammar: Tonhalle-Orchester Zürich / Herbert Blomstedt (conductor). Tonhalle Maag, Zurich 18.6.2021. (JR)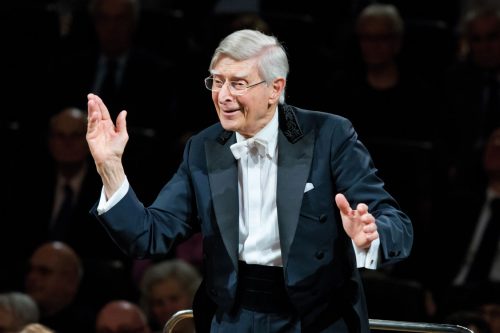 Stenhammar – Symphony No.2, Op.34
Some conductors, admittedly famous, go on well past their sell-by date (I shall mention no names, but I am sure you can think of a few), but Herbert Blomstedt – despite soon turning an incredible 94 – is remarkably not in that list. He clearly still loves what he does (in a 'normal' year he can conduct 80-90 concerts) and music appears to keep him young, conducting being excellent cardiovascular exercise; a frugal, healthy diet possibly assists to maintain his very slender frame. Amazingly and impressively, he says he is still studying new scores, such as Berwald.
'Now or never', Blomstedt is reported to have exclaimed when embarking on presenting his fellow Swede's Second Symphony around Europe's concert halls. Wilhelm Stenhammar is not a name to very many outside Sweden. His Second Symphony is, by all accounts, his finest work and Blomstedt has been championing it in recent years as a 'very fine work', though not going so far as to claim that it is a masterpiece. Stenhammar discarded his First Symphony when he heard Sibelius's Second Symphony (although, having heard it, it is not at all poor).
A little background on this composer would not, I think, go amiss. Stenhammar was born into a musical family in Stockholm in 1871 and died near Gothenburg in 1927. He was considered the finest pianist of his day in Sweden. He studied in Berlin and greatly admired Wagner and Bruckner. His Second Symphony dates from his third and final composing period, stemming from 1915 and is in 'Nordic style', rooted in Swedish folk music, but also showing the clear influences of Nielsen and Sibelius. He composed at the time Schoenberg was leading the avant garde and, although he felt that by then every melody had been written, he was intent to pursue tonality.
Audience number restrictions are being eased gradually in Switzerland, now up to 100, scattered across the stalls. It must have been sad for Blomstedt not to be able to advertise his compatriot's work to a wider, live audience so I feel compelled to do what I can to spread the good word.
The work is indeed a good work. In the first movement, Stenhammar employs a rich, full string sound evoking the best of Sibelius. Blomstedt placed the horns in front of the trumpets and trombones to present each brass outburst as a block of sound, most effective. Blomstedt drove the movement with vigour, unusually using a score.
The slow movement has a gorgeous string opening, with plenty of rich vibrato. Vaughan Williams sprang to mind, there was a wistful quality to the writing. In fact, one could compare Stenhammar with Vaughan Williams, both relatively unknown outside their native lands and needing native champions to get their work heard across the globe.
The jaunty Scherzo was notable for some very fine woodwind contributions from the orchestra in its central section. Otherwise, Bruckner's scherzos came to mind as Stenhammar's inspiration.
The final movement lacks some coherence but the sound is impressive, the final concluding blaze of glory thrilling; I was saddened to realise that this will be the penultimate concert in this provisional hall, with its excellent acoustics, the Tonhalle Maag, before it is torn down to make way for apartments and an art gallery. The newly renovated Tonhalle am See will re-open in September: watch this space.
There were some microphones in the hall so I did wonder about a recording; however, Blomstedt has recorded this piece, not so long ago, with the Gothenburg Symphony Orchestra and, if I have whet your appetite for sampling the work, I can recommend that recording on the strength of the excellent review on MusicWeb International (click here).
Even if I did not come away from the concert as a huge fan of Stenhammar, the work is definitely well worth hearing and having in one's CD library. Thank you, Herbert Blomstedt for introducing it to me. We look forward – I have little doubt – to hearing something fresh from Blomstedt in his 95th year in the 'new' Zurich hall.
John Rhodes