Switzerland Verbier Festival 2021 [2]: Academy Showcase III: Soloists: Artists shown below. Église de Verbier, Verbier, Switzerland, 11am, 1.8.2021. (CC)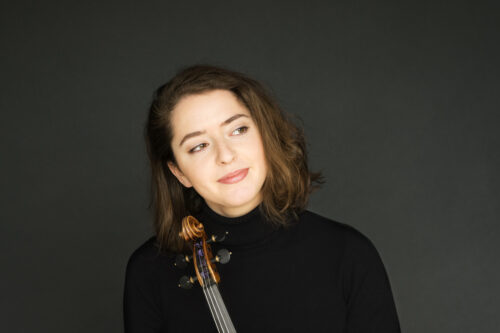 Liszt – Grandes Études de Paganini, S.141: No.1, Tremolo (Oleksii Kanke, piano)
Telemann – Fantasia No.7 for solo violin in E flat, TWV 40:20 (Mathilde Milwidsky, violin)
Cassadó – Suite for Solo Cello: Intermezzo e Danza finale (Roger Morelló Ros, cello)
Grieg – Improvisation on Popular Norwegian Songs, Op.29 (Fanny Monnet, piano)
Bartók – Duos for Two Violins, Sz.98 (arr. violas): Nos. 35, 28, 32, 33, 43, 36 (Haeji Kim, Sarah Strohm, Otoha Tabata, Anna Sypniewski, Tabitha Rhee, Chris Rogers-Beadle, Soyoung Cho, violas)
Bach – Solo Violin Partita No.1 in B minor, BWV 1002 (Tianyou Ma, violin)
Penderecki – Suite for Cello: No.5, Aria; No.6, Scherzo (Caroline Sypniewski, cello)
Sollima – Lamentatio (Ivan Skanavi, cello)
Scriabin – Nocturne for the Left Hand, Op.9/2 (Sae Yoon Chon, piano)
Chopin – Piano Sonata No.3 in B minor, Op.58: finale (Harmony Zhu, piano)
Rossini – Guillaume Tell: Overture (arr. four violas: Chris Rogers-Beadle, Otoha Tabata, Tabitha Rhee, Haeji Kim, violas)
The Verbier Academy and the Atelier Lyrique programme are twin educational strands at the Verbier Festival, culminating in a string of awards. While the Prix Yves Paternot was awarded to Korean tenor Sungho Kim prior to the orchestral concert the previous night, a sheaf of additional prizes was awarded towards the end of this final Academy Showcase (see full listing of prizes below this review).
The Église de Verbier is a stunning modern church, its white tower sadly obscured by fog and rain on this Sunday morning. But the music inside was the opposite of the weather outside: vibrant and bright, this was a multicoloured quilt of the most intense talent.
A Liszt Grande Étude de Paganini seemed the perfect start, the annunciatory flourishes of the first étude, 'Tremolo', strong and muscular, the tremolos of the work's title nice and even from Kiev-born pianist Oleksii Kanke. It might seem daring to begin with a study, but Liszt's output in this area is nonpareil, and Kanke clearly thrives on technical challenge.
The London-born British violinist Mathilde Milwidsky is clearly a talent to watch, and all credit for choosing Telemann for her slot. Time for all four movements (Dolce – Allegro – Largo – Presto) of the Seventh Fantasia for Solo Violin. The genius of Telemann shone through brightly. There was much grace here, just the occasional unconvincing stopping detracting from the whole. But her expressive lines won this listener, at least, over, and there was a nice sense of the dance in the concluding Presto. While we had some more Baroque solo violin later on – an entirely creditable Tempo di Bourrée and Double from the B minor Violin Partita, BWV 1002 from Chinese violinist Tianyou Ma – it was the Telemann that remained more firmly in the memory, both in performance terms and, if I am honest, musically.
Quite a change to music by Gaspar Cassadó (1897-1966) for solo cello, the 'Intermezzo e Danza finale' from the Suite for Solo Cello. Catalan cellist Roger Morelló Ros. Here is someone equipped with a full technique who knows exactly what repertoire to pick for himself: Cassadó's active, rhythmic, generous writing seemed to suit Morelló Ros's character to a tee; spread pizzicato chords were supremely atmospheric – transfixing, in fact – while the dance finale was infectious.
Born in the Swiss canton of Valais, pianist Fanny Monnet is a sine musician who captured the depth of Grieg's Improvisations on Two Norwegian Folksongs, Op.29 beautifully, with a real sense of style and a lovely, warm sound. Monnet has studied with Nelson Goerner in Geneva and shows great promise.
A sequence of Bartók Duos followed performed by five viola players in alternation (and sometimes with doubled parts, while all seven performed the final item, No.36, Bagpipes), an inventive way to discover these pieces and impeccably choreographed. But it was, frankly, blown out of the water by Caroline Sypniewski's performance of two movements from Penderecki's Suite for Cello. The fifth movement 'Aria' contains writing that elicited playing of glacial beauty from Sypniewski. But it was the next movement that was an all-encompassing performance. There was such energy to Sypniewski's Scherzo – more than any recorded performance I have heard. Surely that very visceral ride was what Penderecki intended – and how Sypniewski delivered. And then, a performance of surely equal merit: Moscow-born Ivan Skanavi's reading of Giovanni Sollima's Lamentatio, a piece that asks the cellist to sing as well as play (and there are plenty of effects, too). Utterly remarkable virtuosity. The piece is a guaranteed crowd-pleaser – it feeds off technical challenge – and so it proved here. We needed the Nocturne by Scriabin to cool down – it's for the left-hand only, Op.9/2 in a moving performance by Sae Yoon Chon given in beautifully burnished sound.
Slightly less impressive was Harmony Zhu's finale to Chopin's Third Piano Sonata, a brave choice, and in a performance of commendably little sustaining pedal; but the excitement was not quite there.
The arrangement of Rossini's William Tell Overture for four violas, after the prize-giving ceremony, was pretty much exactly what you are thinking right now. Mad, fun, and just the ticket – absolutely in line with this concert that affirmed the infinite promise of youth today.
Below is a list of award-winners, many of whom received their prizes at this concert.
Colin Clarke
The Tabor Foundation Award
CHF 10,000 shared between two pianists
Sae Yoon Chon (26, South Korea) and Henry From (17, United States/Canada)
Prix APCAV
CHF 3,000 for an Academy musician who contributes to the spirit of the Verbier Festival through a commitment to community and public engagement.
Haeji Kim viola (24, United States)
Prix Rotary
CHF 5,000 for a young Swiss musician awarded Rotary Club Verbier-St-Bernard
Fanny Monnet piano (25, Switzerland)
Prix Yves Paternot
CHF 10,000, invitation to return to Verbier, and a contribution of up to CHF 15,000 towards artistic and personal development
Sungho Kim, tenor (Rodolfo in La bohème, 31, South Korea)
Prix Thierry Mermod
CHF 10,000 shared between two singers
Sylvia D'Eramo soprano (Mimì in La bohème, 29, United States)
Dafydd Jones tenor 23 (Wales/United Kingdom)
Prix Jean-Nicolas Firmenich
CHF 10,000 shared between two cellists:
Anouchka Hack (25, Germany) and Irena Josifoska (25, Serbia/Hungary)
Additional Honours
CHF 500 each to:
Aubree Oliverson violin (23, United States)
Thomas Prechal cello (17, Netherlands)
Otaha Tabata viola (22, Japan)
Elizaveta Ukrainskaia piano (25, Russia)