United Kingdom Final of the 2021 Leeds International Piano Competition: Soloists, Royal Liverpool Philharmonic Orchestra / Andrew Manze (conductor). Leeds Town Hall, 17-18.9.2021. (CC)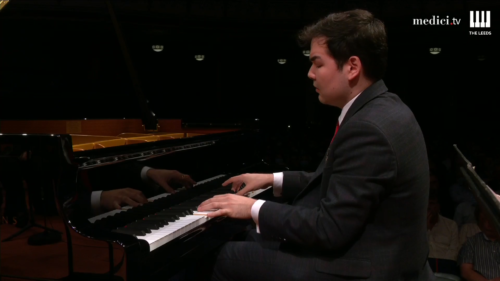 Friday 17 September:
Dmytro Choni – Beethoven, Piano Concerto No.3 in C minor, Op.37
Alim Beisembayev – Rachmaninov, Rhapsody on a Theme of Paganini, Op.43 (1934)
Thomas Kelly – Beethoven, Piano Concerto No.4 in G, Op.58
Saturday 18 September:
Kaito Kobayashi – Bartók, Piano Concerto No.3, Sz 119
Ariel Lanyi – Brahms, Piano Concerto No.2 in B flat, Op.83
The finals of the XX Leeds Piano Competition, held over two evenings to a packed Leeds Town Hall, introduced five (male) pianists of huge talent. Five massively different temperaments: a cornucopia of musical treats. These performances, plus a host of others in the earlier rounds, are available to stream for free on medici.tv.
The packed Leeds Town Hall was testament to the popularity of the competition, its enthusiasm remarkably supportive of the five finalists. The first concerto heard was Beethoven's Third played by the 28-year-old Ukrainian pianist Dmytro Choni, currently studying in Graz, Austria (and the recipient of a scholarship from the International Academy of Music in Liechtenstein). But to begin with a non-pianistic point: interesting that Andrew Manze's Beethoven is noteworthy (the penultimate BBC Prom of the 2019 season being a case in point) and the orchestral contribution in this performance was beyond criticism. Choni has a fine sound – which he could have projected a touch more – a brilliant left-hand staccato and he laudably follows the printed score in terms of splitting passages between hands, for example. The (Beethoven) cadenza was a mixed bag though: a rather strange, point-making diminuendo over minim chords seemed fairly random yet was balanced by a nicely fiery F-minor triplet section. The real problem was the slow movement – very slow here, but not involving from the pianist, something that was thrown into highlight by the orchestra's beautiful response to the piano's opening statement. Like the first movement cadenza, this was uneven: as the music continued there was a fascinating feel of a slow, shadowy dance; and yet the staccato ascending scales were workaday. The finale needed more character, too, and despite moments of deliciously light touch, it underlined the impression that Choni's reading of Beethoven 3 remains an interpretation in progress. Dmytro Choni was placed fourth.
The young Kazakhstani pianist Alim Beisembayev pretty much swept the boards when it came to major prizes, He delivered a fine Rachmaninov Rhapsody on a Theme of Paganini. There is no doubting Beisembayev's stature: his technique is well-nigh faultless, and he worked well with the Leeds Town Hall's acoustic (the performance sounds more focused on medici.tv than it did from fairly far back down the hall). Moments of deliciously fleet fingers vied with the import of Rachmaninov's use of the 'Dies Irae'. The famous Variation XVIII was beautiful, if slightly over-projected, and perhaps a little more acknowledgement of the work's late-Rachmaninov traits would have sealed the deal.
But it was in the earlier rounds that Beisembayev truly shone and in the light of his performances of Ligeti, Clementi, Scarlatti and Beethoven amongst others, this was a richly deserved crowning. Beisembayev also won the Royal Philharmonic Society Prize for a performance of a contemporary work, which was richly deserved. His performances, from memory, of Ligeti Etudes (No.2, 'Cordes à vide'; No.10, 'Der Zauberlehrling' and No.13, 'L'escalier du diable') are utterly remarkable and show a most pronounced maturity. There were other notable performances, too: that of the Clementi Sonata in F sharp minor, Op.25/2 in the first round should in itself be enough to convert multitudes to Clementi's cause (and draw attention away from those wretched Sonatinas every pianist knows!). Most of all, though, Beisembayev's semi-finals performance of Prokofiev's Seventh Piano Sonata is a triumph, a passport to the finals in and of itself. Virtuoso, yes, but fully within Prokofiev's world. And the beauty of the semi-final's performance of Brahms's Piano Quartet in C minor Op.60 with members of the Castalian Quartet heavily implies Beisembayev's solo Brahms may contain great things, also.
Beisembayev becomes the first Kazakhstani winner of the Leeds Piano Competition.
Finally on the first night, UK pianist Thomas Kelly, currently at the Royal College of Music. Kelly's placement in fifth – last – place is justified by a certain unpredictability to his performance of Beethoven's Fourth Piano Concerto, the very first chord imperfectly placed, fortes sometimes harsh and with some technical slips later on. He is clearly someone who delivers a considered interpretation – there is also an argument that his technique is fine in the old-fashioned sense, with its variety of tone colour as opposed to just playing all the right notes. So it was that the first movement cadenza (the second of the two Beethoven supplied) was full of magic but contained the odd incident. The famous slow movement contained real storytelling, though, the dynamic between piano and orchestra exchanges finely judged; the finale was full of magical touches from Kelly. It is clear Kelly has much to say in the music he interprets, and I for one would like to hear more of him.
Just two concertos on the following night. First up, Bartók's Third Concerto, perhaps not a concerto one would instantly characterise as competition fare. There was much to enjoy in Kaito Kobayashi's reading, but when one elucidates why, it comes out sounding suspiciously like damning with faint praise: clean playing, pleasant, nice interactions with the orchestra, a playful third movement. The highlight was the mesmeric slow movement, with Kobayashi superb in Bartók's so-called 'night music' in the Andante religioso. Placed second in the final line-up, Kobayashi also received the Yaltah Menuhin Award for chamber music and will receive a performance opportunity with the Leeds International Chamber Series. His semi-finals programme, which included that winning chamber performance, demonstrated progamming capabilities analogous to Beisembayev's: a Bach Suite (F minor, BWV 823) and a Schubert Impromptu rubbed shoulders with Kurtág (Hommage à Schubert and a selection from Játékok). The Castalian String Quartet joined Kobayashi for the award-winning performance of Dvořák's Piano Quintet No.2 in A, Op.81/B 155.
The closing performance of the finals was of Brahms's monumental Second Piano Concerto by Israeli pianist Ariel Lanyi, who was placed third. Lanyi has a large sound, rich and perfect for Brahms, coupled with clearly innate musicality. The most impressive aspect of this performance was the slow movement, full of dark undercurrents (and with some wonderful solo cello contributions from the Royal Liverpool Philharmonic Orchestra's Principal Cello Jonathan Aasgaard) and how beautifully the finale slipped into our consciousness.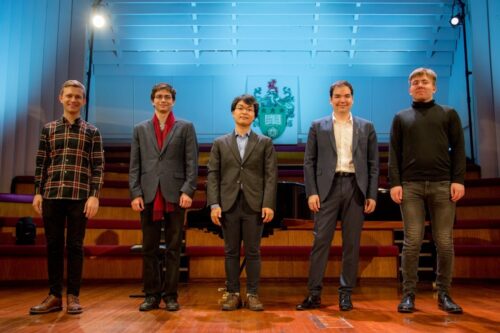 The jury did not seem to take an inordinate amount of time to announce the result. There is no doubt that Alim Beisembayev's career is rightly fast-tracked from this moment on. He is a worthy winner amongst a fine and variegated set of finalists. And much though I enjoy Ariel Lanyi's clear musicality, it is Thomas Kelly of the remaining names that intrigues. In her speech as head of the judges, Imogen Cooper referred to a 'feast of pianism', and how right she was.
Colin Clarke
Awards:
First Prize and the Waterman Gold Medal – Alim Beysembayev
Second Prize and the Marion Thorpe Silver Medal – Kaito Kobayashi
Third Prize and the Roslyn Lyons Bronze Medal – Ariel Lanyi
Fourth Prize – Dmytro Choni
Fifth Prize – Thomas Kelly
Yaltah Menuhin Award – Kaito Kobayashi
Warner Classics recording contract, Askonas Holt management, Royal Liverpool Philharmonic Society Award
and the medici.tv Audience Prize – Alim Beysembayev