United Kingdom Bampton Classical Opera – Gluck, Paride ed Elena: Soloists, CHROMA / Thomas Blunt (conductor). St John's, Smith Square, London, 24.9.2021. (MB)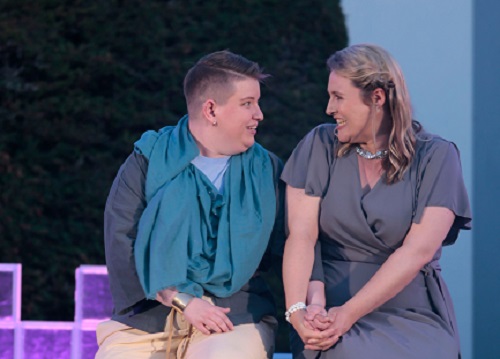 Production:
Director/Designer – Jeremy Gray
Choreography – Alicia Frost
Costume design – Jess Iliff
Lighting design – Ian Chandler
Cast:
Paride – Ella Taylor
Elena – Lucy Anderson
Amore/Erasto – Lauren Lodge-Campbell
Pallas Athena – Milly Forrest
Trojans – Lucy Cronin, Adam Tunnicliffe, Milly Forrest, Alex Jones
Dancers (Spartans, athletes) – Oliver Adam-Reynolds, Oscar Fonseca
Least popular of Gluck's reform operas, Paride ed Elena shows what little store we should set on popularity. (Do not Gluck's operas more generally?) Bampton Classical Opera once again deserves our thanks in bringing a 'neglected' — frankly, ignored — eighteenth-century opera to performance, first in Oxfordshire and now in its annual visit to St John's, Smith Square. That it should do so at all is praiseworthy enough, that it should do so in 'current circumstances' all the more so. If I found some elements of staging, costumes in particular, a little makeshift, it is not worth labouring the point; circumstances were far from ideal.
The role of Paride, written for a soprano castrato, poses a problem in that one will end up with a cast of five soprano — or one will transpose it down for a high tenor. Allegedly, for the nature of the alleged 'problem' is unclear when one listens, especially to so accomplished a performance as we heard from Ella Taylor. Taylor's Paris — we may as well use English, since the opera was sung in an English translation by Gilly French — evinced youthful strength and vulnerability through Orphic song, rising to more militaristic clamour where required. Their portrayal both contrasted with and complemented Lucy Anderson's equally multi-faceted Helen, knowingly beguiling and resistant, ultimately moved — perhaps musically as much as verbally — to confront and acknowledge the transformation of her own feelings. As cunning agent of that transformation, Cupid posing as royal counsellor Erasto, Lauren Lodge-Campbell shone and sparkled. Milly Forrest, a late replacement as Pallas Athena, commanded attention as the deus ex machina, as did members of the small chorus, Lucy Cronin first among equals, given her accomplished first-act solo. So too did dancers Oliver Adam-Reynolds and Oscar Fonseca, who brought to proceedings a highly physical eroticism otherwise lacking from the staging.
Thomas Blunt led CHROMA in a well-considered, flowing account of considerable cumulative drama. Here there was none of the stiffness I observed in a Bampton performance earlier this year of La corona under a different conductor. Blunt judged ebb and flow with due regard for instrumental and vocal sensibilities, but above all with an ear to the greater whole. Cuts were judicious and did little damage, which is not to say that one might not wish to hear them restored in other situations. Here, no one could have tired, in the way some people unaccountably seem to do so, of Classical drama lyricised and rendered visible. Rarely if ever did a small instrumental ensemble have one wishing for larger forces, the St John's acoustic weaving its magic. Gluck and Calazbigi will surely have won more converts, and willingness to explore dance as musical drama augurs well for further Bampton explorations. Dare we hope, perhaps, for a little Rameau or even Traetta? To be fair, more Gluck would also be highly welcome. We shall see — and hear; at least I hope we shall.
Mark Berry