United Kingdom English National Ballet's Emerging Dancer: A Celebration: Dancers of English National Ballet, English National Ballet Philharmonic / Gavin Sutherland (conductor). Filmed in the Holloway Production Studio at the ENB's Mulryan Centre for Dance, London, and streamed from 9.9.2020. (JPr)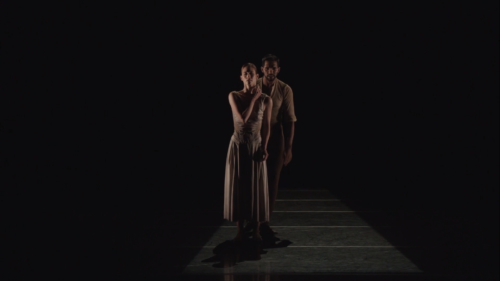 If you see Emerging Dancer: A Celebration on YouTube and Ballet on Demand you may wonder what is going on, as after an introduction from Tamara Rojo, English National Ballet's Artistic Director, the dancers just come on, dance, take their bows and wander off, without any indication of who they are or what they are dancing. Well-hidden on the ENB's website is that you can download an information sheet, and this is essential if you are to get the most out of what you see (though there is an outline below).
First Soloist James Streeter produced Emerging Dancer: A Celebration as part of his new involvement in the Dance Leaders of the Future professional development programme and was there at the end to thank everybody. Surely somebody must have noticed that some graphics – at the very least – were needed to give those looking in more idea about what they were watching? This also extends to have something relevant projected to the rear of the performing space – other than plain blue or red at times – to bring atmosphere to some familiar 'bleeding chunk' pas de deux such as from La Sylphide and Flames of Paris, along with the Grand Pas Classique and even No Man's Land (interesting to see that the ENB has not 'cancelled' Liam Scarlett). Also watching on YouTube it was clear that however admirable playing music live for the more classical works was, Gavin Sutherland's reduced orchestrations for his socially distanced ensemble of 30 listed musicians (piped in from another room) meant that what we heard lacked the aural opulence we are used to from the English National Ballet Philharmonic.
Basically, it is all criticproof after the year and a half the ENB has endured with very few opportunities to perform. (Was their Solstice programme of repertoire highlights this summer at the Royal Festival Hall ever filmed as it might provide a much better advert for their future than this?) With so much goodwill evident from my favourite ballet company I won't be too churlish and indeed Tamara Rojo introduces what we saw on the information sheet as a 'special event' to celebrate over a decade of Emerging Dancer 'and its place in English National Ballet's Company life. Our annual Emerging Dancer competition was created in 2010 by Wayne Eagling, during his time as Artistic Director, and has been a much-loved part of English National Ballet's season ever since. My sincere thanks to Wayne for this lasting legacy. Emerging Dancer shines a spotlight on rising talent within our Company: habitually, six finalists are nominated by their colleagues to take part in the competition. The challenges of the past eighteen months have reduced our opportunities for live performance, but now feels, to us, a perfect time to reflect on eleven years of Emerging Dancer and to celebrate some of the wonderful artists who have lit up its stage in years gone by. I am thrilled that we are able to share the performance online with an audience of dance lovers worldwide, filmed from the beautiful Holloway Production Studio at the Mulryan Centre for Dance, our East London home.' It is hoped that the competition will return in front of a live audience in 2022.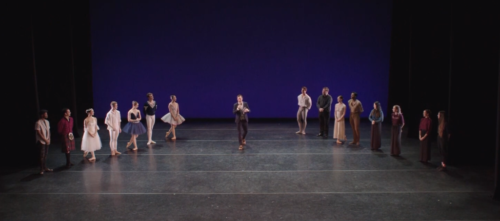 Victor Gzovsky's Grand Pas Classique is a 'celebration' in its own right of pure ballet technique: Aitor Arrieta and Julia Conway were lyrical and elegant and her fouettés (the first but not last of the programme) were spot-on. Nevertheless, it was all rather too carefully danced and lacked some joie de vivre.
You can read Nikita Goile's full introduction online to her new Lilith's Voice though it begins: 'I was invited to reimagine a classic, and I chose Le Jeune Homme et la Mort. In creating the work, I wondered – do we know why La Mort is feminine? We often see Death as devilish and infernal, but what if, against everyone's expectations, Death, Lilith and Ishtar – from those ancient myths – reflect Dark Feminine Power, just like any women?'. So, I suspect what we see is Death, Lilith and Ishtar 'face their own shadows' as Goile puts it. A darkened stage and a square of light finds Alice Bellini, Georgia Bould and Rina Kanehara in brown and only distinguishable by different coloured tops, seemingly violet, turquoise and russet. There was lots of angst and seeming questioning in all the slow, controlled and often synchronised movement. There were sinuous bodies and arms with hands frequently on faces. Lilith's Voice is intriguing, although it felt longer than ten minutes.
Bournonville's La Sylphide is one of the oldest ballets still in the repertory. James, a young, kilted Scotsman, is on the eve of marrying Effie when he dreams of a beautiful and mysterious sylph who – when he wakes up – creates a significant impression on him before she mysteriously disappears. Eventually he encounters her in a forest for a pas de deux full of light, springy steps and intricate fast footwork, allied to floaty, dreamy and romantic movement. Ivana Bueno was ethereal with soft arms and Victor Prigent was suitably bouncy, but neither were entirely at their ease.
Mlindi Kulashe's new Self Tape is introduced by the choreographer by explaining how 'Self tapes have become vital for our industry, allowing freelance performers to audition and share their creativity whilst under lockdown. What started as a necessity has become something of an outlet for many of us.' Starting in the dark there is just a chair and a camera phone on a tripod before we get the ubiquitous blue background. Self Tape is short and sweet and danced to typically spacious, airy Mozart as Rhys Antoni Yeomans rehearses for the camera, arms often aloft and much that we had already seen in Lilith's Voice though this is a more carefree work.
Head, shoulders and feet above all the rest we saw in Emerging Dancer: A Celebration was the achingly sad duet to some passionate, yet thought-provoking Liszt highlighting Julia Richter at the piano. Alison McWhinney dances with Junor Souza as the ghost of her loved one who has been killed in the First World War trenches. She remembers happier times, he is there but not there, they twirl together before he slips, like Giselle, from her arms, and disappears into the shadows while she stands alone facing an uncertain future. Poignant and evocative though with too many hints of Kenneth MacMillan's Winter Dreams.
Vasily Vainonen's classical pas de deux for Flames of Paris is a boisterous, flamboyant test of virtuosity, show-offy to the extreme. Shiori Kase and Daniel McCormick had a good go at it but – despite corkscrewing through the air and nailing every landing – McCormick is not yet a Cesar Corrales or Vadim Muntagirov of blessed ENB memory and lacked the necessary 'wow' factor. The prettiness of Kase's sparkling footwork and pirouettes caught the eye but everything she did was carefully controlled and needed more elan.
Jim Pritchard
Grand Pas Classique
Dancers – Aitor Arrieta and Julia Conway
Choreography – Victor Gzovsky
Music – Daniel Auber
Lilith's Voice
Dancers – Alice Bellini, Georgia Bould and Rina Kanehara
Choreography – Nikita Goile
Music: Extracts from J. S Bach's Cello Suite No.2 in D minor, BWV 1008 (Prelude)
and Brahms's Sonata No.1 in E minor (Allegro non troppo)
Piano – Julia Richter
Cello – Ann Lines
Electronic music – Antoine Degonville's The view
La Sylphide
Dancers – Ivana Bueno and Victor Prigent
Choreography – August Bournonville
Music – Herman Severin Løvenskiold
Self Tape
Dancer – Rhys Antoni Yeomans
Choreography – Mlindi Kulashe
Music – Mozart extracts from Symphony No.6 in F major, K.43 (Allegro)
and Rondo (Allegretto) from Oboe Concerto in C major, K.314
Oboe – Rachel Harwood-White
No Man's Land
Dancers – Alison McWhinney and Junor Souza
Choreography – Liam Scarlett
Music – Liszt's Cantique d'Amour from Harmonies Poétiques et Religieuses
Costume design – Jon Bausor
Piano – Julia Richter
Flames Of Paris
Dancers – Shiori Kase and Daniel McCormick
Choreography – Vasily Vainonen
Music – Boris Asafyev