United Kingdom Frederick Knott's Dial M for Murder: Palace Theatre, Westcliff-on-Sea, Essex, 9.11.2021. (JPr)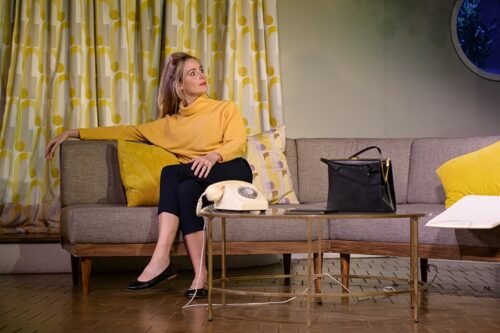 Production:
Director – Anthony Banks
Set and Costume designer – David Woodhead
Lighting designer – Lizzie Powell
Composers and Sound designers – Ben and Max Ringham
Cast:
Tony Wendice – Tom Chambers
Margot Wendice – Diana Vickers
Captain Lesgate / Inspector Hubbard – Christopher Harper
Max Halliday – Michael Salami
Firstly, I must admit – to the horror of most readers – that I fail to see why Alfred Hitchcock has so many admirers as a filmmaker. Of course, there are outstanding moments in Psycho and The Birds for example, however his – to me – laissez faire attitude to some of the technical aspects of filmmaking is regarded as part of his genius when it clearly isn't. 'Master of Suspense' possibly, whether he was a truly great director is debatable. Some of this relates to risible special effects such as back projection – even accepting the limitations of his time – but it also is the performances he gets from his actors: just look at the pivotal scene from his 1954 film version of Dial M for Murder and the stabbing and subsequent death of Captain Lesgate is ludicrously OTT. (I know that scene well from various compilation TV programmes but have never seen the entire film.) By consequence in Anthony Banks's direction for this current touring version it is conversely underplayed, and it was a little hard to follow behind the 1960s sofa.
We can read in the programme how Frederick Knott – who wrote Dial M for Murder – 'never exploited his creative talent to the degree he could have done' (something I understand only too well). He also only wrote for money this play and two other stage triumphs which were enough to give him a comfortable life. What I do not read that much is how much of Knott is his own play as Tony Wendice is a retired tennis player (Knott was a good player too) and Max Halliday is a budding crime writer (nothing more needs saying). Also, be honest, who in the audience doesn't think about Lieutenant Columbo when dogged Inspector Hubbard turns back during the second act and almost uses the character's immortal line, 'Just one more thing'. You always knew whodunnit with the Columbo TV films – which began in 1968 and starred the incomparable Peter Falk – but the fun was watching the murderer's superiority deflating the closer the dishevelled detective got to the truth. The crucial evidence would be the smallest detail that otherwise might be overlooked. Here, it all takes its own good time getting to the murder and the framing of Tony's errant wife, Margot, but quickly [spoiler alert!] a key sets her free.
Dial M was broadcast live on BBC TV in 1952 before being put on within a few months at London's Westminster Theatre and was soon a success on both sides of the Atlantic. Now updated slightly to 1963, we see Margot in the midst of an ongoing affair with Max and before the play begins Tony has stolen her handbag leading to a discovery of an incriminating letter from him. He anonymously blackmails her and makes Margot nervous about her and Max being discovered. Tennis players – however successful in those days – were amateurs and Tony is short of money and so getting his hands on Margot's fortune appeals to him. Charles Swann is a disreputable individual who Tony remembers from his schooldays and seems to have survived on petty villainy since then and is now known as Captain Lesgate. I will not give too much more away but he eventually agrees to murder Margot because Tony threatens to accuse him of blackmailing her. The 'sweetener' is that he offers Lesgate/Swann £1000. Their plan of action is particularly elaborate but is tortuously established, it centres on a phone with a dial (remember them?) and a hidden key. Later a bag of money, a scarf, a pair of scissors, some stockings and footprints become significant to Tony's supposedly cast-iron alibi as Hubbard realises not all is what it seemed and it's his job to uncover the truth.
The onset of the pandemic interrupted a nationwide tour of this production of Dial M for Murder though it resumed in August and there are only a couple of weeks to catch it and I urge you – despite all its faults – to go and see it in Salford or Great Malvern if you have been missing a night at the theatre. The play is a near perfect one to tour as it needs only one set and four actors (with one doubling up). David Woodward's Maida Vale flat set gives it an odd sense of perspective as if we were watching the play unfold on a wide cinema screen. There are long French windows with elaborate curtaining, drinks trolley, TV, and prominent too is a wall unit with a record player and several LPs, as well as the long sofa: both stylish but very much of their time. The action unfolds mostly naturalistically though some of the passing of time is staged a little quirkily including some odd strobe lighting at one point. Tony particularly does a lot of rushing around the set, whilst from time to time there are strange pauses in what action there is. Many important things happen elsewhere than in this living room, so – at the very least –  we could really do with seeing what happens outside the door and with the stairs and, more importantly, Tony's reaction at the other end of the phone as Margot fights off her attacker. There is music and sound from Ben and Max Ringham which could be effective in bringing some atmosphere to what we see if it wasn't occasionally too subtly used.
Subtle is not a word I would use for the acting during this Dial M for Murder. Tom Chambers has a certain charisma as a performer, but his Tony was much too frenetic and neurotic. Can anyone believe he could have been a top tennis player, I'm not sure, he is more like an upper class Rigsby (Leonard Rossiter in TV's 1970s Rising Damp). More sophistication was needed to conceal – for as long as possible – the evil mind behind the graceful, charming façade. Diana Vickers's Margot convinces early on in her anxiety that her affair with Max will be discovered, however, gets little opportunity from Knott to stand up for herself when accused of murder. Diana remains something of a cypher therefore, which may not be entirely Vickers's fault. Michael Salami did his best as Max without any hint of his transatlantic prowess for crime fiction. What was more concerning was how Christopher Harper's Inspector Hubbard refuses his hand when he first sees him and then – seemingly totally out of character – roughs him up. Was the director trying to highlight something about racism and the police in the 1960s which he could now emphasis because Salami was playing Max.
Otherwise, Harper is the real star of this show, initially as Lesgate/Swann who dimwittedly falls into Tony's trap and then as Hubbard who persists until he gets his man. Why he lashes out at Max is a mystery, as is his fleeting Elvis hip swivel! (This latter brought forth a chuckle from the audience who were very quiet throughout, nor did they applaud for long at the end.) Towards the end of the second act – whether you know the plot or not – the play becomes more absorbing especially as Tony's story begins to unravel and he tries to convince Hubbard that his wife was being blackmailed over her affair and lured her blackmailer to the flat in order to kill him. Hubbard sees through all the lies and deceit and the game – not tennis but cat and mouse – is up.
Jim Pritchard