United Kingdom Beethoven, Mahler: Alina Ibragimova (violin), Dame Sarah Connolly (mezzo), Andreas Schager (tenor), Philharmonia Orchestra / Xian Zhang (conductor). Royal Festival Hall, London, 11.11.2021. (CC)
Beethoven – Violin Concerto in D, Op.61 (cadenzas: W. Schneiderhan)
Mahler – Das Lied von der Erde
Part of the series Human / Nature: Music for a Precious Planet, this was a wonderful coupling. Russian violinist Alina Ibragimova shone in Beethoven's Violin Concerto before a stunning performance of Mahler's epic Das Lied von der Erde (The Song of the Earth).
Alina Ibragimova has always shown herself as someone who would not step forward with a piece before internalising it completely; and so it was here. This was a reading of the utmost command. Fascinating to hear cadenzas by Wolfgang Schneiderhan (you can find the score here), vibrantly exciting (and in the cadenza for the first movement, with a part for timpani that links back to the opening of the first movement; ironically Schneiderhan's famous own recording with the Berliner Philharmoniker and Paul van Kampen uses the more traditional Joachim cadenzas!). The cadenza for the first movement in particular is wide-ranging and as such seemed to reflect Ibragimova's freshness and rethink of the entire concerto. Fascinating to see her act as 'another' first violin in the opening orchestral exposition, enthusiastically playing along with the tutti (and other relevant places when the solo 'rests'). Ibragimova's sound is sublime: sweet high register; grainy lower down. But what sealed this performance as something special was the miraculous rapport between Ibragimova and her conductor, Xian Zhang. Rarely if ever can orchestra and soloist have been in such complete alignment. Zhang's reflexes are lightning fast and, reciprocally, the orchestra's are to hers.
Sacrificing no excitement at all (remember the Perlman/Giulini recording, beautiful though that was?), Ibragimova and Zhang projected the magnificence of the first movement's architecture, as well as its sheer scale. The muted Philharmonia strings at the very opening of the slow movement were beauty itself; and how magical was the high-lying passage for soloist against pizzicato tutti strings. Ibragimova inserted a cadenza between the second and third movements before embarking on a supremely characterful finale (the character of her playing matched entirely by that of the wind and horns, acting together in pairs beautifully). The rapturous ovation she received was fully justified.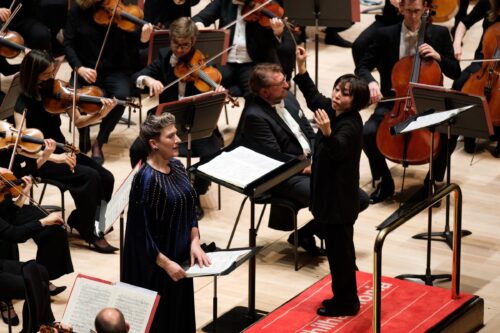 Mahler's Das Lied von der Erde requires two soloists possessed of ultimate stamina. Dame Sarah Connolly is a known quantity in this piece, her conception fully assimilated, her sense of immersion in Mahler's world beyond question. It is quite rare to have two evenly balanced soloists in this work; Andreas Schager though was every inch Connolly's equal, a true Heldentenor who could hold his own against the full strength of the Philharmonia in the first movement ('Das Trinklied vom Jammer der Erde'). Wonderful to see (and hear) a proper 'Schalltr. auf' from the clarinet, too (Mahler's command for 'Schalltrichter auf,' sometimes 'Schalltrichter in der Höhe': bells up, in other words). It makes a real difference to the sound the audience hears; more raw, somehow more primal. That ability Zhang showed in the first half of the concert to be absolutely with her soloist was here again; all the sudden corners were perfectly negotiated too. Schager's breath control shone in 'Von der Jugend,' as agile as one could wish, while Zhang found all the requisite lightness in Mahler's beautiful realisation of a scene from antiquity. A word here for the solo violin, leader Zsolt-Tihamer Visontay (both here and in the next movement) whose solos were ever-eloquent.
The second movement introduces the mezzo soloist, 'Der Einsame in Herbst'; here, the Philharmonia strings were beautifully even, supporting Tom Bloomfield's lovely oboe solo. Connolly was on top form, her 'Sonne der Liebe' a heart-rending outpouring (the line completes 'Willst du nie mehr scheinen': 'Sun of Love, will you never shine again?'). In 'Von der Schönheit' it really became evident that of the two soloists, it is Connelly who was the real storyteller.
These final two movements pit the brief tenor 'Der Trunkene im Frühling', effectively the close of the work's first 'part' against the massive final 'Der Abschied'. All credit to Schager for conveying such a sense of drunken abandonment in this movement; and how poignant it was when the protagonist goes into deep thought (only to dismiss such thoughts and ask the world to 'let him be drunk'). The voyage of the final movement, though, with its 'interior duologue', in which Connolly's protagonist has an imagined (or real!) dialogue with Death, was almost cruelly raw on an emotional level. Interestingly, Zhang brought extremes to bear, from the bleak chthonic depths of the opening to moments of lightness as if a veil had been lifted. As the music collapsed into itself only to resurrect, Mahler carried us away, Zhang managing climaxes with shattering effect. The cor anglais solos later on in the movement from Patrick Flanaghan were some of the finest – notoriously difficult to control, their eloquence was remarkable. From Connolly, the final passages, those repetitions of 'Ewig', seemed to invite in that very sense of eternity.
Magnificent performances of both pieces. And for however excellent the soloists were, it was perhaps Zhang's ability to listen, to react and to control that was most impressive.
Colin Clarke