United Kingdom Puccini, Tosca: Soloists, Chorus and Orchestra of the Royal Opera House / Oksana Lyniv (conductor). Royal Opera House, Covent Garden, London, 8.12.2021. (MB)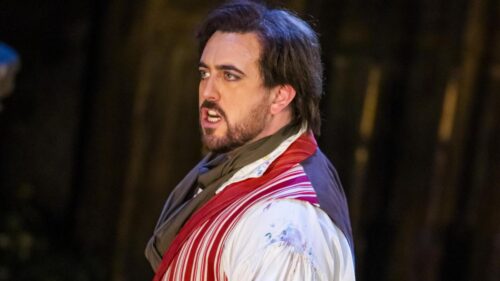 Production:
Director – Jonathan Kent
Revival director – Amy Lane
Designs – Paul Brown
Lighting – Mark Henderson
Cast:
Cesare Angelotti – Yuriy Yurchuk
Sacristan – Jeremy White
Mario Cavaradossi – Bryan Hymel, Freddie De Tommaso
Floria Tosca – Elena Stikhina
Baron Scarpia – Alexey Markov
Spoletta – Hubert Francis
Sciarrone – Jihoon Kim
Shepherd Boy – Alfie Davis
Gaoler – John Morrissey
Tosca is a puzzling opera. It seems to me quite the weakest of those Puccini operas in or at the edge of the repertory. Its characters are nothing more than cardboard cut-outs; there is little in the way of broader dramatic interest; for so generally sophisticated a composer, it is often crude, even drab, though there is perhaps greater interest in aspects of the vocal writing than elsewhere. Then there are the bits that read — and sound — like an especially bad historical novel or television mini-series, undigested pieces of historical record thrown up as if somehow to guarantee veracity. It remains steadfastly unmoving — for who or what might move one here? — compared to the rest of Puccini. And yet, Tosca continues in its bewildering popularity. Perhaps I instead am the problem.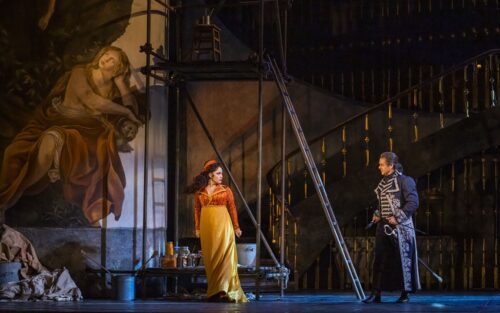 Whatever the truth of that, Jonathan Kent's Royal Opera House production is a serious problem. Quite what Kent or any of his team was thinking, it is difficult to say, as there is little or no production beyond the designs. It emerges as something that advances on the late, unlamented Franco Zeffirelli only by providing a sort of Reader's Digest abridgement to the latter that rids it of its gaudiness and any semblance of internal coherence. One waits for any sense of ironic detachment; then one waits longer; and longer still. The set's heavy vulgarity might have been a wry comment on the work, but wryness seems no more to be at stake here than it is in the airheaded vanity of Tosca herself, neither character nor idea. Characters, for want of a better word, generally seem too far away from one another, reducing still further any prospect for chemistry between caricatures. Quite what the point of having people walk up and down ladders is, I cannot say. It gives them something to do, I suppose, but there seems to be beyond no concept beyond that. Borgesian labyrinth this is not; nor is it Piranesi. The oddly designated 'revival director' Amy Lane doubtless does what she can, but you cannot revive something that never had life in the first place.
Musically, things were better. Elena Stikhina gave a finely variegated account of the title role, with considerable heft where needed, and considerable range of dynamic and colour contrast. She certainly seemed to believe in the role and would surely have made greater dramatic impact in a more plausible staging. As Cavaradossi, Bryan Hymel did not return after the first interval, an announcement made that he had been suffering with a heavy cold. It only seems fair therefore to draw a veil over his performance and to say that his replacement Freddie De Tommaso (who is singing the role in the second cast) would have made an excellent impression in any circumstances, let alone these. De Tommaso's was, like Stikhina's, an unsentimental, idiomatic, and — work and production permitting — involving performance. (He became the first British Cavardossi at Covent Garden for nearly sixty years.) The production's crudity did Alexey Markov as Scarpia no favours, but there was no doubting the intelligence of his artistry, nor the blackness of this baron's intent. Other singers all contributed with excellence, Hubert Francis's Spoletta in particular catching the ear.
So too did the Orchestra of the Royal Opera House, perhaps the greatest star of the evening. The players clearly relished Puccini again and responded with accuracy and style to conductor Oksana Lyniv, whose precision and disinclination to yield prevented any lapse into mere sentimentality, though perhaps it drained a little too much of the sentiment without overt cause that is Puccini's orchestral stock-in-trade here. The Royal Opera Chorus's contribution was mostly dependable, if at times a little frayed. I could not find the children's chorus identified in the programme, though perhaps I missed it.
It will doubtless sell. Some, especially at the moment, will say that that is enough; but is it, really? If institutional opera even gives up the struggle to be anything other than a bad-taste museum piece, why should we struggle on its behalf? As we emerge, fingers crossed, from this wretched pandemic, Covent Garden should set its sights higher than being a faded Met-on-Thames. Give a director such as Calixto Bieito a chance to prove us Tosca-sceptics triumphantly wrong.
Mark Berry