United Kingdom The Mastersingers Wagner Vocal Competition 2022: The Peacock Room, Trinity Laban Conservatoire of Music and Dance, Greenwich, London, 30.1.2022. (JPr) 
Maritime Greenwich is a World Heritage Site and at its heart you will find Sir Christopher Wren's Old Naval College (formerly the Royal Hospital for Seamen). As you meander amongst the myriad buildings you experience the full weight of the history that all this architectural splendour has borne witness to over the last 500 years. Today the Old Naval College is the London campus of the University of Greenwich, and the Trinity Laban Conservatoire of Music and Dance also has its classes there. In the Peacock Room of King Charles Court more history was made with – what one hopes – was the inaugural The Mastersingers Wagner Vocal Competition for young singers, presented in association with Trinity Laban.
For over 20 years Mastersingers has been guided by its artistic director, legendary baritone Malcolm Rivers, and most of their recent events, such as this competition, have been coordinated by the gifted David Edwards, designated their production director. Their mission statement is as follows: 'Mastersingers plays a key role in the discovery and development of talented young singers, focussing on those that we feel have the potential to succeed in the dramatic vocal Fach, most notably in the great works of Richard Wagner, Richard Strauss and the German romantic masters. Many young artists with the potential voices for this repertoire need help. Mastersingers can make a real contribution to this development by arranging the appropriate coaching from experts of this vocal type, and by creating performance opportunities to showcase emerging talent.'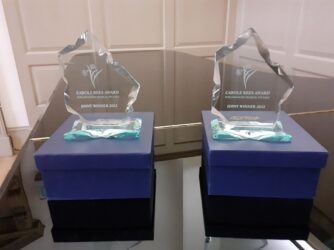 Missing from this is any mention of the all-important financial support Mastersingers have been able to offer to singers for this coaching. At this competition the two first prize winners were given £1000 each and these were Carole Rees Awards for Advanced Musical Studies presented by Roger Lee in memory of his late wife Carole. She is described as 'a passionate educator who in her later years became particularly interested in the development of musicians whose aspiration included that of adding the work of Richard Wagner to their repertoire.' I also gave an audience prize of £250 so that those there on the day were invested in the outcome of what they were present at and by being called The Goodall Ring Award honoured singers of a past generation who are still with us, or we have sadly lost, yet also looks to the future. Any help like this was invaluable even before the pandemic blighted the performing arts. The worlds of opera and classical music is now difficult enough even for those whose careers are established, let alone for singers and musicians of exceptional talent trying to make a name for themselves.
From a previous audition six singers had been chosen to compete for these awards and these (in order of singing) were: Kristel Vinter Knudsen (soprano), Lawrence Thackeray (tenor), Angharad Shanahan (soprano), Simon Grange (bass), Wendy Silvester and Georgia Mae Bishop (mezzo-sopranos). Each of them offered two Wagner extracts and on a couple of occasions it was interesting to compare singers when they sang the same thing. Everyone did very well considering how the audience filling the functionally austere Peacock Room was rather close and the piano played by the virtuosic Kelvin Lim – who stirringly accompanied all the singers – sounded rather bright (at least at the front where I was sitting).
Sensibly the adjudicating panel – voice teacher and former soprano Dame Anne Evans, artistic and casting advisor Isabel Murphy, soprano Meeta Raval, and bass-baritone James Rutherford – were halfway back in the room and ideally placed to form an opinion on each of the singers. It would not be correct for me to critique any of them though I will just make one observation that – as promising as they all were – we might have heard all of Wagner's words and notes correctly but there was too little communication of their actual meaning. Then again this is hopefully an ability they will gain with more experience. It was not a surprise that the two singers who did this better than the others were announced as the prize winners: Georgia Mae Bishop who had sung Erda's 'Weiche, Wotan, weiche!' (Das Rheingold) and Waltraute's 'Höre mit Sinn' (Götterdämmerung) and Simon Grange who sang Fafner's 'Wer bist du, kühne Knabe' (Siegfried) and 'Hier sitz' ich zur Wacht' (Götterdämmerung). It was Grange who was also presented with The Goodall Ring Award after the audience's votes were counted.
Before these results were announced we were able to see a fascinating workshop session as James Rutherford worked with Julian Debreuil (also a bass-baritone) who was accompanied this time by another fine pianist, Richard Black. In his ongoing career Rutherford is celebrated throughout the world especially for Wagner performances as Hans Sachs, as well as Wotan, Dutchman, Wolfram and Kurwenal; whilst Debreuil has performed a broad range of operatic and concert repertoire but is now contemplating these more Heldenbaritone roles. Together they explored Wotans Abschied from Wagner's Die Walküre and particularly its first two sections which Rutherford noted was 'a big dramatic beginning ['Leb wohl, du kühnes, herrliches'] and then a more lyrical and intimate section ['Der Augen leuchtendes Paar'] with Brünnhilde.'
After we had heard Debreuil sings these for the first time, Rutherford began by reminding us – if we didn't already realise it – that Wagner is 'a very physical thing to do' and the strength required 'is that classic swan thing, you need [the singer's body] to be paddling away furiously while the other bit [the head] doesn't show it at all.' He continued how 'Physicality is one thing and on top of that you have to work on your legato line and imagine you are singing Bellini or Donizetti or this kind of thing and [your voice] it has to spin. You have to use the whole length of every note […] you have got to sing it a stage version of piano or pianissimo so it still has to be heard right at the back.' Rutherford was keen for Debreuil make a greater contrast between what we had heard commenting that 'Ironically it is physically harder to do the second section than the first one.'
There were some hints as to what a fly on the wall might have heard as the panel came to their decision when Rutherford said, 'Another comment for our dear competitors: sometimes you just need to trust your own tone that you have and, as much of course, as the pressure of competition and performance and that sort of thing […] you trust your own quality of sound to get out there and it's a hard lesson to learn and I still haven't learnt it myself.' Among much helpful advice was 'You need to learn techniques to get through it', 'Never be afraid to breathe' and – emphasising in part what he said earlier and with tongue firmly in cheek – 'Don't push [your voice], do not push, trust your own tone to spin that out with this beautiful line. The words [surtitles] are all up there, no one needs to hear them!'
Rutherford had discussed throughout his work with Debreuil about the differences between the bass voice and that of developing a higher bass-baritone that singing some big Wagner roles needs. Because Rutherford had made this change Debreuil asked him how easy this had been for him, he explained: 'Rather freakily I was someone with a very large range and always had a lighter top which of course was because I sang Mozart and Handel … It was more a question of waiting till I was allowed to sing that stuff.'
James Rutherford and Julian Debreuil – not forgetting the tireless Richard Black – deserve much credit for this fascinating snapshot of how Mastersingers can help new young talent. Rutherford ended with more encouraging words for those who had sung in the competition: 'Allow yourself to sing in a certain way whilst retaining the core of what your voice is. We all want an individual sound and that thrilled me today with our six singers and that they all have a unique sound and that is absolutely crucial.'
Jim Pritchard
For more information and how to support Mastersingers click here.