United Kingdom Verdi Rigoletto: Soloists, Chorus and Orchestra of the Royal Opera House, Covent Garden / Stefano Montanari (conductor). Royal Opera House, Covent Garden, 21.2.2022. (CC)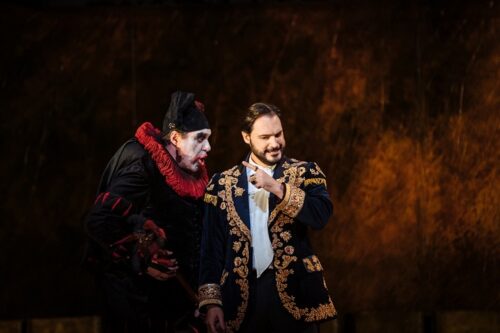 Production:
Director – Oliver Mears
Revival Director – Danielle Urbas
Set designer – Simon Lima Holdsworth
Costume designer – Ilona Karas
Lighting designer – Fabiana Piccioli
Movement director – Anna Morrissey
Cast:
Duke of Mantua – Francesco Demuro
Rigoletto – Luca Salsi
Gilda – Rosa Feola
Sparafucile – Evgeny Stavinsky
Maddalena – Aigul Akhmetshina
Giovanna – Kseniia Nikolaieva
Count Monterone – Philip Rhodes
Marullo – Dominic Sedgwick
Borsa – Egor Zhuravskii
Count Ceprano – Blaise Malaba
Countess Ceprano – Amanda Baldwin
In September of last year, Sir Antonio Pappano conducted the first run of Oliver Mears's production of Rigoletto – my initial responses to that production, and to the performance, are here. I began by commenting how 'We find ourselves at an indeterminate time in history, given the mixed costumes, and a staging which acts as something of a blank page on which Verdi can paint his tragedy. There is effective use of graphics for the glowering weather in the last act, where we see into a raised first-floor bedroom where Sparafucile pimps out his daughter.' There is no doubting the power of Mears's vision, which seems to grow on repetition. But there was another, arguably more fascinating, aspect afoot.
Pappano is drenched in the Romantic tradition, and his resonance with Verdi is well-known (including his superb performances of Verdi's Requiem). Here, the conductor was Stefano Montanari, a violinist with a Baroque background who also collaborates with jazz musicians. It is as if we have two wildly different viewpoints, and their crossroads is Rigoletto. He says that to sing Verdi, 'you need to know Donizetti, know Rossini, and before Rossini to know Mozart'. Montanari's grasp of recitative – dialogue sections, here – is magnificent. But more, it was – thinking of the various paintings Mears has dominate the stage – like seeing a dusty Old Master restored. Textures were lighter, we heard more, and in the process Verdi's score sounded more modern, more daring, in keeping with the subject matter. This freshness was surely picked up by the musicians in the spirit of their execution – always involved, always superb – as near a flawless orchestral contribution of Rigoletto as I think I have encountered. None of the power of Rigoletto was lost; but in terms of revelations, everything was gained.
In tandem with this was a cast of remarkable strength, from the opening Count and Countess Ceprano (Blaise Malaba and Amanda Baldwin) and the big, velvety voice of Jette Parker artist Ksenia Nikolaieva, as Giovanna, through to the major roles. And in this sea of excellence, Luca Salsi shone like a hunchbacked diamond, his voice projecting to the back of the auditorium effortlessly, strong throughout all the range, a joy to experience. Pain is Rigoletto's constant, in its various guises, and Salsi's multifaceted exploration of human anguish was heart-rending. He is clearly immersed in Verdi, and in this role – Salsi's performance was a masterpiece of Verdi interpretation, all the more effective with Montanari in the pit.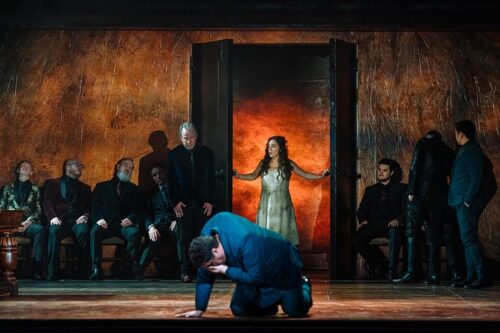 While Lisette Oropesa dominated the December run, it was a joy to experience the Gilda of Rosa Feola. I imagine her Violetta in La traviata, which she essays in Naples in July (with a Norina Don Pasquale in between in Hamburg), will be as remarkable as her Gilda: how fresh she looked and sang, the very epitome of purity. The occasional first night slip of accuracy was surely that – Feola has great presence and how persuasive was her 'Gualtier Maldè' passage; and her 'Caro nome' was one of the opera's highpoints.
Replacing Javier Camarena, Francesco Demuro's Duke could have been more characterful – his 'Ella mi fu rapita' was technically fine, but I simply did not believe the emotions the words claimed were there (ironically, Camarena's Duke in Rigoletto with Salsi from Florence has recently been released on Dynamic, and is a superb assumption, albeit in a very different production!). Neither does Demuro have the sheer tingle-factor for 'Questo a quella' or 'La donna è mobile'. Sparafucile benefits, too, from a darker-voiced singer than Evgeny Stavinsky.
Against that is the jewel of a singer that is mezzo Aigul Akhmetshina, here taking the role of Sparacucile's sister, Maddalena. She was part of a fabulous La traviata revival (one of the many!) in 2019 (review here) and sang Mercèdes in the Barrie Kosky 2018 Carmen (review here). She is a 'coloratura mezzo' in voice style (quite rare in itself) and how she grasped every opportunity Verdi offered in the opera's final act. Her first entrance was perhaps a little quiet, but as the piece moved towards its tragic conclusion she was every inch the equal of the main roles on stage with her. Another singer of huge stage presence (and a former Jette Parker artist), she is surely someone who is destined to achieve greatness.
Vocally, the evening was fascinating. But the revelations throughout from the pit were what elevated the performance to levels that should be garlanded with superlatives. That freshness, that detail, that sense of fate – and curse – underpinning everything: all utterly remarkable. The list of Verdi operas I for one would love to see Montanari conduct is long indeed …
Colin Clarke