United Kingdom Mendelssohn, Schumann – Part of The Wilderness Pleases season: Isabelle Faust (violin), Orchestra of the Age of Enlightenment / Antonello Manacorda (conductor). Royal Festival Hall, London, 15.2.2022 (CC)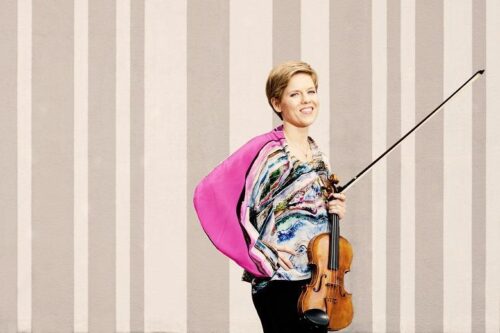 Mendelssohn – Overture, The Hebrides (1830)
Schumann – Violin Concerto in D minor, WoO23 (1853); Symphony No.2 in C, Op.61 (1845)
An early 7pm start made this an early bath, even with encore, but this concert was a delight throughout. Healthy audience numbers attested to the popularity of the Orchestra of the Age of Enlightenment, who seemed on this occasion particularly responsive to the young Berlin-based Italian conductor Antonello Manacorda.
While on first glance the Mendelssohn 'Hebrides' Overture might seem like a throwaway starter, the reality could hardly be more different. Manacorda took the piece at a pace that could be described as leisurely but was, more properly, a space in which phrases could be tenderly caressed. Not for the first time in the concert, string portamenti were used expressively. Woodwind solos were given plenty of space; mystery was heightened throughout, surprisingly strong horns in their low fanfares punctuating the experience. The preparation for the clarinet solo was beautiful in and of itself; Katherine Spencer rose to the challenge with molten clarinet playing. The use of authentic instruments really reveals the varied qualities of Mendelssohn's scoring – no monochrome tuttis here. The ending was perfectly timed and calibrated. Suddenly, Mendelssohn's Hebrides was reframed into a memorable miniature tone poem; its presence also acted as a reminder that sometimes Schumann writes with Mendelssohnian lightness and grace, too.
Isabelle Faust is a known quantity in Schumann's Violin Concerto, WoO (Werk ohne Opus) 23 – she recorded it with the Freiburg Baroque Orchestra under Pablo Heras-Casado for Harmonia Mundi. The OAE performance was even punchier than their German counterparts – something helped by beautifully hard sticks for the timpani (which creates a characteristic sound in piano – it's not just about the loud, bullet shot attacks …). While Schumann's Piano Concerto is wheeled out everywhere, the Violin Concerto and the Cello Concerto languish. Unaccountably so: the Violin Concerto is surely a great work. Faust's entry revealed a strength of steel, her low register a thing of beauty, the second subject softly, gently given but without a trace of indulgence. The concerto has a sense of flow that sometimes seems to go down tributaries into dark, interior realms (the ruminative passage around 8 or 9 minutes into the first movement).
Faust's greatest achievement (notwithstanding her superb voicing in two parts and her held breath pianissimos) was her grasp of Schumann's expressive palette. And Manacorda was right there with her as she lingered just a tad on phrase endings or presented the gorgeous long lines of the central Langsam (Slow). There is an otherworldliness to passages in this middle panel that is disturbing, and Faust, Manacorda and the OAE presented them unabashedly, allowing Schumann's near-obsessive repetitions to, eventually, blossom into a new theme (this blossoming was markedly more magical live than in the Harmonia Mundi recording). The finale is a Polonaise, full of dynamism (if not joy; the earlier movements cast a shadow). Faust's performance of the finale was as impressive as the first two movements, ruminative at times, dance-like at others. Every note was cherished; every note had its place structurally, perfectly placed. If ever there was a performance to persuade one of the genius of Schumann's late works, this was it.
Schumann's Violin Concerto has an interesting back story. It disappeared from sight, dissed firmly by both Brahms and Joachim, with Joachim depositing the score in the Prussian State Library. The violinist Jelly d'Aranyi, heard of its existence via a séance(!) and subsequently located the score, giving the first UK performance with the BBC Symphony Orchestra under Adrian Boult in February 1938 (it was premiered in Berlin a couple of months earlier).
One encore: an arrangement of Brahms's Romanze, Op.118/5 (from the Sechs Klavierstücke, Op.118) in a 2019 arrangement for violin and orchestra by Oscar Strasnoy – an arrangement published by Universal Edition and premiered by Faust herself at Hamburg's Elbphilharmonie with the NDR-Elbphilharmonie-Orchester once more conducted by Manacorda. The perfect choice here, impeccably performed. Strasnoy's arrangement is utter joy, deft and intelligent.
Another of Schumann's gems that does not get the recognition it deserves is the Second Symphony, a piece much enamoured of one Arturo Toscanini, whose various performances offer that conductor at his best – taut and exciting. With the added advantage of historically informed instruments (valved horns, by the way), Schumann's textures suddenly enliven, as if a layer of dust has been removed (as John Eliot Gardiner's seminal recordings with his Orchestre Révolutionnaire et Romantique on DG demonstrated beyond doubt). Manacorda's reading was carefully considered and yet vibrantly exciting. The tempo of the opening Sostenuto assai was impeccable, a slow two to a bar, just on the cusp, after which it would have been divided into six. The succeeding Allegro ma non troppo was not only energetic but positively bright, double basses, positioned behind the first violins grounding the sound. The Scherzo comes second in this piece and is where Schumann comes closest to Mendelssohn; yet Manacorda kept this strictly within Schumann's remit. Discipline was superb (this movement in particular needs it); the end of this second movement could only be described as furious, a dismissal that led to the most exquisite Adagio espressivo (portamento again used to fine expressive effect). It was fascinating to hear Manacorda's organicist approach – phrases seemed to grow, evolve, naturally and even, at times, to glow. Hearing high strings with such unanimity of both attack and tuning was a treat. Interesting to hear the opening of the finale almost linking to the first movement of Mendelssohn's 'Italian' Symphony first movement in its thematic anacruses. But more than that, hearing discipline and fire in such close contact seemed to hotline into the very heart of Schumann.
A superb concert in all respects; but the Schumann Violin Concerto was simply revelatory!
Colin Clarke