Switzerland Adams: Vikingur Ólafsson (piano), Tonhalle Orchestra Zurich / John Adams (conductor). Tonhalle, Zurich, 17.3.2022. (JR)
Adams – Short ride in a fast machine, fanfare for large orchestra; Third Piano Concerto, Must the Devil Have All the Good Tunes? (Swiss première); Naïve and Sentimental Music for large orchestra
This concert provided more material with which to assess works by John Adams (now 75) which one may not know so well. It was a privilege to witness a contemporary composer conduct his own works: this was a concert to tell the grandchildren about.
In a pre-concert interview, Adams admitted that Adams the composer was more of an introvert and did not find it particularly easy to stand in front of 100 musicians and play the extrovert. Not every composer is a good conductor of his own work, but Adams proved a consummate conductor, with a crisp and clear beat. He communicated not only the entries and complex rhythms but also the vision behind the works.
Short ride in a fast machine was written at the request of Michael Tilson Thomas and the Pittsburgh Symphony Orchestra to open a new festival, Great Woods in Mansfield, Massachusetts in 1986. It has proven to be one of Adams' most popular works, even though it lasts only just over four minutes. It starts with a solo woodblock and develops into a lively fanfare, full of pulsating rhythm. As a commentary on the title, Adams says, 'You know how it is when someone asks you to ride in a terrific sports car, and then you wish you hadn't?' The work is an example of Adams's post-minimal style, as used in in his opera Nixon in China. Adams revels in the use of a large orchestra and employs a palette of instrumental colour. The expanded standard symphony orchestra included xylophone, crotales, glockenspiel, sizzle cymbal, suspended cymbal, tambourine, large tam-tam, and synthesizers. Dynamics are loud; the pace is frenzied. It is a bright, happy piece of music which is clearly very difficult to play but a lot of fun. The audience lapped it up.
Music of this complexity always brings with it an element of danger. Play it slowly and carefully and the thrill is missing; play it with wild abandon and it will certainly excite but can fall apart. The Tonhalle Orchestra (who do not have this music in their blood) managed to throw caution to the wind, and – one percussion entry apart – succeeded in holding it together and thrilling the audience.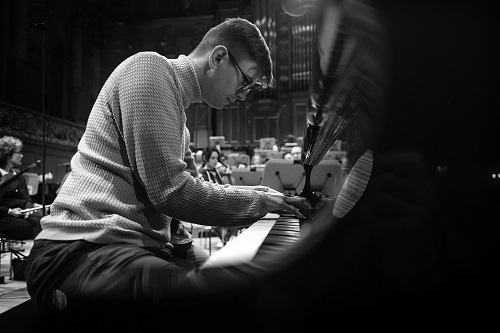 Must the Devil Have All the Good Tunes? is the intriguing title of Adams's Third Piano Concerto, fusing elements of swing and boogie-woogie with Adams's post-minimalist vocabulary. Vikingur Ólafsson delivered a tour de force, hardly stopping to rest. He attacked the keyboard in the outer movements with fiendish energy, demonic swagger and athleticism, only the central movement allowing everyone to rest and dream. Adams matched the soloist with power and atmosphere aplenty from the orchestra.
The audience applauded Ólafsson's virtuosity long and hard, and were rewarded with a gentle encore, Ave Maria by Icelandic composer Sigvaldi Kaldalóns (arr. Ólafsson). The pianist dedicated the encore to the victims in Ukraine.
Naïve and Sentimental Music for large orchestra followed after the interval. This particular piece'' Adams writes' 'perhaps more than any of my others' attempts to allow the naïve in me to speak' to let it play freely.' A symphony in all but name' Naïve and Sentimental Music is cast in three movements. The first movement is an 'essay on melody'' built around an expansive theme (first played on three flutes) that gradually unfolds. Strumming guitar and harps play an important part. The movement ends in ferocious cacophony with all six percussions hammering away. The second movement' subtitled 'Mother of Man'' is a gloss on a little known work by Busoni, his Berceuse élégiaque. It is radiant and mournful' employing unsettling harmonies. Orchestral colour is provided by means of a guitar, and continual bowed vibraphone and glockenspiel.
Adams titled the finale 'Chain to the Rhythm'. No melody to speak of but a dazzling mosaic of sound, complete with tinkly percussion, a loud Coda and an abrupt ending with the horns blaring into the void. The work, unlike Harmonielehre, cannot be described as a populist work, it is avowedly not a crowd-pleaser. There is only one melody to hum; it is however an intriguing composition. Adams led the orchestra in a powerful performance that emphasized his inventive orchestration.
Adams's works should not be heard on CD or watched on YouTube. They need to be seen and heard 'live'. There is so much to watch, particularly in the percussion section; and the volume needs to be unfettered.
In concerts conducted by Paavo Järvi next week, Zurich concertgoers have more tempting chances to sample yet more of Adams's lesser-known works, including My Father Knew Charles Ives, I Still Dance, Slonimsky's Earbox, Tromba lontana and Lollapalooza. Intriguing titles, intriguing music.
John Rhodes