United Kingdom Hensel, Tchaikovsky: Royal Scottish National Orchestra / Anna-Maria Helsing (conductor). New Auditorium, Glasgow Royal Concert Hall, 23.3.2022. (GT)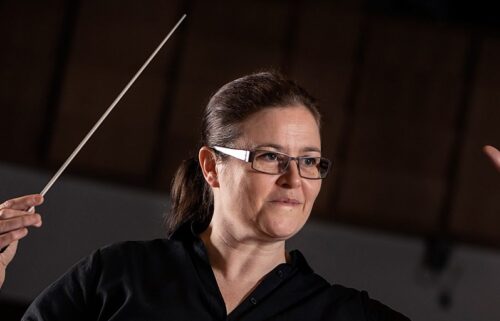 Fanny Hensel – Overture in C major
Tchaikovsky – Symphony No.5 in E minor, Op.64
This matinee concert reprises the regular series introduced when this splendid auditorium was built several years ago, and initially audiences were invited to have a bowl of soup to revitalise them on a bitter winter's day on midweek matinee concerts. That warming benefit is no longer, however the weather provided a perfect setting for this fascinating concert and a good send-off for the orchestra's first foreign tour for two years beginning next week.
The acoustics of this hall are quite astonishing and offers a quite different sound picture and aural possibilities than the cavernous Royal Concert Hall next door. While it is much smaller, there is never a danger of deafening sound when a large orchestra is on stage; everything is crystal clear from the strings to the rear of the stage with the brass and percussion.
A recent feature in the orchestra's programming has been music by long neglected women composers, today we heard one woman who was possibly more gifted than her famous younger brother Felix Mendelssohn. During her short life, she wrote 400 musical works and legend has it that she credited one of her compositions under her brother's name to simply get it published. Her first published work in her own name was issued just a year before her death at just 41.
Fanny Hensel's overture was written between 1830 and 1832 and remains her only completed orchestral piece (without singers). As she described to her brother, Felix, 'Had I not been so shy, and embarrassed with every stroke, I would have been able to conduct reasonably well. […] People seemed to like it – they were very kind, praised me, criticised a few impracticable phrases, and will return next Saturday. Thus I took part in an unexpected pleasure.' Regrettably, this overture remained unknown until 1994.
The first bars were bursting with sun-filled beautiful phrasing from the violins colourfully assisted by the flute of Antony Robb and the oboe of Adrian Wilson, and there was an intensifying splendidly bright theme joined by the horns and again the flute. The mood was suddenly broken by a rise in tempo with a dramatic idea on the strings, becoming more agile – somewhat foreseeing Robert Schumann symphonies – which was embellished with superb orchestral writing and a charming symphonic oboe idea that was picked up by the violins and cellos and it all closed with a celebratory upbeat culmination. This splendid piece only leads one to want to hear more of Hensel's music in concert.
It is three years since this orchestra last played Tchaikovsky's Fifth Symphony here in Glasgow when Thomas Søndergård produced an astonishingly majestic performance which long remained in one's memory. The Danish conductor's interpretation was different from that of Yevgeny Mravinsky who directed the Fifth more than he did any other work – he always carried a portrait of Tchaikovsky on tour – and called the third movement a 'waltz of death', traversing the trials of love and death. Anna-Maria Helsing (Principal Guest Conductor of the BBC Concert Orchestra) made a fine debut here during the first streamed concert series in 2021 with Dvořák's 'New World' Symphony. Hence, it was of no little interest to hear this great symphony in the reading by this young talented Finnish conductor.
It was clear that Helsing chose a powerfully romantic interpretation without any storm around the theme of fate which dominates Tchaikovsky's Fifth. In the Andante-Allegro con anima, the delightful interplaying of the clarinet and bassoon of the theme of fate was somewhat subdued before the entry of the strings led to all the Slavic warmth expressed with the leitmotif of fate as the allegro emerged from pianissimo. The ensuing passages were handled superbly under Helsing's increasingly steadfast guidance. She has a strong technique without overly expressive gestures and excessive controlling at the podium. However there was a sloppy transition between second violins and the cellos, which only momentarily halted the fine balance before the bright clarinet of Adam Lee, the bassoon of Charlotte Cox and Wilson's oboe highlighted the world-class standards of this orchestra's wind section. In the Andante cantabile, the outstanding performance was underscored by heart-warming intonation from the horn of Christopher Gough aided by the oboe with a beautiful phrase marvellously handled by the conductor. In the Valse, Helsing coaxed vivid clarinet and bassoon playing, while in the Finale – in the build-up to the end of the symphony – the orchestra's superb brass was magnificent, notably the trombone of Dávur Juul Magnussen, all crowning this excellent performance with a finale that was majestic rather than affected.
This concert provided a fine harbinger for the orchestra's forthcoming European tour to the Netherlands, Germany and Poland in April. The orchestra will be led by Thomas Søndergård, and joined by Midori (violin), and Lise de la Salle (piano) in programmes of Rachmaninov, Tchaikovsky, Elgar and Walton. The tour is supported by the Scottish Government.
Gregor Tassie