United States Various: Yuja Wang (piano). Colburn Celebrity Recital at Walt Disney Concert Hall, Los Angeles, 4.6.2022. (DD)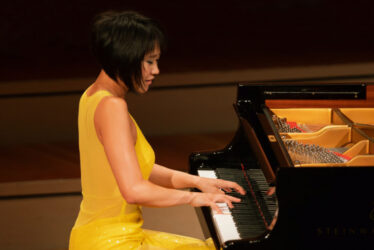 Beethoven – Piano Sonata No.18 in E-flat major, Op.31
Schoenberg – Suite for Piano, Op.25
Ligeti – Etude No.6, 'Automne à Varsovie'; Etude No.13, 'L'escalier du diable'
Scriabin – Piano Sonata No.3 in F-sharp minor, Op.23
Albéniz – Iberia Book III No.3, 'Lavapiés'
Kapustin – Preludes No.11 and No.10, Op.53
Encores:
Mendelssohn – Songs Without Words No.2, Op.67
Tchaikovsky – Swan Lake, 'Dance of the Four Swans' (arr. for piano by Earl Wild)
Glass – Etude No.6
Tilson Thomas – 'You Come Here Often?'
Márquez – 'Danzón' No.2
Kapustin – Eight Concert Etudes for Piano, Op.40, III. Toccatina
Quantifying, let alone qualifying, a concert recital, especially one with the deep and varied pieces that were played by Yuja Wang on an early April evening, might seem to be an ultimate exercise in expression. Her ease in musical entry, performance and encore and the performance's ultimate completion (does she ever sleep?) are easy and obvious signs of a truly masterful performer. She no longer needs to prove anything to anyone, and what great pleasure she serves with regularity.
She began this demanding program with a relatively early Beethoven sonata (one at the halfway point between the 'Moonlight' and 'Waldstein' sonatas, two of his better-known 'titled' pieces), and dashed it off with the élan that one has come to expect of her. The interpretation was solid and smooth, the phrasing clear without being overtly obvious. This sonata closely anticipates the Beethoven masterpieces that were yet to be born. For example, if one closely follows the opening – the third through fifth measures, to be exact – there are three chords played, followed by a longer single chord. This is, of course, a motific pattern, which then repeats the rhythmic pattern with similar but different chords. (And this is, in addition, the pattern that anticipates the opening to his far more famous Fifth Symphony.)
Wang's mastery is well-known among her fans and often discussed by followers like myself. While I was reading the Beethoven score, I could hear the subtle phrasings and transformable volume levels that are always beautifully performed by her. What she added were sotto voce figures that, perhaps, might not be as easily heard in a performance venue the size of a concert hall like the Walt Disney. Nonetheless, she filled it with the easily discernable movement in the piece as a whole. The Scherzo, which makes up the second movement, was no slow, romantic, sonic wave: she adopted a quick, march-like pattern, and I will swear on a stack of Brahms symphonic scores that I could imagine Wang's lips curve into a smile during the ritardando.
With Schoenberg's Suite for Piano, Wang brought purpose to the music, music that possesses a closely conceived structure yet is brimming over with a kind of power that differs, sometimes greatly, from more traditional approaches. Schoenberg believed in music's historic atonal progress (and progressions), along with his own unique understanding of composition, and made no apologies for his style and approach. I think it is fair to claim that his works often need multiple hearings and an acceptance/appreciation of the technique before any judgements can be made.
The conclusion of the first half of the program, packed with two of György Ligeti's Etudes, is no exception. He drew the design's formal progression from a different base, and his final product proved to be both arresting and weirdly beautiful while sounding strongly compelling, at least to my ears. Wang's interpretation of Etude No.13, 'L'escalier du diable', was percussive, requiring not only ironclad technique but also an understanding of the complexity of the rhythm. In addition to those difficulties, each hand is written in differing key signatures. A score was used throughout. The pieces projected both an artistic and historic evolution: Beethoven alluding to Schoenberg, Schoenberg anticipating Ligeti.
In the second half, Wang abruptly changed musical and artistic directions. The performance began with Scriabin's Piano Sonata No.3 in F-sharp minor. The Russian composer, born at the end of the nineteenth century, was an advocate for unusual harmonies and musical symbolism, and this sonata contains elements that offer various mystical philosophies of a religious nature. Wang's compelling performance had many differing qualities – once again, styles and approaches that were unique to the composer. The piece is from a period in music when many composers and advocates were seeking the new and the different in both pleasing and challenging ways of gathering and shaping sounds. In the four movements, Scriabin places the traditional thematic ideas with noisy outbursts, pliable themes with odd modifications, and even breeds Romanticism with the Modernism of a Rachmaninoff offspring. The sonata was well-served by Wang who brought voicings that I have not heard in other interpretations.
It should be noted that there was no written program for this performance, only the announcement that 'the program will be announced from the stage'. (It was not announced from the stage!) I have to wonder what the intention was on Wang's part. Perhaps a desire for the audience to listen without preconceived notions of what was coming? There were audible whispers between pieces and movements, as audience members seemed to be trying to figure out what it was that they had just heard. In fact, one yelled 'What is this piece?' after the Beethoven sonata. No answer was offered.
The program required the strength and stamina of an athlete, qualities that Wang obviously possesses. She was unphased by the technical demands and topped off the recital with six encores, including the tear-inducing 'Danzón' No.2 by Arturo Márquez. Two days later, and I am still dancing!
Douglas Dutton