Austria Wagner, Tristan und Isolde: Soloists, Chorus and Orchestra of Vienna State Opera / Philippe Jordan (conductor). Livestreamed (directed by Anna Gettel) from Vienna State Opera, 27.4.2022. (JPr)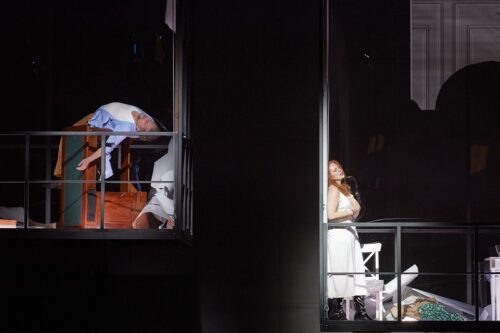 Production:
Director – Calixto Bieito
Sets – Rebecca Ringst
Costumes – Ingo Krügler
Lighting – Michael Bauer
Dramaturgy – Nicholas Stenitzer
Chorus master – Martin Schebesta
Cast:
Tristan – Andreas Schager
Isolde – Martina Serafin
Kurwenal – Iain Paterson
Brangäne – Ekaterina Gubanova
King Marke – René Pape
Melot – Attila Mokus
Shepherd – Daniel Jenz
Steersman – Martin Hässler
Young Sailor – Josh Lovell
'Skandal, welcher Skandal?', after all the furore of the booing at the general dress rehearsal and first night this performance was remarkably well received with thunderous applause at the end and not a 'boo' to be heard. Well things have certainly changed since my time standing in the Wiener Staatsoper when a single wrong note would subject any luckless singer to the audience's scorn and I think of my decades going to the Bayreuth Festival when a production like Calixto Bieito's would probably result in fistfights amongst watching Wagner devotees. So director of Vienna State Opera, Bogdan Roščić, appears to be succeeding in getting the formerly ultra-traditional Viennese operagoers to accept Tristan und Isolde at Easter instead of the expected Parsifal and embrace (!) stage-wide full-frontal nudity for no apparent reason.
In a recent review (here) of Der fliegende Holländer I accused it of 'theatrical excesses', well, it is difficult to know where to start with Bieito's Tristan. His staging is bizarre, possibly an insult to all the singers involved – then again, a job is a job – and almost nothing to do with Wagner's original. In fact the mise-en-scène could quite easily be adapted to virtually any opera you might think of. However, given the closeup camerawork from Anna Gettel, it is all so 'in your face' (in more ways than you can imagine!) and mystifying, yet in the end I was glad I had watched it, though I am not eager to see it again and how revivable it is remains to be seen.
For the first act there are small platforms surrounded by water which is shown reflected at the back of the stage. Ingo Krügler's costumes are drawn from modern times, Isolde has a beige trench coat and a green polka dot dress, Brangäne wears an anorak, Tristan is in a duffle coat and Kurwenal has a shirt and tie and grey overcoat. Characters are often onstage when they shouldn't be and mostly face resolutely forward singing out as if in an elaborate semi-staging. On swings there are several blindfolded children who will soon take them off and walk away. The water is there for wading, crawling, splashing through, or being pushed into or lying in and the swings will be sat on from time to time by all concerned. At one point Isolde sits astride Tristan who will then physically assault her. If anything Tristan is consumed with guilt for having killed Isolde's fiancé Morolt and she is distraught about having consequently saved Tristan's life. I suspect Isolde is pregnant, is Morolt the father or is it Tristan? Also weighing heavily on Tristan is that his mother died giving birth to him (which happened to other Wagner 'heroes'). Intriguingly, at one point Tristan sings 'I understand what she conceals' and earlier we saw Isolde clasp Brangäne's hand to her stomach. Any drinking of a potion is imagined and at the end of the act Tristan just wanders off as Isolde reaches out.
An (in)famous Tristan production in 2000 at Covent Garden from Herbert Wernicke (who sadly died a couple of years later) showed the erstwhile lovers in separate boxes which set the scene for his whole Konzept, where walls kept them apart and they never touched and were together only in their imaginations. Something like that happened in Vienna. As Brangäne is in a plastic apron and wears rubber gloves to gut a couple of large fish, Tristan and Isolde go up and down in their own rooms in which they seem caged. Isolde has a white table and chairs and some crystal that quickly gets swept to the floor, Tristan's room has a hint of wood panelling, with a desk, armchair and couch. There is no warning flame and only a table lamp Tristan plays with. Unlike Wernicke, here Tristan and Isolde will (literally) tear down the walls in their fervour to get to each other. For the 'Liebesnacht' love duet Tristan is sitting on the upturned desk and Isolde on a chair. Eventually the lovers do get together and before King Marke and Melot arrive, Tristan has brandished a knife and sliced his stomach and smeared himself in blood. The two rooms are then shown askew having collided. Marke – also in an overcoat – sings about being childless but arrives with two young children, both girls. Isolde will have walked off long before Tristan – who is 'bandaged' in his coat – slumps in Kurwenal's arms in the water at the front.
Well what to say about the start of Act III? An array of naked bodies moves forward and start writhing with some coupling up in a variety of ways, yet on Tristan waking up twist away and return to the back of the stage where their rears remain on show for much of the act. The remains of the two wrecked rooms from Act II litter the floor and Tristan is under what is left of his desk. The Shepherd will sit motionless throughout most of the action. A very concerned and distressed Kurwenal cuts himself taking Tristan's knife off him and so prevent him from finishing himself off. Five cages are seen dimly hovering above the stage at the back though it is not clear who the onlookers are in them and they will rise away as Isolde arrives. Tristan pours water from a drawer over himself and when he dies Isolde will put him in a chair at the table she has put upright. At the end of the opera Isolde sits opposite Tristan reaching out to him.
I was listening through loudspeakers but I suspect the Orchestra of the Vienna State Opera sounded just as good as they did in the opera house. Philippe Jordan's interpretation seemed to be a fine one, rich in texture, passionate, and with a sensuality that was visceral. Tempi seemed well controlled whilst he clearly let the orchestra off the leash at big moments such as when Isolde's ship is sighted in Act III.
Andreas Schager is not a Wagner tenor I have deliberately sought out in the past but he was on exceptional form on this occasion. While his voice did tend towards hectoring at times, he did give his all even with one eye clearly on the prompter. Never did Schager coast in the role and he suggested – more than some tenors do – that it is not impossible to sing it properly. All the words Schager sang were given full value and his third act was amazing with little signs of fatigue and at his curtain call he looked fresh enough to sing a fourth one. He could go from the stentorian heights of 'Veloren!' to a final exquisitely quiet 'Isolde!', just one example of his expressive, soft singing when required.
Schager is Austrian and his compatriot Martina Serafin was an Isolde who had a great deal of anger and a degree of repressed sexuality. Basically her voice was rich and full but there was too much that was squally and prone to shrillness. Nevertheless the love duet from both singers was ravishingly beautiful, yet Serafin's Verklärung (Liebestod) never had the transcendence other sopranos have brought to it.
There were fine things elsewhere. Iain Paterson was a bluff, stalwart Kurwenal, Ekaterina Gubanova an intense and steely Brangäne, definitely not a potential Isolde as many Brangänes often seem to be. René Pape – whose voice is sadly not what it was – harnessed his current resources as an anguished Marke. Attila Mokus was a forthright Melot and Daniel Jenz (Shepherd), Martin Hässler (Steersman) and Josh Lovell (Young Sailor) did well with the little Wagner gives them.
It is to the credit of the entire cast that they were willing to go through all the indignities Calixto Bieito subjects them to. But I repeat I was glad I saw this Tristan und Isolde at least this once.
James Pritchard