France Concours International de Piano d'Orléans: Concert by the Soloists of the Orchestre Symphonique d'Orléans (Pierre Baranger, [flute], Christophe Patrix [oboe], Olivier Petit [clarinet], Philippe Recard [bassoon], David Harnois [horn] with Chae-Um Kim [piano]). Salle de l'Institut, Orléans, France, 9.4.2022. (CC)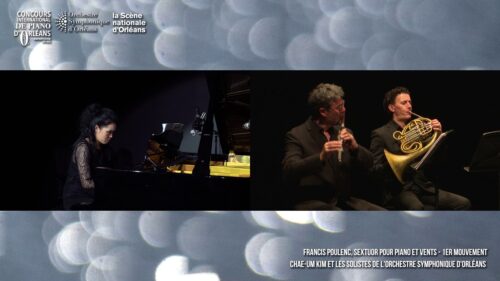 Ibert – Trois Pièces brèves (1930)
Henri Tomasi – Variations sur un thème Corse (1925)
Ibert – Escales (1920): Tunis-Nefta
Poulenc – Les soirées de Nazelles, FP 84 (1930-36); Sextuor pour piano et vents, Op.100 (1931/2 rev 1938)
The Orléans International Piano Competition is unique in its emphasis of music post-1900 to the present day (sometimes with the ink still wet). This year, the repertoire for candidates included two newly written Etudes by Philippe Manoury, who was also chairman of the jury.
In some ways, the competition doubles as a festival, including a number of concerts that supplement the heats. The Ensemble Intercontemporain, who played in the finals (Manoury's Passacaille pour Tokyo) also gave a concert, as did Steven Isserlis. This early evening concert by the wind soloists of the Orléans Symphony Orchestra was one such, a nicely Francocentric programme, the first three pieces for winds, then one solo piano piece and finally a piano and wind sextet. The pianist was a competition laureate, the South Korean Chae-Um Kim, who took the third prize in the previous competition in 2020, at which she also won the Orléans Conservatory Students Prize (there are a lot of prizes in this competition).
But first, some deliciously light wind music in the form of Jacques Ibert's Trois Pièces brèves. The sound was nicely balanced (thanks to a distribution from left to right of flute-horn-bassoon-clarinet-oboe) if rather loud for the resonant space of the Salle de l'Institut. The playful first piece ceded to a beautiful flute and clarinet duet that opens the central Andante (Pierre Baranger and Olivier Petit; Baranger in particular has a beautiful sound). This is pastoral French music at its finest, and lovely to hear the close of this very short movement so perfectly timed. I wonder if it is possible to get any more French than Ibert's finale, a joyous, carefree movement in which one could hear the pure enjoyment of the players.
Henri Tomasi (1901-71) was a Marseille-born composer and conductor who, while at the Paris Conservatoire, studied with, among others, Vincent d'Indy. Composed in 1925, his Variations sur un thème Corse takes a gentle, almost gallant theme and presents a set of clearly defined variations, from faux-Baroque to dissonant lullaby to gloriously imitative (with low horn cantus firmus). A fabulous performance, this especially the contributions of horn player David Harnois who played, in this piece at least, without vibrato. The clear implication here is that Tomasi's works need to be better known; this is a fascinating harmonic language, nicely spiced, and clearly a composer who can craft a structure well.
Nice to hear more Ibert, this time an arrangement, and a very different, almost Orientalist, side of Ibert in Tunis-Nefta from Escales. The piano solo was Poulenc's rarely heard Les soirées de Nazelles, a set of portraits in sound of Poulenc's friends, all based on one theme. After the determined 'Préambule', there follows a sequence of eight variations followed by 'Cadence' and 'Final'. There is music of exquisite beauty here (the second variation, entitled 'Le cœur sur la main' is a case in point). Kim offered an intelligent performance, rightly crisp in ornaments (the Presto third variation, 'La désinvolture et la discrétion'), with climaxes timed to perfection and delivered in beautiful, burnished sound. Poulenc delights in contrasts between variations in this piece, and Kim brought us an exquisite tapestry that seemed to ask why this piece is not heard more. In a sense, this is Poulenc's Kreisleriana (it has that piece's expanse and contrasts, but with a French accent) even if the portraiture element might remind one, in concept only, more of Edward Elgar's own somewhat enigmatic set of variations.
There seemed to be some confusion as to whether or not to give a tuning A natural before the final piece, and there was even more over bowing to the audience, too. No such confusion in the performance itself, though. Irrepressible, bouncy French music at its very best, the first movement of Poulenc's Sextet for Piano and Winds seems unstoppable – until the bassoon gets a chance to shine (fine playing from Philippe Recard) and the music enters shadowier realms, the atmosphere beautifully conveyed here (another fabulous horn solo – with a touch of vibrato this time). The opening of the second movement ('Divertissement') could hardly be more civilised, with Patrix's oboe the very height of suavité. The irrepressible finale is a complex movement, beautifully structured here, and all credit to Kim's fluency. Indeed, her integration into the ensemble both here and elsewhere made for a most enjoyable experience – the more Stravinsky-like passages in the finale shone.
You can hear what an obviously Covid-friendly performance of the first movement of the Poulenc Sextet by the present performers from 2020 (here).
The Orléans Competition is more than just a competition – it offers a complete musical experience, the supplementary concerts adding a real feeling off depth to the whole experience. The simply beautiful programming of this concert helped, of course. Lovely.
Colin Clarke