United Kingdom Bartók, Marcello, Mendelssohn, Harle, Tchaikovsky: Jess Gillam (saxophone), Manchester Camerata / Katie Stillman (violin / direction). King George's Hall, Blackburn, 20.5.2022. (MC)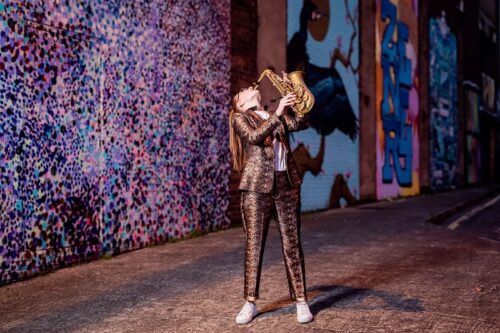 Bartók (arr. Arthur Willner) – Romanian Folk Dances
Alessandro Marcello – Oboe Concerto in D minor (arr. saxophone & strings)
Mendelssohn – String Symphony No.10
Harle – RANT!
Tchaikovsky – Serenade for Strings
Having reported from some fifteen Manchester Camerata concerts in five years, it was few years when I last attended one of its concerts. This is the Manchester Camerata's golden jubilee year, and it was gratifying to reacquaint myself with the work of this much-admired chamber orchestra at King George's Hall, Blackburn.
Many of the audience will likely have been drawn to a concert featuring Cumbrian virtuoso saxophonist Jess Gillam, the Camerata's artistic partner. Performing as a string orchestra the Camerata gave a varied programme with five works spanning over hundred years ranging from Baroque era Venetian composer Alessandro Marcello through to the present day with a work by English composer John Harle, a renowned saxophonist.
Directed from the violin by associate leader Katie Stillman the Camerata commenced its programme in an upbeat fashion with Bartók's Romanian Folk Dances. An ethnomusicologist Bartók considered it his responsibility to collect for posterity Romanian folk tunes from the Transylvania region. For his Romanian Folk Dances in 1915 Bartók assembled and reworked a number of them into a cycle of six solo piano works. Although Bartók later made a chamber ensemble arrangement of the dances, the Camerata was performing a transcription for string orchestra prepared by Czech composer Arthur Willner. Imbuing the score are a number of jaunty folk tunes, ranging from spiky and unruly rhythms well contrasted with lush romantic melodies. Especially memorable was the Gypsy-like melody of the dance On the spot given by leader Katie Stillman, followed by her playing of the yearning melody of the Dance from Bucsum then taken up in the ripieno.
At one time attributed to Benedetto Marcello the Oboe Concerto in D minor with strings and continuo is now credited as a work by his brother Alessandro Marcello. Written c.1708-13 the D minor score is typical of Venetian style instrumental concertos and Gillam played the concerto in an arrangement for saxophone and strings. Marcello's late-baroque music set against the modern sounding soprano saxophone interacted so rewardingly. Beautiful and stylish the work, with a tinge of melancholy in the central movement Adagio, was played beautifully by Gillam with the Camerata conveying a glowing string sound.
Mendelssohn was a fledgling composer aged 12-14 when writing his set of twelve String Symphonies. Keen to hone his symphonic writing the set was almost certainly played at Sunday musicales in the wealthy Mendelssohn family's substantial residence at Berlin. It is easy to undervalue these string works as exercises of a mere adolescent, however, Mendelssohn's special gift for composition bloomed early and these are worthy works in their own right and reveal the emergence of genius. It was the String Symphony No.10 in B minor from 1823 that the Camerata chose to play, a single movement work (maybe part of an abandoned symphony) marked Adagio – Allegro. This is Mendelssohn with one foot still in the late-Classical era and is one of the most melodically attractive of the set. Producing a truly lovely string sound the Camerata captured the amiable and distinctive character of Mendelssohn's precocity for string writing.
After the interval Jess Gillam gave us RANT! the third and final movement of Briggflatts a saxophone concerto that John Harle wrote for Gillam in 2019. In the English folk music tradition, a 'rant' is lively dance, the word 'rant' also means 'to make merry'. Scored for saxophone and strings with RANT! Harle is portraying Gillam's 'energy, her sound and her presence'. In a spirited performance, lavished with vitality Gillam clearly relished the Cumberland and Westmorland folk melodies taken from the Ed Haslem collection, especially the 'Ulverstone Volunteers' a traditional folk tune from her hometown of Ulverston. Taking the exciting and fast-moving RANT! in her stride Gillam made saxophone playing seem so deceptively easy.
A real treat was instore for the audience with the final work of the evening Tchaikovsky's Serenade for Strings from 1881 a four-movement masterwork of the repertoire. It has been far too long since I last heard this performed live and the 24 string players of the Camerata were in their element, adeptly reminding me of the excellence of this gloriously Romantic score. Leader Stillman directed a particularly focused and engrossing account, revealing the sense of wistfulness and deep heartbreak contained in the writing. Notable was Camerata strings sounding warm and generous in the King George's Hall commendable acoustic.
A credit to all concerned this Manchester Camerata concert featuring saxophonist Jess Gillam at King George's Hall can be summed up using two adjectives 'uplifting' and 'joyous'. Certainly not the lengthiest concert I have attended, nevertheless I cannot imagine anyone feeling short changed.
Michael Cookson