United Kingdom The Strauss Project Part II: Rudolf Buchbinder (piano), Leipzig Gewandhaus Orchestra / Andris Nelsons (conductor). Barbican Hall, London, 10.5.2022. (MB)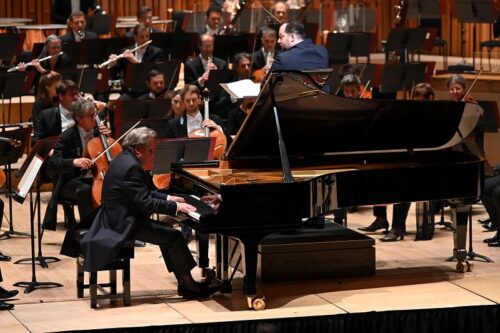 R. Strauss – Don Juan, Op.20; Burleske; Also sprach Zarathustra, op.30
At long last, London seems to be reopening its doors to visiting orchestras; that is, to orchestras visiting from what we on Brexit-Insel shall presumably soon be referring to as 'the Continent' and beyond. Not a moment too soon, as this all-Strauss concert from the Leipzig Gewandhaus Orchestra reminded us. The orchestra's magnificent blend of individual virtuosity, from concertmaster to timpanist, with dark, unhomogenised, 'old German' tone showed what we have been missing in the meantime. Andris Nelsons revelled in the sheer capability of his orchestra, perhaps sometimes a little too much — but can we really blame him? Even the Barbican's acoustic did not sound all that bad.
Don Juan is quite the curtain-raiser, even for the second half of 'The Strauss Project', the first instalment having taken place the night before. (Must everything now be a 'project', let alone 'the project'?) It was that combination of virtuosity, which is of course non-negotiable for the piece, with depth, of precision and warmth, that struck me from the outset. I was not entirely convinced by the extremes of tempo Nelsons brought to it, although if I am honest, I enjoyed the languor even as I knew it was wrong (partly how a younger, sterner, long-since-vanquished me thought of Strauss more generally). And there were always sheer phantasmagoria and phantasmagoria-about-to-be-revealed to be enjoyed too. Soloists too numerous to mention shone without exception, though I simply cannot fail to do so for Henrik Wahlgren's oboe. And the sense of Lenau's idealism at the end blazed, even if I could not quite tell you how we had got there. The orchestra itself was the thing; and what a thing it was.
The Burleske for piano and orchestra I still find puzzling, unclear quite what it amounts to or why, though that is doubtless my fault. It seems mostly to fall under Brahms's spell, with little sign of the real Strauss, but then it is a very early work. Rudolf Buchbinder brought solid technique to the piano part, though he lacked the magic the initially programmed Yuja Wang might have offered. The splendid dialogues between timpani and orchestra, and timpani and piano, were brought vividly to life by Tom Greenleaves. Once again, the Gewandhaus Orchestra sounded outstanding, whetting one's appetite for Brahms, as well as more Strauss. The account as a whole was well shaped, with a fine command of detail. If ultimately it felt over-extended, that is surely a matter for Strauss rather than Nelsons and Buchbinder. Rather to my surprise, the latter gave a sparkling account as encore of Alfred Grünfeld's Johann Strauss paraphrase, Soirée de Vienne. There was now something wonderfully old-school to his pianism; it made me smile.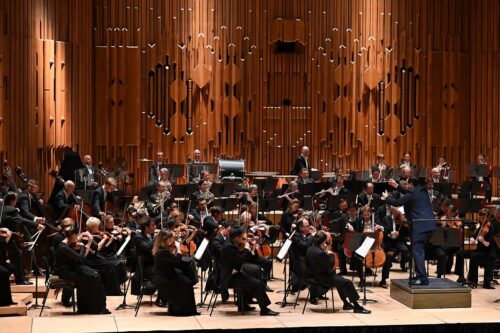 Also sprach Zarathustra is a very difficult piece to bring off, so much so that often one can wonder whether the fault lies with the piece itself. Nelsons and his orchestra triumphantly showed that it did not, in what is probably the best live performance I have heard of it. Nelsons's way with it was rather operatic, or at least highly dramatic. And because the drama was there, so too was the irony, both meaningful in practice rather than mere theory. All too often, the opening sounds stiff; here, by contrast, it gave a sense of being alive, even of vitalism as a Nietzschean principle, that persisted and developed throughout. It was moulded, as Strauss must be — this is not music that plays itself — but unobtrusively, so as to give the illusion of something 'natural'. Richness and cultivation of solo string tone simply had to be heard to be believed: next stop, the Prelude to Capriccio, it seemed. Its expansion into the entire string section likewise seemed to prefigure that opera's 'Mondscheinmusik'. Here, one knew, was a collection of soloists that could turn into a unified mass at the drop of a hat. Hearing that transformation was itself worth the price of entry, as were those darker-still passages that threatened to turn into Die Frau ohne Schatten. The fugue took its time, but with an air of mystery to it such as I cannot recall; at last, I felt its dramatic sense. Waltzing was so infectious I could actually see members of the orchestra, listening to their colleagues, sway. Nelsons showed a keen sense, moreover, of how Strauss builds the tone-poem motivically, in tandem with harmony and overall structure. There is no room, nor was there in performance, for the either/or here. For there was a sense of joy, not always a characteristic associated with Strauss, that here seemed ineffably as right as it would in Bach, Handel, or Haydn. The comparison may seem odd, but it did not at the time. Nor, I think, would it have done so to Nietzsche.
Mark Berry