Spain Giordano, Siberia (concert version): Chorus (chorus director: Andrés Máspero), and Orchestra of Teatro Real / Domingo Hindoyan (conductor), Teatro Real, Madrid, 6.5.2022. (JMI)
Cast:
Stephana – Sonya Yoncheva
Vassili – Murat Karahan
Gleby – George Petean
Prince Alexis – Alejandro del Cerro
Nikona – Elena Zilio
Child – Mercedes Gancedo
Ivan / Cossack – Albert Casals
Miskinsky / Invalid – Tomeu Bibiloni
Walinoff / Captain / Governor – Fernando Radó
Opera lovers know composer Umberto Giordano well, although only one or two of his operas are part of the main repertoire: Andrea Chénier and Fedora (which, by the way, is being put on in Frankfurt these days). Siberia is the sixth opera that Giordano composed and follows chronologically the two mentioned. The premiere took place in Milan in 1903, and it was not successful – the occasions when it has been produced are rare. In recent years, I can recall only the stagings in Montpellier at its July Festival and one in Florence last year. It should be noted that the latest revivals, including the one in Madrid, have been due to Sonya Yoncheva who has sung the lead role in all cases.
The opera is interesting in musical terms, but the inspiration that Giordano showed in Andrea Chénier is missing. There are no arias of outstanding beauty in Siberia, although there are some high-quality moments. This is the first time that it has been done at the Teatro Real and, surely, in Spain as well.
The first act takes place in Saint Petersburg. Stephana, the lover of Prince Alexis, falls madly in love with Vassili, which leads to a confrontation between the two men. Prince Alexis is injured, and Vassili is sentenced to deportation to Siberia; he is joined by Stephana, who chooses to follow him. The evil Gleby, Stephana's former lover, also shows up in Siberia and offers her the possibility of escape, which she accepts on the condition that Vassili can go too. When the lovers try to get away, Gleby denounces them, and the guards shoot the fugitives, injuring Stephana who dies in Vassili's arms.
Venezuelan conductor Domingo Hindoyan (who is Sonya Yoncheva's husband) led the orchestra, and his reading was excellent. It is not the first time that I have heard him do opera, and he once again proved to be a conductor worthy of highlighting. Under his baton, the sound from the Teatro Real Orchestra was far superior to what one heard a few days ago in Le nozze di Figaro. The performance of the Teatro Real Chorus under Andrés Máspero was also convincing.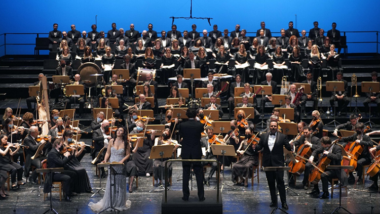 Stephana was played with emotion and gusto by soprano Sonya Yoncheva, who was by far the most appealing singer in the cast. I had not seen and heard her for two years and found her voice darker and broader than before. It easily filled the theatre without any problems of tessitura. She is in a great moment, and there is no doubt that she is one of the most important sopranos of today.
Vassili was tenor Murat Karahan who had already sung the part in Montpellier. His voice is nicely suited to the role; the biggest problem is that his projection is not brilliant.
The evil Gleby was performed by baritone George Petean, who had sung the role last year in Florence. His voice is good, although I find his singing a little monotonous.
There are quite a few secondary characters, and they were generally covered well. I would point out the presence of veteran mezzo-soprano Elana Zilio in the part of Nikona; at 81, she still has a perfectly audible voice. Tenor Alejandro del Cerro sang the role of Prince Alexis and made a positive impression.
José M. Irurzun