United Kingdom Tom Coult – Violet: Soloists, Sound Intermedia (sound design), London Sinfonietta / Andrew Gourlay (conductor). Hackney Empire, London, 23.6.2022. (MB)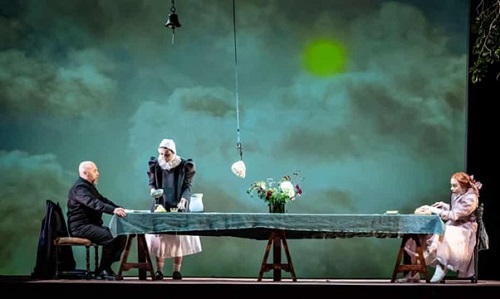 Production:
Director – Jude Christian
Assistant director – Maya Shimmin
Set designs – Rosie Elnile
Costumes – Cécile Trémolières
Lighting – Jackie Shemesh
Animation – Adam Sinclair
Bell sound design – Jasmin Kent Rodgman
Cast:
Violet – Anna Dennis
Felix – Richard Burkhard
Laura – Frances Gregory
Clockkeeper – Andrew MacKenzie-Wicks
Completed in late 2019 and scheduled to premiere in the lost year of 2020, Violet, an excellent new one-act opera by Tom Coult and Alice Birch finally had its first performance earlier this month in Aldeburgh. Jude Christian's production for Music Theatre Wales has now reached, for one night only, London's Hackney Empire, under the Royal Opera House umbrella. In a pre-performance talk, Coult recalled his fears during that terrible intervening period that his first opera would prove a white elephant, that it would never be seen, that the companies involved would go bankrupt, and so on. Whilst I am sure it will be no comfort, the greater hunger so many of us feel for live performance following its enforced suppression may well have resulted in a more warmly appreciative reception. At any rate, a large as well as enthusiastic audience greeted Violet's London premiere, current transport difficulties notwithstanding.
Time is, quite literally, of the essence here. It is the first word we hear; it haunts libretto, score, and stage action; we experience the dark side of both its regularity and what might happen, were it to malfunction. The overarching concept is of a world in which, suddenly and without direct explanation, each day an hour is lost; the number of the day (increasing) and the number of its hours (decreasing) displayed by the somewhat mysterious Clockkeeper. It is surely not for nothing that the clock resembles a gallows, nor that Violet's husband Felix, the stunting, repressive conventionality of whose domestic regime seems to mirror that of society at large, ends up being hanged from it. There are prospects of liberation, or at least rebellion: depressed and holed up in her time-regulated household, Violet grasps the possibility of being different, even of living. But all the while, time is lost — and crucially, one hears that musically, in the contest of narrowing and widening horizons. Like a temporal concertina, the frame is clear, but within that framing, when possibilities are presented, stylistic variety asserts itself. Birch's precise yet open language is not so much mirrored as complemented, expanded upon, by Coult's score. That is to say, this is (on my terms, anyway) a real opera, not a mere play set to music.
A thirteen-strong London Sinfonietta ensemble, directed with sympathy and understanding by Andrew Gourlay, ensured that conventional and less conventional instruments (e.g. pitch pipes, dog clickers, and kalimba, as well as prepared instruments and different tunings for strings) combine, associate, and dissociate with a combination of clockwork precision and ominous disarray such as characterises the work 'itself'. The work is introduced and punctuated by passages of electronic music, based on bell sounds (tolling, pealing, or something else?) on which Coult collaborated with Jasmin Kent Rodgman. What, in abstracto, might seem obvious musical devices — perhaps they are, yet so what? — such as prolongation and other transformation of musical material as time runs out make their point frighteningly well. Coult writes evocatively of the music becoming 'more desiccated, frayed, curdled'; that is very much what we hear.
Christian's staging, focused straightforwardly on Violet's kitchen and the clock, tells the story intelligently and, again, openly. We are never told what to think, but we are supported in doing so. Cécile Trémolières's costumes breathe the same air of restriction, yet never constrain us to a particular time or place. Transformations in Violet's mood are milestones — or perhaps not, since nothing is averted. Anna Dennis's assumption of the title role is authoritative: assured and again suggesting ambiguity in what we might make of it. Although an announcement was made concerning Burkhard's recovery from illness, one would not have known. His dark yet subtle malevolence was part and parcel of that created by composer and librettist. Frances Gregory's Laura hovered tantalisingly between escape and capitulation, similar to Violet, yet different. Andrew MacKenzie Wicks gave a striking performance of the acts — and non-acts — of the Clockkeeper, keeping his cards properly close to his chest.
There are hints that the catastrophe is in part environmental, but that is not the principal point and may not be the cause. For time runs out as cruelly as it governs our 'normal' lives. A final scene frames and intensifies our response. A mediated world of banal quiz shows, time again at a premium, and military conflict, likewise, plays out: that 'out' as crucial as in the prior action. There is a political point here; indeed, there are several. It is up to us, though, to divine what it is, what we should do, how we must change. Like Violet emerging from her depression, then; and yet, if such would be the outcome, what might be the point? The hope we lost in 2020, the hope we should have heard in Fidelio, had it and Beethoven not been silenced in his anniversary year, become ever more distant. Late capitalism becomes ever later; the very automation that should afford us greater leisure, even greater freedom, continues to benefit not the many, but the few. Redistribution of wealth, of time, of hope must wait, although — as in the scene when Felix tries to glean from the Clockkeeper just what is going on — no one tells us why.
Mark Berry