United States Kidane, Sibelius, Stravinsky: Golda Schultz (soprano), San Francisco Symphony / Esa-Pekka Salonen (conductor). Davies Symphony Hall, San Francisco, 7.10.2022. (HS)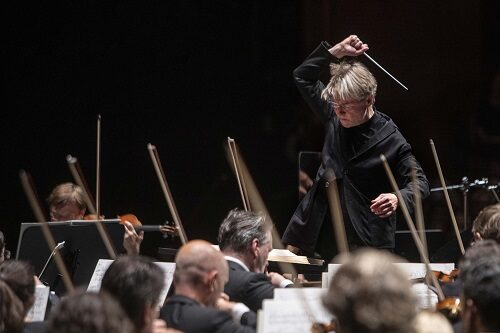 Daniel Kidane – Sun Poem (San Francisco Symphony Commission, U.S. premiere)
Sibelius – Luonnotar
Stravinsky – The Firebird (complete)
Esa-Pekka Salonen got positively athletic as the final measures of Stravinsky's The Firebird approached. Where other conductors make a simple gesture or nod to the violins as they lay down the sustained tremolo for the brass to intone their majestic chords, Salonen challenged the San Francisco Symphony strings with his entire body. He lashed his baton like a whip to get a crisp attack, and his whole body vibrated as he encouraged them to dig into the unison with everything they had.
The final chords seemed to raise the roof of Davies Symphony Hall on Friday night. Paced neither too fast nor slow, the peroration put a gleam on a superbly detailed performance that still managed to flow as it found an appropriate sense of wildness.
This was the second consecutive week featuring repertoire that was in the wheelhouse of Salonen's predecessor. As with last week's Mahler Symphony No.2, this spine-tingling Firebird added to the evidence that San Francisco audiences are getting exactly what they had hoped in December 2018, when Salonen surprised the music world by accepting the post that had been Michael Tilson Thomas's for 25 years.
Traversing Stravinsky's complete ballet score which debuted in 1910, Salonen harnessed pace, tone, textures and balance, all key elements to create a sensational musical journey. The stage was packed with a bigger orchestra than the one for which Stravinsky later wrote the suites, and brass players were deployed in the top reaches of the hall for added effect. There were even some yips and calls from around the hall at several points.
Hushed ostinatos in the basses and cellos seemed to materialize out of nowhere in the introduction, moving a bit faster than what we might be accustomed to but not rushed. The garden scene glowed with muted colors. The orchestra growled and gyrated to create a visceral effect when the firebird wrestles with captors. Salonen turned to the audience when he conducted the trumpets arrayed at the back of the hall, itself a dramatic effect.
The music seemed to come alive, a beast when called for but painting subtle colors in the quieter sections, such as the lullaby and berceuse that provide moments of repose in the suites. It took little imagination to see in our mind's eye how dancers might be telling the fairy-tale story that Stravinsky captured so well in the music.
It is tempting to compare this interpretation with what San Francisco audiences heard when Tilson Thomas conducted it. As with the Mahler, Salonen seemed to reach for striking contrasts, both with tone and sheer volume. Like his predecessor, though, he can manage a buckle-your-seatbelts crescendo, leading ever so gradually to a magnificent peak. That is how it finished, and it was unforgettable.
Before intermission the program offered a rare Sibelius treat, the composer's setting for soprano and orchestra of Luonnotar. The poetic creation myth from the Finnish epic Kalevala tells of a feminine spirit who leaves her element – air – to float in water for centuries, eventually creating the entire cosmos when birds lay eggs on her.
Soloist Golda Schultz was even more glowing in this than she was last week in the Mahler Second. Her sustained, burnished sound added richness and depth to the ballad-like musical lines. A Finnish conductor combined with a Finnish composer's music for a Finnish poem definitely lies in Salonen's wheelhouse. The shape of the solo line (sung by a South African singer) and the texture of the orchestral landscape felt just right.
A new piece by British composer Daniel Kidane opened the concert. His Be Still, a lovely meditation that received its U.S. premiere last year in a San Francisco Symphony video conducted by Salonen, made a strong impression on me. This one, Sun Poem, registered more modestly in its U.S. premiere. A San Francisco Symphony co-commission, it was premiered earlier this year by the London Symphony Orchestra.
In introducing the piece, Kidane said he was inspired by the birth of his son. In its fifteen minutes, the music focused on repetitive rhythmic motifs, spiky but quiet dissonant harmonies and tightly wound melodic material. It all felt introverted, and it seemed to communicate more nervousness than joy.
Harvey Steiman