United Kingdom Shostakovich, Rachmaninov: Elina Vähälä (violin), BBC Scottish Symphony Orchestra / Hannu Lintu (conductor). Grand Hall, City Halls, Glasgow, 3.11.2022. (MC)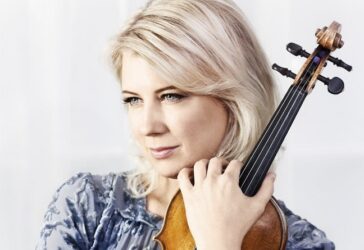 Shostakovich – Violin Concerto No.2 in C sharp minor, Op.129 (1967)
Rachmaninov – Symphony No.2 in E minor, Op.70 (1906-07)
On my first visit to Glasgow's City Halls it was gratifying to join a near capacity audience, an occasion which so often seems to help the atmosphere. Taking my seat in the Grand Hall for the BBC Scottish Symphony Orchestra concert provoked mixed feelings and I did wonder what to expect. On one hand I was energised by the expectation of hearing the Shostakovich Second Violin Concerto (played by soloist Elina Vähälä), a work I don't hear too often in concert. On the other hand, I was conscious of having attended too many lacklustre performances of Rachmaninov's Second Symphony.
Although the less familiar of the two concertos Shostakovich wrote for violin it may not be as directly appealing but is barely less compelling. A late work completed in 1967 the concerto was the composer's gift to mark the sixtieth birthday in 1968 of his friend renowned violin soloist David Oistrakh and premiered a year early. Suffering from heart trouble and battered and bruised emotionally by the torments suffered at the hands of Soviet authorities, maybe Shostakovich felt it more appropriate to honour the golden jubilee of the Great October Socialist Revolution of the Soviet Union which fell in 1967.
Vähälä was born in America although raised in Finland and is an unfamiliar name to me. The concerto is an extremely difficult work with each of the three movements containing a cadenza and some double stopping all challenges which Vähälä took in her stride. I found myself on the edge of my seat with her masterly performance of energy, technical command and unwavering intensity. My highlight was Vähälä's steadfast playing of the Adagio where she developed a soundworld which was despondently bleak and disquietingly desolate. The intensity of the audience applause seemed to surprise Vähälä though her performance was as stunning as the gown she wore. Unusually for a concerto the horn part is so prominent it feels at times as if the instrument is shadowing the solo violin. It would be remiss not to mention the glorious horn playing of guest principal Lauren Reeve-Rawlings.
After the interval guest conductor Hannu Lintu and the BBC SSO turned their attention to Rachmaninov. Unquestionably Rachmaninov was devastated following the debacle of the premiere of his First Symphony in 1897 due mainly to inept conducting by Alexander Glazunov and poor orchestral playing. Crippling anxiety and insecurities that followed resulted in a composing impasse for some three years. Rachmaninov's recovery resulted in his Second Symphony from 1906/07. Much loved by audiences, the symphony was a product of his time working in Dresden where he had moved with his family to escape severe political unrest in Russia. In 1908 the composer returned to St Petersburg to conduct the premiere. Because of its length at one time in performance it was common to subject the symphony to numerous cuts, far less so in recent years. Here Lintu and his players took some sixty-five minutes.
It didn't take long to realise the playing of the BBC SSO under the focused Lintu was to an elevated quality. Standing out for me was the tonal warmth lavished on Rachmaninov's achingly beautiful melodies both in the opening movement and the timelessly glorious writing of the Adagio. Its ravishing main theme would break the stoniest of hearts. Exceptional playing from the principal clarinet added greatly to the success. Responding to Lintu's promptings the orchestra provided playing of scorching vitality and tremendous emotional energy to the Scherzo and jubilant Finale. This was the finest performance of this symphony that I have attended and to think I was initially a touch apprehensive at what I might encounter.
These two compelling works by Rachmaninov and Shostakovich played with resolute commitment made for a concert with a level of excellence that doesn't come along too often.
Michael Cookson