Spain Francesco Corselli, Achille in Sciro: Teatro Real Chorus, Orquesta Barroca de Sevilla / Ivor Bolton (conductor). Teatro Real, Madrid, 17.2.2023. (JMI)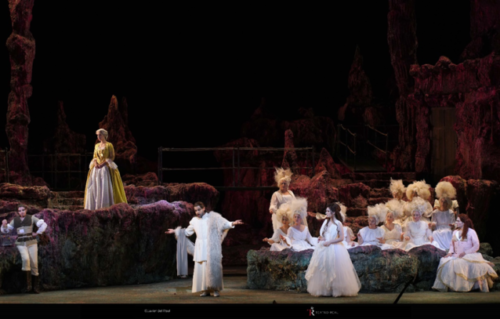 Production:
Director – Mariame Clément
Sets and Costumes – Julia Hansen
Lighting – Ulrik Gad
Choreography – Mathieu Guilhaumon
Cast:
Achille – Gabriel Díaz
Deidamia – Francesca Aspromonte
Teagene – Sabina Puértolas
Ulisse – Tim Mead
Licomede – Mirco Palazzi
Nearco – Juan Sancho
Arcade – Krystian Adam
This operatic rarity had been programmed three years ago by Teatro Real, but it was delayed by the Covid pandemic. Written by Italian composer Francesco Corselli, at the time Master of the Royal Chapel of Madrid, it was first performed here in 1744. The recovery of this forgotten work is due to Madrid's Complutense Institute of Musical Sciences.
The opera is based on a text by Pietro Metastasio, which deals with the life of the young Achilles on an island where he has been sent by his mother to avoid the Trojan War. It is not, however, the only opera with this title, since there were several that followed the Metastasio text. The first of them was put to music by Antonio Caldara and was put on in 1736 at the Vienna Imperial Court Theater. More operas followed with the same subject and title, such as the composition by Domenico Sarro for Naples in 1737.
Dressed as a woman named Pirra, Achilles enters the circle of Deidamia, the daughter of King Licomede. They fall in love, although Achilles continues to pass as a woman with other people. The arrival of Ulysses on the island, looking for Achilles for the Trojan War, means that Achilles ends up betting on glory more than love and follows his warlike destiny.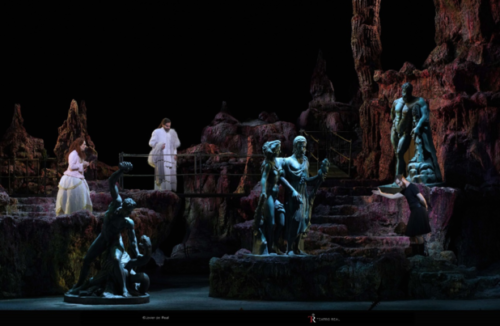 Teatro Real has staged a new production (in association with Theater an der Wien) with direction by Mariame Clément. There is basically one set with a rocky space through which the characters and the chorus move. Some metal statues are added at the end of Act I, and in Act II there are interiors created with curtains that cover the rocks. The inhabitants of the island are always dressed in white, while Ulysses and the Greeks are in black; Achilles changes his costume in Act II when he decides to follow Ulysses. The stage direction narrates the plot nicely but isn't remarkable – it is a production that neither excites nor bothers you.
Ivor Bolton, the musical director of Teatro Real, offered a solid reading and took care of the singers. This is an opera that can get boring without a good conductor, and we had one here, as on several earlier occasions when Bolton has conducted Baroque operas. The Baroque Orchestra of Seville did well, as did the Chorus of the Teatro Real.
Countertenor Franco Fagioli had been scheduled to sing Achilles but, unfortunately, had to cancel due to illness. The opera was already in rehearsal, which could have been a huge problem, and Gabriel Díaz took over the role. This was my first time seeing him, and he made a very positive impression. His voice is wider than is usual for countertenors and lacks delicacy at times, but he is an excellent performer both vocally and on stage. He was a superb substitute and solved a problematic cancellation which could have ruined the performance.
His beloved Deidamia was sung by soprano Francesca Aspromonte, who gave a fine performance. She has an attractive voice, well managed and easy at the top, although her coloratura is not sensational and this is highly significant in these operas.
Sabina Puértolas as Teagene, Deidamia's suitor, was outstanding, with an appealing voice and exceptional vocal agility, which is greatly demanded by her arias. The biggest ovations were for her, especially after her aria in Act I.
Ulisse was sung by countertenor Tim Mead, who has a well-managed voice and is a good actor. Bass Mirco Palazzi made a pleasing King Licomede though his voice is somewhat limited in volume and falls short at both ends of the range. Juan Sancho did well as Nearco, and the same can be said of Arcade, Ulisse's partner, played by tenor Krystian Adam.
José M. Irurzun