United States Blossom Festival 2023 [2]: Mao Fujita (piano), Cleveland Orchestra / Ryan Bancroft (conductor). Blossom Music Center, Cuyahoga Falls, Ohio, 19.8.2023. (MSJ)
Caroline Shaw – 'Entr'acte'
William Dawson – Negro Folk Symphony
Tchaikovsky – Piano Concerto No.1 in B-flat minor, Op.23
Listeners in the United States might well associate the name Fujita with Theodore Fujita, the inventor of the Fujita Scale for measuring the intensity of tornados, the severe cyclonic storms that plague the Great Plains, Midwest and South. But if one expected a force of nature from 24-year-old Japanese pianist Mao Fujita, they were in for a giddy surprise: this Fujita is no storm, unless it is a storm of wit and mischief.
I knew something was up as soon as Fujita entered with the big chords in the introduction to the first movement of Tchaikovsky's first piano concerto. Where most pianists use the chords as an opportunity to crash down with massive force and attempt to ride out over the orchestra, Fujita played them simply and majestically, with no attempt at grandstanding. It was a refusal to follow the usual path through this repertory warhorse and was immediately intriguing. The only thing that would have been better was if Fujita had played the chords as Tchaikovsky wrote them: arpeggiated, upwardly strummed like a harp. Considering how often Tchaikovsky does that elsewhere in the piece, and considering how gorgeously Fujita played such passages, it would have fit perfectly with his concept.
And that concept was one of clarity, playful shaping of phrases and an unhurried feeling of delight, using a sense of humor to shape the concerto's romantic cascades. Fujita is quickly making a name for himself as a distinctive pianist of wit and pearly glamour. The Tchaikovsky concerto is one of the most famous workouts in the repertory, but Fujita's approach was a refreshing alternative. All three movements were unhurried though fast enough to maintain flow. Fujita's emphasis was on playful exploration instead of athletic display.
While other pianists may deliver more sheer decibels, Fujita made the oft-played piece sound fresh again, drawing a warm response from the audience, who demanded and eventually received an encore: Fujita's own clever and jazzy variations on Paganini's Caprice No.24. The work combined keyboard dexterity with the lively workings of an interesting musical mind. Fujita is worth watching, both for his original works and for his stylish playing. I can only imagine what a fine Saint-Saëns second concerto he might play!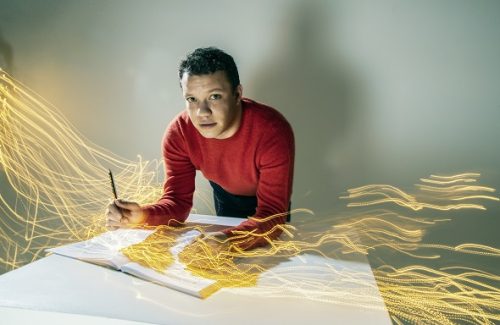 Ryan Bancroft and the Cleveland Orchestra had much to offer in the concerto, particularly the many gleaming wind solos, but they were forefront in the first half of the concert with two CO debuts, one recent piece and the other long overdue. The recent one was Caroline Shaw's 2011 'Entr'acte'. Shaw (born in 1982) is a young American composer who has written a wide variety of works. 'Entr'acte' is a piece for string orchestra inspired by the minuets in Haydn string quartets.
Shaw took the idea of a minuet that is run through a prism, so that its classical main theme at times yields strange, modern visions that suddenly slip out from under its skin. What is delightful is that there is no clear formula to her sudden slips into 'the Upside Down': they sometimes creep in from the background, while elsewhere the background remains traditional while the foreground warps out of focus. At one point, the piece (which has some very soft quiet passages) was interrupted by a screaming baby in the corner of the pavilion. As the child was carried off to the edge of the complex to be soothed, the fading cries joined the music quite evocatively, particularly as it segued into principal cello James Kosower's meditative closing solo. Bancroft, conducting without a baton, knew the piece like the back of his expressive hands, and shaped it lovingly.
The young conductor was wholeheartedly committed to the belated Cleveland Orchestra debut of William Dawson's Negro Folk Symphony. First written for Leopold Stokowski and the Philadelphia Orchestra, it was premiered in 1934 to great acclaim, but changing styles and overt racism left it to languish in obscurity. The composer, busy with administrative educational duties, composed nothing else like this.
And that is a shame, because it really is one of the great American symphonies: complex, vivid, rich, encyclopedically cross-referential, absurdly ambitious, occasionally overreaching but, in the end, indispensable. There are shades of Dvořák, Gershwin, African-American spirituals, juba, ragtime, Stephen Foster and Dawson's colleagues in Black American classical music of the 1930s, William Grant Still and Florence Price. But Dawson dared to push further than they did, creating a work that exists both as a lively symphony and as a narrative arc of hope arising from the bonds of slavery.
In places, Dawson's discursive episodes threaten to waylay forward momentum, but Bancroft worked to keep the piece focused and flowing, building up powerful momentum at the end of the first movement and tapping deep wells of emotion in the second. It is an important link in the history of American classical music, and it needs to be part of a repertory revisal, not a one-time visitor.
The concert was a strong debut for Bancroft, who brought enthusiasm and vigor without meaningless arm flapping. Solid leadership of a surprising program made for a satisfying concert. The soft passages of the Shaw were challenging, though, for the opening of a festival event. Perhaps it would have been more effective to yield the start of the concert to Dawson's commanding call to order, and place the Shaw, as its title suggests, between the (main) acts, giving the audience a chance to become more settled and focused. Either way, the concert and programming were most welcome.
Mark Sebastian Jordan