United Kingdom The Woman in Black (adapted by Stephen Mallatratt from the novel by Susan Hill): Palace Theatre, Westcliff-on-Sea, Essex, 17.10.2023. (JPr)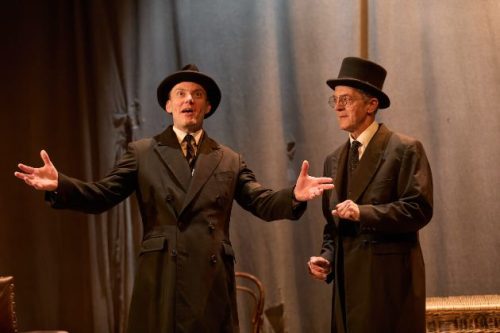 Production:
Director- Robin Herford
Associate Director – Antony Eden
Designer – Michael Holt
Lighting designer – Kevin Sleep
Production Relighter – Alexander Hannah
Original Sound – Rod Mead
Sound designer – Sebastian Frost
Cast:
Arthur Kipps – Malcolm James
The Actor – Mark Hawkins
A little research suggests how The Woman in Black has been a popular set text in Britain for, amongst others, English Literature and Drama students since the 1980s and that explained why the average age of an audience for a play at the Palace Theatre plummeted from its usual (I guess) 50plus through the number of school parties present. That's also why the play's director, Robin Herford, writes in the programme: 'One of the aspects of the production that I take most pleasure from is the huge numbers of young people who have seen the show, and have had their theatrical tastebuds stimulated by their visit […] it was certainly not conceived as a play for young people. The language is sometimes deliberately archaic, the exposition of the narrative is at times convoluted, and the audiences are expected to work, to play their part in furthering the story by means of their own imaginations.'
And how all the young and not-so-young were gripped by the compelling performance of The Woman in Black we witnessed. If there was anyone restless in the audience it was me during the first act, though once again I was pleased to see something without bringing to it any preconceptions whatsoever: I have not read the 1983 novel or seen the play during its 33 years in London's West End or watched the 2012 film version. The Woman in Black relies on the tension building over its two-hour runtime because of the dialogue; the unnerving atmosphere generated by a soundtrack without music and just a panoply of sound effects which creates a parable frisson; some abrupt, albeit dramatic, lighting changes, as well as shadow play; and add into the mix copious dry ice enveloping the audience as fog and mist for heightened eeriness. A staple of such gothic horror tales is a large, secluded, old, dark and totally threatening house (or more often a castle), and The Woman in Black is no exception. Eel Marsh House is where Mrs Alice Drablow lived out her last days, obviously haunted. It is isolated, surrounded by an unforgiving bog, accessible only during low tide, unoccupied and filled with mysterious papers which an aspiring young lawyer, Arthur Kipps, is tasked with sorting through to get Mrs Drablow's estate in order.
In his old age Kipps is attempting to exorcise the horrific events that he suffered thirty years previously. He goes to an empty theatre – described in the programme as (my italics) 'this Theatre in the early 1950s' – where he meets a young actor who can turn it all into a drama worthy of putting before an invited audience. By re-enacting the terrors of the past Kipps hopes to find some consolation. In this play within a play 'The Actor' will himself become the younger Kipps, a solicitor who comes to the remote – and wary – town of Crythin Gifford; whilst Kipps himself, who repeats he is 'not Olivier', will perform all the various characters that his younger self encountered there. As to who 'The Woman in Black' is you will get no spoilers from me except that she is a spectre who haunts the vicinity (and the stage).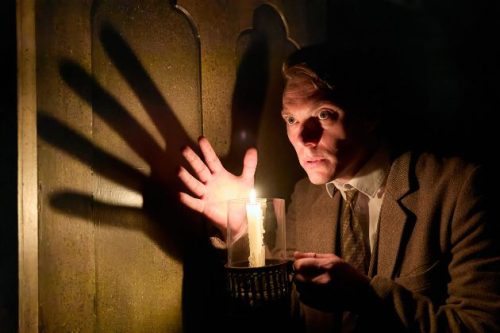 Without any use of modern stage technology – and despite just a hint of am-dram to what we see – it is up to the two actors to genuinely put the frighteners on the audience. I hinted above about my initial restlessness mainly because there is much too much exposition before the interval and only once does something 'make you jump'. However, in the shorter second act the tension I referred to earlier sometimes becomes almost unbearable – in a good way, if you get my meaning? – and several moments cause the audience to sit bolt upright in their seats and, more often than not, makes them shriek or scream out loud.
Everyone is indeed invited to use their imagination throughout: a large wicker props basket becomes a railway carriage, horse and cart, and even a bed. Most will even believe they can actually see – the otherwise imaginary – Spider the dog onstage, lying beside the bed and even rushing through the stalls chasing a stick Kipps has apparently thrown. The stage furniture is simply that basket, a small chair, a leather armchair, tall stool, a clothes rail and some rugs. From these we get various offices and the old house aided by a stage-wide gauze at the rear behind which a nursery with a rocking rocking chair will be seen accessed through the door onstage. Some dust sheets are also used to conjure up a graveyard. It is the older Kipps who becomes the extra characters merely by changing his voice and wearing different costumes.
The Woman in Black only succeeds as well as it does though the mightily impressive performances of its cast of two, or should that be three? Malcolm James is the soft-voiced Arthur Kipps and he strongly reminded me of the late John Le Mesurier. In the modern parlance the elderly gentleman is suffering from PTSD due to his terrifying experiences in Eel Marsh House which James portrays effectively, and he is equally adept as all his other characters, as well as narrating the play. Mark Hawkins's performance as 'The Actor' is a tour de force, domineering and unsettled by turns. Needing to slip seamlessly between two personas makes for a very demanding part, yet Hawkins has us, the audience, in the palm of his hands and when he is scared so are we all!
And how well The Woman in Black ramps up its sense of foreboding towards the end: the buzz of excitement as the audience left the Palace Theatre is a lasting testament to the true power of theatre as an art form – and you may never sleep with the lights off ever again!
Jim Pritchard
The Woman in Black tour continues and for information click here.