United Kingdom The Drifters Girl: Cliffs Pavilion, Westcliff-on-Sea, Essex, 8.11.2023. (JPr)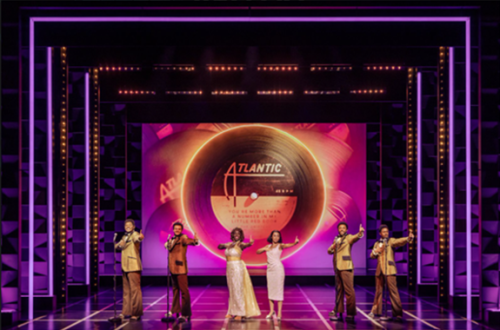 All you need to know about the musical The Drifters Girl – whose short run in the West End ended in March 2022 and is currently touring the UK and Ireland – is from these words of the director Jonathan Church; 'With five decades of top ten hits on both sides of the Atlantic, and with dozens of band members over this period, arguably, part of the band's genius and success lay with the producing team. One of the team (who was legendary in music producing circles) was Faye Treadwell perhaps the only African-American woman to be running a major international band in this period. The second was that Faye had been involved in a long and hard-fought legal battle with ex band members in the States for the ownership of the right to use The Drifters name.'
The Drifters originated in the early 1950s as the backing group hired by George Treadwell for Clyde McPhatter, with a second group of Drifters formed in 1959 and led by Ben E. King. Over the years singers came and went – almost 70 to date – with many going on to form breakaway groups of Drifters. So during the following decades, several bands, all called The Drifters, could trace their roots back to the original line-ups, though few of them had any of the original members. George Treadwell apparently owned The Drifters brand – yes, brand not band – from 1955 and married Faye in 1957. In the words of Faye Treadwell which we hear repeatedly: 'The Drifters are like the Yankees…The players may change but there'll only ever be one New York Yankees.' First with her husband and then alone after his sudden death, Faye allowed The Drifters name to survive, in a sense till today, as they went from the R&B to the Hot 100 pop chart, ending up in The White House and inducted in 1988 into the Rock and Roll Hall of Fame.
With such a rich catalogue of doo-wop and R&B classics to draw from The Drifters are a logical choice for a jukebox musical, especially for a theatre producer wishing to rival the success of similar biographical – often more eulogising than warts and all – musicals such as The Jersey Boys, Tina and recently The Cher Show, amongst others. There is also much to work with in that story of Faye herself, as a Black female manager in 1950s and 60s America which was institutionally racist and sexist.
Ed Curtis's book is at its best when dealing with the prejudice Faye herself suffered within the music industry and as a Black woman; racial prejudice which the group in its various incarnations had to overcome too. There was police brutality, as well as the racism of the southern US states and that of the length and breadth of Britain during the 'No Dogs No Blacks No Irish' era which seems unimaginable – or does it? – now. Also, we learn how the Vietnam draft unfairly enlisted Black men; alcoholism and drug abuse are touched on and one of the very best – and most poignant – scenes deals with Rudy Lewis's struggle as a closeted homosexual which led to his early death, probably by his own hand.
But and it is a significant but, the book is 'based on an idea by Tina Treadwell'. So, with Faye's daughter so involved there is a sense of hagiography to what we see and hear. Faye actually does appear to be as hard as nails with her singers, overworking them and unpaying them, whilst at the same time looking as if she was no one's mother of the year. None of this is dwelt on long enough, I suspect, in case we stop rooting for Faye beating all the odds against her, personally and professionally, as someone defying the conventions of her time with a husband who never stood in her way as she became a success. I am not sure we ever get to know the real Faye Treadwell, particularly her life before she met George even though she occasionally talks about past events to her daughter.
Leading the cast was Loren Anderson (replacing Carly Mercedes Dyer at this performance) who was a fine actor though her singing was less than soulful. Jaydeh Bell-Ricketts catches the eye as the Girl who plays a jukebox (!) to get the musical underway but ostensibly is onstage from time to time as Faye's daughter Tina. All the other roles are shared between four singing actors (the amazing and extremely talented Miles Anthony Daley, Ashford Campbell, Tarik Frimpong and Daniel Haswell) who were the hardest working musical performers I have ever seen in anything! They not only create all the various line-ups of The Drifters with their wonderful harmonies but all the other parts, whether Black or not, from Nat King Cole, Atlantic Records boss Ahmet Ertegun, music producer Jerry Wexler, English songwriters and producers Roger Greenaway and Roger Cook, and even Bruce Forsyth. Most of these are simply laughter-inducing caricatures, especially the hostile hotel clerks with their regional accents who bar their way when Faye had The Drifters decamp to England in the early 1970s; those British record executives; and even various women characters including Mary, of singing trio Peter, Paul and Mary.
The staging by Jonathan Church in sets by Anthony Ward and co-created by the stars of the original production in 2021 is simple but often extremely slick and effective: there is much garish – in good way – colourful lighting from Ben Cracknell and frequently-atmospheric use of video from Andrzej Goulding. Along with Fay Fullerton's incredibly detailed period costumes, Karen Bruce's energetic and stylish doo-wop dance routines, and an excellent orchestra of seven (but sounding like more) you feel as if you are watching an arena pop concert or extended music video.
Even if it is never more than the CliffsNotes of the history of The Drifters we see at the Cliffs Pavilion it is the musical performances of the songs you hear – whether in part or in full – such as, 'Come on Over to My Place', 'Harlem Child', 'Saturday Night at the Movies', 'Save the Last Dance for Me', 'Stand by Me', 'Sweets for My Sweet', 'Rat Race', 'Under the Boardwalk', 'You're More Than a Number in My Little Red Book' and so many more which you will long remember after you have forgotten the story of The Drifters you have seen. This is because that often flashes by so fast that it is difficult to keep up with who is who and what is when, so their music remains the real legacy of The Drifters …whomever they were at the time!
Jim Pritchard
The Drifters Girl is touring the UK and Ireland until May 2024, for more information click here.
Creatives:
Book – Ed Curtis (based on an idea by Tina Treadwell)
Co-created by Adam J Bernard, Tarinn Callender, Matt Henry, Beverley Knight, Tosh Wanogho-Maud
Director – Jonathan Church
Set design – Anthony Ward
Costume design – Fay Fullerton
Lighting design – Ben Cracknell
Sound design – Tom Marshall
Video design – Andrzej Goulding
Choreographer – Karen Bruce
Music Supervision and Orchestrations – Chris Egan
Musical director – Dustin Conrad
Cast:
Faye Treadwell – Loren Anderson
George Treadwell and Others – Miles Anthony Daley
Ben E. King, Rudy Lewis and Others – Ashford Campbell
Clyde McPhatter, Lover Patterson and Others – Tarik Frimpong
Johnny Moore, Gerhart Thrasher and Others – Daniel Haswell
Girl – Jaydah Bell-Ricketts