United Kingdom  Puccini, Il trittico: Richard Jones's new productions of Il tabarro and Suor Angelica and a revival of his Gianni Schicchi; soloists and chorus of Royal Opera, Conductor: Antonio Pappano, Royal Opera House, Covent Garden, London, 12.9.2011. (JPr)
This probably was a great night at the opera but I can't say audiences really enjoy themselves seeing Il trittico because two-thirds of the evening (each individual opera lasts about 55 minutes) is very depressing with the lightest of light relief coming from Gianni Schicchi at the end.
This varied trilogy of single-act operas – the darkly melodramatic Il tabarro, the emotionally overwrought Suor Angelica and joyously comical Gianni Schicchi, seem to have no reason to be performed together except that is how Puccini wrote them and how they were first staged in 1918. Perhaps it was sheer expedience because his compositional skills seemed on the wane at that point and he lacked something else to fill an evening. Although each work in Il trittico has moments when Puccini could have, in my opinion, done a bit better with the material he had, he has undoubtedly left us with three operatic near-masterpieces in miniature.
I believe the following conclusion of a lengthy essay by Alexandra Wilson in the programme book about Il trittico in performance is very perceptive: 'Most importantly we need to bear in mind the fact that this was a work in which Puccini was casting a nostalgic and at times ironic eye across his career as a whole. Il tabarro harks back to the gritty Puccini last heard in Tosca, while Suor Angelica elevates the archetypal sentimental Puccini heroine to new heights. Gianni Schicchi, meanwhile, presents a veritable kaleidoscope of different musical styles, some more modern, some deliberately old-fashioned, its lightness of touch recalling the second act of La bohème. The contrasting panels of Il trittico, then, represents the different facets of Puccini's own musical personality. To understand the complete Puccini, you really do need all three.'
Unfortunately in the past you rarely got all three, but now they are being seen more frequently together in the world's great opera houses. 1965 was the last time Il trittico was put on at Covent Garden and here Richard Jones adds new versions of Il tabarro and Suor Angelica to his 2007 production of Gianni Schicchi that was put on then and revived in 2009 as the second half of a double bill with Ravel's L'Heure espagnole. That enchanting latter work is less likely to have those of a sensitive disposition having to seek out the telephone number of the Samaritans than either of Puccini's two additional operas!
Richard Jones, when he staged his lamentably neglected Ring cycle for Royal Opera in the 1990s with its infamous paper bag on Brünnhilde's head, was the enfant terrible of opera production; now he has turned into a clone of Jonathan Miller. Not that it is necessarily a bad thing, but as modern opera critics fall into two camps – they are now either very young or very old – about half of those reporting on this portmanteau event will still have been at school when Jones was at his most adventurous.
These essentially ensemble operas were cast from strength from Royal Opera regulars, chorus members and Jette Parker Young Artists – plus imported stars, of course – and it will not be possible to mention everyone. But it was a great advertisement for the current health of this opera flagship.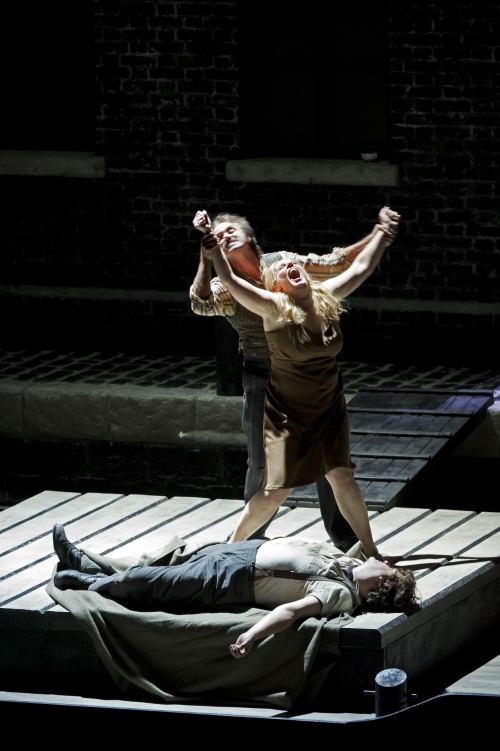 John Macfarlane's set for Gianni Schicchi updates the story from the Renaissance to offer us a version of Italian family life in the impoverished early 1960s. That designer was apparently unavailable to work on the remaining two one-acters, so it was left to Ultz, a frequent collaborator with Jones, to provide a nondescript, claustrophobic, grimy quayside and barge for Il tabarro with just the hint of an enticing neon-lit world beyond down a narrow alleyway. Michele mourns his lost son and his wife's affection. His wife Giorgetta wants another life for herself away from the barge and her present;  she latches on to the brawny Luigi to provide the means of her escape. Eva-Maria Westbroek's strident lyricism and intensity as Giorgetta brought back happy memories of her performances as Katerina Ismailova in Lady Macbeth of Mtsensk, Aleksandrs Antonenko as the ardent Luigi seems an interesting dramatic tenor discovery and I await his Otello later this season with great interest. Only Lucio Gallo's rather one dimensional Michele – both vocally and dramatically – was a big disappointment.
I never thought Richard Jones would become predictable but before I got to Covent Gardenand opened my programme I expected Suor Angelica to be in a hospital rather than a convent courtyard. However I never expected such a sanitised affair as Miriam Buether's spacious infirmary for children who did not seem that sick and with nuns in Nicky Gillibrand's clean pastel-shaded habits. Why not wounded soldiers or perhaps children suffering from tainted penicillin as in The Third Man? Either would have added a greater sense of realism to this rather bland staging? Admittedly, the encounter with a Miss Havisham-like Princess and the denouement with a sick boy being ripped from the dying Sister Angelica's arms – just as like her own son was taken away from her – were mightily effective moments. Ermonela Jaho was very moving as Angelica – here a pharmacist rather than the herbalist of the original – but her 'Senza mamma' and suicide had a touch too much of Butterfly about it.  Ms Jaho's voice – as good as it was – is perhaps a shade too small for this role. Nevertheless from the moment of her encounter with the eerily unemotional Princess, a wonderful Covent Garden debut from the towering Anna Larsson, and through the naïve complicity of the nuns, Angelica's fate is clearly sealed.
After all this misery came the joyous Gianni Schicchi.  The comedy seemed a lot broader than before; perhaps this is because Richard Jones's attention was elsewhere in the rehearsal period? Certainly Lucio Gallo's first Gianni Schicchi seems very much his own creation and different from his predecessors, Bryn Terfel and Thomas Allen, whom I both saw play the role in this staging. He seems very much a charmer and someone who is able to get away with things more because of winning smile rather than a cunning ploy. The former front cloth showing spaghetti has gone; so has the smoking that Schicchi indulged in before, and Dante's bust (the opera has its inspiration from a few lines of no obvious comic potential from his Inferno) has moved from the front to the back of the set.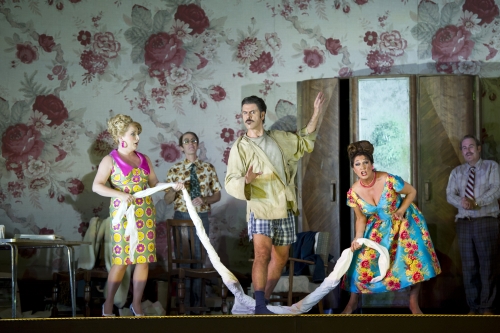 Greedy relatives at the bedside of wealthy Buoso Donati want his money for themselves not for it to go to the monastery that he named in his will. Gianni Schicchi double crosses them and engineers the richest pickings for himself and his daughter Lauretta so she can marry Rinuccio. There is much marvellous and inventive detail to delight the eye as the relatives tear the place apart to search for the will. They hang down from the loft in the ceiling and come up through the floor; and there is a will-reading without words (moments of genius in music by the composer) when the tension is palpable until the last page, when all realise only the monastery benefits and all become distraught. Much later the deceased Buoso's hand is shown held up from below the floorboards as if demanding attention. Marvellous!
As hinted at before, Lucio Gallo makes the title role very much his own and it seems to suit his voice and personality better than Michele did earlier in the evening. In a performance that was very well sung by all concerned it was left to Francesco Demuro's Rinuccio and Ekaterina Siurina's Lauretta to deliver near perfect accounts of their show-stopping arias.
Above all, for me, this was one of the finest Antonio Pappano-led evenings I have been privileged to hear at Covent Garden. Both music director and his orchestra were on top form. There were appropriately detailed and atmospheric accounts of each work, whether it was solemn and weighty for Il tabarro, maudlin or impassioned by turns for Suor Angelica or endearingly light-hearted for Gianni Schicchi, Pappano had the perfect mastery over every idiom.
Jim Pritchard