Verdi: Aida, Maestranza Orchestra and Chorus, Pedro Halffter (conductor), Teatro de la Maestranza, Seville, 6.11.2013 (JMI)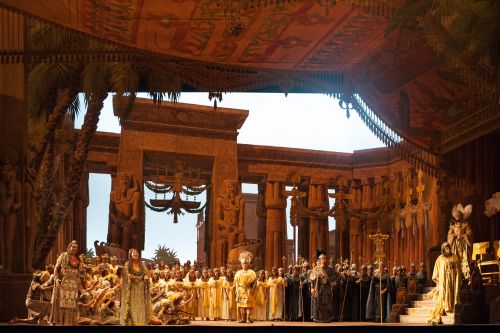 Production:
Barcelona's Liceu in coproduction with Santander Internacional Festival
Direction: José Antonio Gutiérrez
Sets: Josep Mestres Cabanes (original), Jordi Castells (remake)
Costumes: Franca Squarciapino
Lighting: Albert Faura
Cast:
Aida: Tamara Wilson
Radames: Alfred Kim
Amneris: María Luisa Corbacho
Amonasro: Mark S. Doss
Ramfis: Dmitry Ulyanov
The King: Carlo Malinverno
Priestess: Inmaculada Águila
Messenger: Manuel de Diego
Seville opened its opera season by honoring Verdi, with Aida in the well-known and justly famous production featuring Mestres Cabanes' painted fabrics. This stage production remains a very attractive one, but it was a lackluster performance: the musical direction didn't soar and the cast was uneven.
I've had several opportunities to write about this production, and I confess that I always see it with pleasure. I'm continually surprised in the different scenes as one discovers that the sets are no more than paintings on a flat surface   a real trompe l'oeil. The last time I reviewed this production was in July 2012.
Until recently Pedro Halffter focused mainly on modern titles and German operas, and his decision to conduct Verdi has not been too rewarding for opera lovers in Seville. Halffter's reading of Aida had its ups and downs and was better in ensembles than in the more intimate scenes; overall, his conducting was somewhat routine. The orchestra suffered when compared to the orchestras of Valencia and Madrid which I covered in recent days.
Aida was sung by American soprano Tamara Wilson, and she was the best of the cast. It's only three years since she won the Viñas Singing Competition; she has matured much as a singer and is now a soprano in full bloom. Her voice is attractive and very homogeneous, not too big, and she handles it well. She was especially inpressive in the scene of the Nile, where she offered beautiful piani without falling into mannerisms, and hit the top notes perfectly. She still lacks some expressiveness in her singing, but her Aida is worthy of any top opera house.
Korean Alfred Kim as Radames had an attractive, well-pitched voice, but his singing is somewhat monotonous due to his insistence on searching for decibels. I can't criticize the fact that his Celeste Aida did not finish with a high B in piano as written, because nobody does that nowadays; instead he finished in fortissimo, trying to get easy applause. It's a simple matter of good taste, and he seems to be rather short of it. In recent weeks I've heard Marcello Giordani and Marco Berti as Radames, and Mr. Kim is on a par with them: the truth is that the current landscape of tenors to sing Verdi operas is rather sad.
This was the first time that I heard mezzo soprano Maria Luisa Corbacho in so relevant a character as Amneris. The color of her voice is somewhat irregular, lighter than usual in the middle, but very attractive and poweful at both ends of the tessitura.
Bass Dmitry Ulyanov was a powerful  Ramfis, with one of those voices that are quite rare in opera today. Should he give more attention to nuances he could be one of the most sought-after basses in the world.
Baritone Mark S. Doss was returning to Seville, and his Amonasro went unnoticed. His voice holds little interest, and he is one of those singers whom you forget once you leave the theater.
Maestranza was at about 95% of capacity. The audience was enthusiastic during the performance, and at the final bows the biggest applause was for Tamara Wilson.
José Mª. Irurzun