United Kingdom Puccini, Tosca: Soloists, chorus and orchestra of the Metropolitan Opera, New York, conducted by Riccardo Frizza. The Met Live in HD broadcast to the Odeon Cinema, Chelmsford,   9.11.2013. (JPr)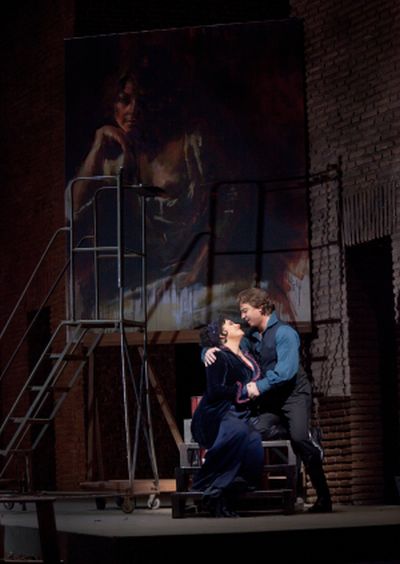 Cast:
Tosca: Patricia Racette
Cavaradossi: Roberto Alagna
Scarpia: George Gagnidze
Sacristan: John Del Carlo
Spoletta: Eduardo Valdes
Angelotti: Richard Bernstein
Sciarrone: James Courtney
Shepherd: Seth Ewing-Crystal
Jailer: Ryan Speedo Green
Production:
Director: Luc Bondy
Set Designer: Richard Peduzzi
Costume Designer: Milena Canonero
Lighting Designer: Max Keller
Revival Director: Paula Williams
TV Director: Matthew Diamond
(A co-production of the Metropolitan Opera, Bayerische Staatsoper and Teatro alla Scala.)
When I sat down at the Odeon Chelmsford to see Luc Bondy's production of Tosca I had not done the background research I suspect a critic should do and had no idea how old – or otherwise – his production was. Looking at the efforts of the New York Met's ludicrously over-manned ('manned' is appropriate here because I only saw one woman) stage crew to manhandle Richard Peduzzi's solidly three-dimensional shabby scenery during two extended intervals, I suspected it was one of their more ancient stagings. I was surprised to return home and find out that it dates from only 2009 and had actually replaced an 'ancient' much-loved Franco Zeffirelli Tosca. This one is not so popular it seems.
Why not? For me Bondy brings us only a few directorial divergences from a typically traditional Tosca of any time this, or last, century. Is there a recognisable church (yes, tick!), an office with adjoining torture chamber for Scarpia at the Palazzo Farnese (tick!) and a castle wall for Tosca to jump off (tick!). Admittedly his church is an austere work-in-progress and needs finishing with its unadorned brick walls and Cavaradossi's painting of Mary Magdalene, that he is famously working on at the start of the opera (cue 'Recondita armonia'), is a soft porn version with her left breast exposed – and now about 3 to 4 feet wide with Matthew Diamond's close-up for TV. Iit is a wonder some of the elderly audience at Chelmsford didn't get up and leave immediately … or pass out in shock!
At the end of the 'Te Deum' the assembled congregation of Sant'Andrea della Valle recoil in horror as Scarpia ends this act by embracing a Black Madonna. Then when we get to his office in Act II, we find him being 'entertained' by one of the three 'courtesans' (to use the politest word possible for them) we are shown. Later, Tosca actually contemplates throwing herself out of his window after she has killed Scarpia but doesn't have the nerve to bring the opera to a premature conclusion! In Act III Cavaradossi is involved in an extended, if half-hearted, chess game with his Jailer before his not-so-mock execution and then Tosca somehow eludes capture to plummet from a turret off the Castel Sant'Angelo, the second of two stunts in this production. The first was in Act I and was very well done as a 'double' for Angelotti abseils down the inside of the church (where was he coming from?) at the start of the opera and now at the end Tosca's – much thinner – stunt person in deep gloom is seen falling whilst the curtain comes down much too quickly. This was a rather disappointing end to what was a very dramatic performance – that commented on purely as a cinematic event – had clarity, power and veracity. Yes it was a basically tradition production of an opera that I have seen several times – but have I enjoyed it as much before as I did now?  I am not certain I have? All credit to revival director, Paula Williams, and TV director, Matthew Diamond, for collaborating on such a wonderful operatic event for an international viewing audience.
This Met Live broadcast was hosted in her usual unflappable manner by Renée Fleming who was not even flustered when talking to Georgian baritone, George Gagnidze, whose English was monosyllabic but spoke interestingly through a hesitant interpreter about how when singing 'Every gesture has to match the voice and the character … what you are singing and what you are doing'. This Gagnidze clearly did and it was an amazingly extravagant, lascivious, menacing, eye-rolling, scenery-chewing performance of the type rarely seen in opera houses in the UK anymore. I always have my doubts about whether the voices we hear through the loudspeakers match what the audience hears live but Gagnidze described himself as a 'Heldenbaritone': it sounded a large, rounded, highish voice, capable of some nice lyricism when necessary – but mostly sounding as darkly villainous as all Scarpias must.
Bondy seems to have left Cavaradossi alone and not given him anything much different to do, and this is good because when he first appears Roberto Alagna does not seem that dramatically engaged in what is going on around him and seems to be concentrating solely on his own performance. Nevertheless, he sang a subtly shaded 'Recondita armonia' in front of that portrait and whilst clutching an open locket – with presumably Tosca's likeness in it – lending his aria an emotional focus. Later an intense 'E lucevan le stelle' was equally sensitively phrased, by that time he was more involved in acting his part and there was some good chemistry between him and Patricia Racette's Tosca, especially when he was teasing her over her Act I jealousy over the colour of his painting's eyes, and also when he is furious at her Act II betrayal because she has failed to keep her mouth shut. His cries of 'Vittoria!' on the news of Napoleon's victory had an almost Wagnerian power to the; the French-Sicilian tenor gloried in the fact that his character's mother was French and revealed that his next important new project is as Otello. He may just have the vocal weight now at his disposal to carry off this somewhat unlikely choice of role.
For such an accomplished artist, Patricia Racette's rather frumpy and unsexy Tosca is not that credible as a figure men lust over, though perversely, totally believable in her own coquettishness, flashes of jealousy and diva-inspired passion. Her singing sounded a little thin to begin with but later seemed to soar gloriously, and her 'Vissi d'arte' had suitable heart-breaking poignancy.
The principals were supported by the usual ensemble of Met veterans and its glorious chorus of 80. John Del Carlo was an endearingly fussy and openly hungry Sacristan, Richard Bernstein was a vehement Angelotti, the Act I fugitive; Eduardo Valdes's Spoletta was a disdainful and conniving collaborator for Scarpia and Ryan Speedo Green, who appeared to be a much younger singer, was the forthright Jailer.
Riccardo Frizza began with all the crash-bang-wallop Tosca needs but then that intensity seemed to drain from the sturdy Met Orchestra's accompaniment as the opera went on. It however seemed at all times ideal for what we saw on screen – it was the vocal and acting abilities of the principals that brought the story to life rather than Puccini's orchestral accompaniment, even though it is full of Wagnerian-style leitmotifs: I doubt whether Puccini would be happy with this film score approach but it certainly worked for me!
Renée Fleming reminded us at the start of its 929th performance at the Met how 'At its world première in January 1900 Puccini's Tosca shocked and thrilled audiences with its lurid depiction of attempted rape, torture, murder and suicide.  … Of course it was a popular success!' As the sold-out cinema in Chelmsford attested it still is that successful nearly 114 years later and I am happy to say that I was 'shocked and thrilled' by this stunning Met Live broadcast in a way that has not always happened for me in the opera house.
Jim Pritchard
Check out your local cinema listings as the Metropolitan Opera's Live in HD 2013-14 season continues:. Falstaff conducted by James Levine is next on 14 December.