United Kingdom Adolphe Adam, Giselle: Royal Ballet's Soloists, Corps de ballet and Royal Opera House Orchestra / Boris Gruzin (conductor). Broadcast to the Odeon Cinema, Chelmsford, Essex. 27.1.2014. (JPr)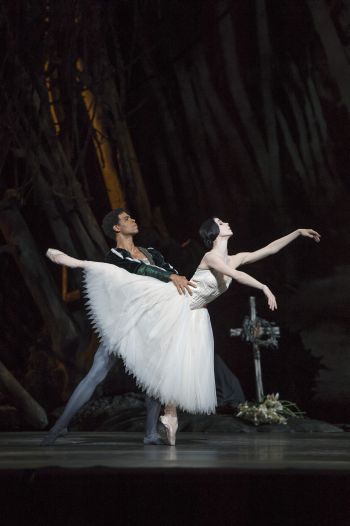 Cast:
Giselle: Natalia Osipova
Albrecht: Carlos Acosta
Hilarion: Thomas Whitehead
Myrtha: Hikaru Kobayashi
Moyna: Elizabeth Harrod
Zulme: Akane Takada
Production:
Choreography: Marius Petipa
Scenario: Théophile Gautier after Heinrich Heine
Production and additional choreography: Peter Wright
Music: Adolphe Adam (revised by Joseph Horovitz)
Designs: John Macfarlane
Original lighting: Jennifer Tipton
Lighting design: David Fin
Staging: Christopher Carr
This famous two-act ballet, which was premièred in 1841 in Paris, was first staged in England the following year and shortly thereafter was presented by almost every ballet company in the world having been recognised as an exceptional ballet. With only a few additions from Peter Wright – in his much-admired production that dates from the 1980s – the original choreography of Jean Coralli, Jules Perrot and Marius Petipa remains largely intact to this day and it is set to music by Adolphe Adam (revised for this production by Joseph Horovitz). In comparison to some of the other story ballets, Giselle has greater psychological depths and explores the myriad themes of social class, love, betrayal, despair, forgiveness and redemption. Act I is an idyllic vision of peasant life, it is harvest time in medieval Rhineland village; the peasant girl, Giselle, has won the heart of the noble-born Albrecht, who disguises himself and lives among the villagers. Then Act II is inspired by a passage in Heinrich Heine's On Germany, about Wilis or 'young brides-to-be who die before their wedding day. The poor creatures cannot rest peacefully in their graves' and rise at midnight to dance beguilingly in the moonlight.
Giselle continues to resonate with audiences today because of its unique combination of poignant story, glorious music and its rare and masterful choreography. Darcey Bussell, former Royal Ballet prima ballerina turned Strictly Come Dancing judge, was the smiling host for this cinema broadcast that sold out one auditorium in Chelmsford, Essex, and overflowed into a second one as part of its live relay throughout the world. Ms Bussell reminded the watching audience of a quote by George Balanchine about the ballet. I repeat it here more fully: 'Like Hamlet, Giselle is a classic: it is not only important historically, it also happens to be good … People go to see Giselle and to see ballerinas dance it for the same reason we go to see new interpretations of Hamlet: the work is such a good one that we always discover something in it we hadn't seen before.'
For Giselle dancing ability is not enough on its own; in Act I a ballerina has to be convincing as an innocent country girl who believes she has found her true love and then descends into madness at being betrayed and later in Act II she must seem otherworldly. In Natalia Osipova, Royal Ballet's new young principal dancer, they have found someone unique for this role as she is a consummate actress and I totally 'bought into' what she said in an interview that was shown with her, when she said 'You tell the story by the way you move …. When I step on the stage I believe I am Giselle.'
To her portrayal of Giselle in Act I Osipova brings her trademark lighter-than-air quality and she is nearly perfect as a shy, unspoiled beauty caught up in the first blush of love. She looks almost painfully thin and exudes a supremely affecting and childlike vulnerability, burning innocence and an alarmingly ardent devotion to both dance and love. Throughout the ballet everything she does seems perfectly natural and fluid without any indication that here is a dancer thinking about what she has to do next.
In Act I the peasants fill the stage passing around baskets with the bounty of the harvest and Yuhui Choe and Valentino Zucchetti excels when leading the pas de six. The forester Hilarion (Thomas Whitehead), who wants Giselle for himself, begins to suspect something is wrong about the handsome stranger (who apparently is known as 'Loys') who is in the village. When a party of nobles arrives, all is revealed about his true identity of Count Albrecht and Giselle learns he is betrothed to someone else. Giselle is plunged into 'madness', rushing around the stage in absolute turmoil because she is unable to comprehend how everything she thought was true now turns out to be false. Everyone who was only recently embracing Giselle seem now to be keeping their distance. Natalia Osipova, who has brought her character to vibrant life throughout Act I, now hurls herself through a tormented dance before succumbing, if rather ambiguously, either to her overwhelming grief or a self-inflicted wound from Albrecht's sword. Earlier Osipova had proved herself such a convincing actress with every part of Giselle's story seeming to be somehow expressed – as she suggests – by the nuanced movement of her legs, arms, hands and face that I almost imagined I was hearing her speaking dialogue!
The true heart of the ballet is Act II set in a moonlit glade, where Hilarion and Albrecht become the victims of the Wilis, ghostly creatures – all beautiful women, all jilted and all dying before their wedding day, now doomed to wander the earth dancing to death any hapless men who cross their paths. (I was intrigued by the suggestion from one of the rehearsal videos that was shown that the Wilis' cupped arms are cradling children they were never to have.) Giselle was one of the first ballets in history to feature women dancing en pointe, and now becomes a showcase for the steps and positions that classical ballet is founded on. Osipova was truly 'spirited' here and makes Giselle's ghost twirl round the stage as if still propelled by her passion to dance. She dances with Albrecht until dawn, at which hour the Wilis lose their power and he is saved from death. Giselle's power of true forgiveness and selfless efforts to protect Albrecht from death frees her from the Wilis and allows her spirit to find true peace.
Carlos Acosta's Albrecht is totally in the shade of Osipova's triumph and at this stage in his career he seems to be taking great care with all he does. Though few dancers today can match the nobility with which Acosta – of course a most convincing actor – still executes steps, or the refinement of his line and the assurance and attention to his partnering. However, the difference in approach between the two 'stars' could be seen at their first curtain call, Osipova seemed totally spent and emotionally affected by her role whilst Acosta was smiling broadly. Nureyev (who I saw several times as Albrecht) always seemed at the point of total exhaustion as he collapsed to the stage after the long Act II series of entrechat-six – an probably was. Now 40, Mr Acosta's rather more restrained performance suggests that if he maintains his fitness he could continue dancing like this for several more years if he wanted to.
To be honest there is not much opportunity for anyone else to make an impression in this ballet and overall it was a fine ensemble performance. All credit to each one of the artists of the Royal Ballet for realising that screen director Ross MacGibbon's cameras were on them – often in extreme close-up – and everyone seemed 'switched on' and stayed totally in character, whether it was as a peasant in the furthest background or as a Wili. Perhaps only Hikaru Kobayashi's Queen of the Wilis was less than assured and she was the only one to make me really aware of the technical difficulties behind their steps and was outshone by the impressive Akane Takada's ethereal Zulme, one of her attendants. Thomas Whitehead and Deidre Chapman also caught the eye in the basically mime roles of Hilarion and Berthe, Giselle's mother. They were all supported by some fine sounding playing from the Royal Opera House Orchestra under the experienced supporting baton of Boris Gruzin.
Onstage – and on screen – love, death and dance all came together engrossingly and very affectingly: other ballets may have greater music and greater choreography, yet this one still takes us deep into the classically Romantic heart of what ballet itself is all about – and what keeps very many of us coming back to it time and again. However it must be remembered that Osipova and Acosta only perform infrequently with the Royal Ballet and I wonder – with all the recent changes to their personnel – whether every evening of theirs is as good as this?
 Jim Pritchard