United States Alex Mincek: Alex Mincek (saxophone), Talujon Percussion, Greg Chudzik (bass), Avant Music Festival, Wild Project, New York City. 28.2.2014 (DS)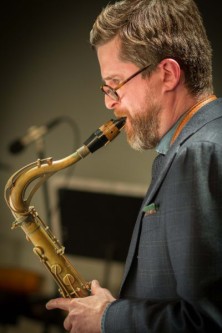 Alex Mincek: V (2012); Nucleus (2007); Out of Thin Air (2013); Trio (2014)
Alex Mincek, Saxophone
Talujon Percussion:
Ian Antonio, Marimba and Percussion
Russell Greenberg, Percussion
Michael Lipsey, Percussion
Greg Chudzik, Bass
In the East Village, during the second weekend of the Fifth Annual Avant Music Festival, the well-worn saxophone, the warm woody marimba, and of course, blue plastic tubing were a few of the participating instruments in a night of Alex Mincek compositions. At the glass-fronted bohemian space called Wild Project, four of Mincek's works came together in a delightful hour of the playful, the sensitive, and the astutely collaged.
While the whole evening kept up a natural momentum (where even the delicate pixilated winks of silence moved forward the musical impulse), particular moments distinguished themselves. Ian Antonio's performance on the marimba for the opening work V was an inarguable success. His interpretation showed a profound relationship to this instrument, as well as Mincek's tastefully balanced composition, which boasts a rather extensive range of textural possibilities hidden in its parts. Both marimba and player seemed to float through the technically challenging work, relaying their sonic message to the listeners from a dreamy place of experimentation and mutual agreement.
Sounding splendid on saxophone, Mincek joined Antonio's percussion for Nucleus—a mature duet that grew as if through snippets of conversation passed between both performers. The kinds of unexpected sounds that came forth were at times reminiscent of old computer games or electronic reverberations, making for a fun entry into the experimental. Ultimately, the musicianship produced a gripping aura in which the breathy time-free moments were as taut as the wilder passages of saxophone/percussion riffs. Then, adding in bassist Greg Chudzik for the world premiere of the simply titled Trio revealed further strengths in Mincek's voice as a composer. Trio was unique, and somehow seemed the apex of Mincek's style, so readily revealed throughout the evening.
The tubing, which actually came in red, green, and blue, was used in the work Out of Thin Air, in which the three members of Talujon Percussion literally beat sound out of the air. For this was the East Village, after all, and despite recent encroachment by tall glassy buildings, the avant-garde can still find their secret outposts.
Daniele Sahr