United States  Massenet, Werther (new production by Sir Richard Eyre and directed for live cinema by Gary Halvorson): soloists, chorus and orchestra of the Metropolitan Opera, New York, conducted by Alain Altinoglu. Broadcast to the Odeon Cinema, Chelmsford, Essex, 15.3.2014. (JPr)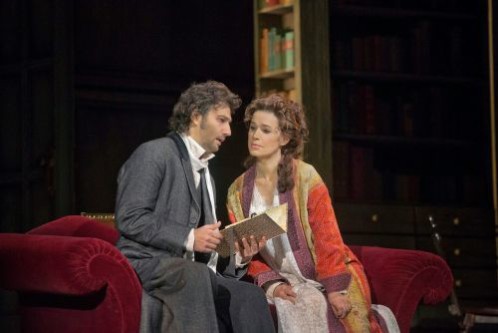 Cast:
Werther: Jonas Kaufmann
Charlotte: Sophie Koch
Albert: David Bižić
Sophie: Lisette Oropesa
Bailiff: Jonathan Summers
Schmidt: Tony Stevenson
Johann: Philip Cokorinos
Käthchen: Maya Lahyani
Brühlmann: Christopher Job
 
Production:
Director: Richard Eyre
Set and Costume Designer:  Rob Howell
Lighting Designer:  Peter Mumford
Video Designer:  Wendall K Harrington
Choreographer:  Sara Erde
Cinema Director: Gary Halvorson
Live in HD Host: Patricia Racette
In Chelmsford everything was perfect and we were certainly better off than the US cinemas were they lost about the last seven – very important – minutes of the transmission. If you had sat through the rest of it and lost that I can imagine you would be very disappointed because dramatically and emotionally the 'sex and death' ending (as Richard Eyre described it) comes into its own in this new production.
Werther is a strange piece, the first two acts overstay their welcome because it is not difficult to establish that the eponymous poet is in love with Charlotte, a woman he cannot have and we really need to get more swiftly to the dénouement where he virtually blackmails her into loving him because he suggests he will kill himself if not. In 2014 Charlotte would have packed her bags, left her boorish husband, Albert, and 'shacked up' with Werther and lived happily ever after … at least for a while. However in the nineteenth century that option was not the norm for French couples in this situation that Massenet's opera was playing to. It had been adapted from Goethe's novel The Sorrows of Young Werther and is the tale of a somewhat feckless young courtier in 1780s Germany who seems to suffer from bouts of melancholia. He is something of a poet and wants life to be on his own terms. Impetuously, he falls in love with the stoic young Charlotte, the eldest daughter of a widowed Bailiff who is in charge of a large estate on the outskirts of Frankfurt. He has been left alone raising his children with the help of Charlotte and her younger sister, Sophie. All the rest you need to know is that Charlotte made her dying mother a promise to marry Albert.
That is the rather straightforward and intimate plot and everything else is in the music and should not require further explanation or illustration. However, Richard Eyre – a knight of the theatre rather than opera – decides to illustrate quite a lot that we do not usually see through his updating to the Biedermeier period just before the time of the opera's 1892 première and referencing the works of 'Ibsen, Strindberg and Chekhov' in his approach. Collaborating with Rob Howells' designs and Wendall K Harrington's videos we have a chocolate-box, overly pretty approach to Acts I and II and we seem – especially with some annoying children practising their carols – to have wandered into the world of The Sound of Music. Computer-generated imagery gives us picturesque exteriors – with birds, trees, the passing seasons, and snow – as well as plush interiors that only involves the straightening of the receding parts of the framing device within the proscenium. This I suspect reflects the rigidity of the prevailing society because often they suggest all is not well with the Bailiff's family.
Act III was set in Charlotte's bookshelf-lined room with pairs of central doors through which Werther could make his 'Honey, I'm home!' scene-stealing entrance before making his final life-or-death appeal for Charlotte's affections. There are no real spoilers here to say that there is a suicide in Act IV and it was played out with some Tarantino-like blood splatter in Werther's claustrophobic and rather unprepossessing room. This was right to the back of the stage in the actual theatre but Werther's end in Charlotte's arms was shown in graphic close-up in Gary Halvorson's direction for live cinema.
Elsewhere, Richard Eyre seems to have had the urge to flesh out the rather thin story with extraneous things for the Met audience to look at. During the Prelude we are shown the death of the Bailiff's wife at a Christmas celebration with the children singing. Their mother clutches her chest and collapses to the floor and shortly after we see a coffin being carried to its burial, followed by the Bailiff and all his children – six young ones and the two older sisters, Sophie and Charlotte – all in deep mourning. All this was before the actual opera properly begins in the middle of July(!) with the same children rehearsing their carols; the back story – that we have just seen – evolves out of the libretto. In another sequence there is a flashback to show the ball where Charlotte and Werther, her escort for the night, fall in love even though she is already engaged to Albert, an honourable young man who has been away for six months for some reason – but who in this production plausibly returns in military uniform.
The title role was a showcase for Jonas Kaufmann who is most people's favourite tenor of the current generation. Those with any familiarity with my reviews will know that I do not entirely share the opinion of this majority and find it a pity he really does not have more competition. In this broadcast the effort he needed to fill the theatre was clearly evident and for me, at times, the only person he seemed to be in love with was himself. This was not because of any narcissism (I hope) but the concentration Kaufmann was giving his singing rather than to the ardour he needed to show for his Charlotte. His acting was a little too over-wrought from the beginning and he was more psychotic than love-lorn. Also, there was often more Wagnerian baritonal strength than true tenorial beauty to his singing although he essayed some more reflective shading to his arias, especially, his show-stopping 'Pourquoi me réveiller?' in Act III. As Werther dies, Kaufmann allowed the colour to drain from his voice as all good Mimis do in La bohème. This was very effective in the cinema – though would it have resonated as much to the person sitting at the back of the top balcony in The Met? I remained totally emotionally detached from his fate but can understand if others had a different reaction at the end.
His Charlotte was the French mezzo-soprano Sophie Koch who unfortunately could not look anything like the 20-year-old she was supposed to be and perhaps this is why Richard Eyre made her more like a spinster bringing up younger siblings than a fancy-free young girl – albeit one that is promised to another. Her singing was perfectly fine but again seemed to lack any real warmth for Werther until nearer the end as Charlotte confesses – rather too late when he is dying – that she really does love him. Here Ms Koch's singing had the passion it lacked earlier. I didn't seem to see much real chemistry between Koch and Kaufmann even though they have appeared in these roles together before … but that may be just me again.
Because everything in this opera focusses on the "will they-won't they?" relationship of the leading two characters everyone else cannot help but be overshadowed, especially since they all virtually vanish in Acts III and IV. Lisette Oropesa's Sophie was perfectly charming; Albert was sung robustly but with considerable warmth by David Bižić; the veteran Jonathan Summers was paternal and bluff as the Bailiff; and to complete the cast his friends and children were all well characterised.
From what we heard the French conductor Alain Altinoglu brought out an idiomatic account of the score though the refined, subtly-nuanced playing of the Met orchestra and by keeping – as the production mostly succeeds in doing – any overblown emotions carefully in check until cranking up the tension to build inexorably to the opera's tragic conclusion.  
Jim Pritchard
Check out your local cinema listings as the Metropolitan Opera's Live in HD 2013-14 season continues.