Germany Purcell: Dido and Aeneas, Akademie für Alte Musik Berlin, Vocalconsort Berlin, Christopher Moulds (conductor), Staatsoper im Schiller Theater, Berlin, 8.5.2014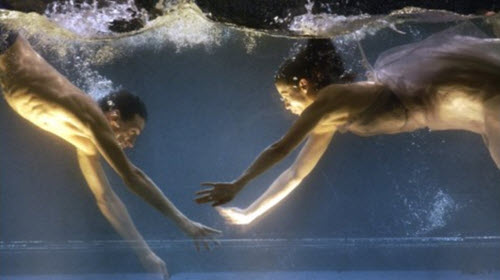 Cast
Dido: Aurore Ugolin
Aeneas: Reuben Willcox
Belinda: Deborah York
Second Woman: Céline Ricci
Sorceress: Fabrice Mantegna
First Witch, A Sailor: Sebastian Lipp
Second Witch, A Spirit: Michael Bennett
Dancers: Sasha Waltz & Guests
Production
Director and Choreography: Sasha Waltz
Musical production reconstruction: Attilio Cremonesi
Musical direction: Christopher Moulds
Sets: Thomas Schenk and Sasha Waltz
Costumes: Christine Birkle
Lighting: Thilo Reuther
Sasha Waltz's production of Dido and Aeneas made a splash — in the literal sense. The stage of the Schiller theater was bare except for a tank of water that spanned its length. While the audience continued to chat and settle into their seats, dancers dressed loosely in evening attire appeared on the platform above the backlit pool. Just as the Akademie für Alte Musik Berlin struck the first note, a man gracefully dove in. A female dancer followed suit, her translucent gown enveloping her like the gelatinous body of a jellyfish as she swam towards her partner, enfolding him in a choreographed embrace. Several other dancers took the plunge. "Venus descends in her chariot, the Tritons out of the sea," sang the choir of Vocalconsort Berlin. I doubt the dance of the tritons in the opera's prologue has ever been staged so literally.
Theatrics aside, what makes this choreographic opera, as Waltz terms it, unique? One could immediately point out the obvious juxtaposition, contemporary dance set to an early Baroque score, but that's not new — Mark Morris Group choreographed the piece back in 1989, for one. Was it the ambiguity of the setting, mythical land of Carthage or postmodern purgatory? This too was of little importance. Paramount was the effect of this artistic amalgamation of choreography, realized by Waltz & Guests, and the superb music making of the orchestra, the choir of Vocalconsort Berlin and soloists. The production seamlessly integrated music and dance: both chorus and soloists were on equal footing with their dancing counterparts, which required them to writhe on the ground and lift one another, all while singing nearly impeccably. This was one of the most noteworthy takeaways of an entertaining production that, while only loosely indicating the plot, demanded attention.
It says quite a lot in a city that offers multiple opera, classical music and dance performances on any given evening that this and all subsequent performances this season are sold out, The piece had its premiere at the Staatsoper in 2005, and is a co-production with the house, Waltz's company, Akademy für Alte Musik Berlin, the Grand Théâtre de Luxembourg and der Opéra national de Montpellier. Since then, it has been staged in various venues in Europe and at the Sydney Festival — a success wherever it has appeared.
The opera's first known performance was at a London boarding school in 1688. Although scholars argue that today's score is an inferior reworking of the composer's original, it is still largely regarded as the first great English opera. A typical tragédie lyrique, it retells the story from Virgil's Aeneid. Girl (Dido, queen of Carthage) meets boy (Trojan hero Aeneas), and they fall in love. Boy is tricked by sorcerers and deserts his mistress and, predictably, the once all-powerful queen dies ambiguously of a broken heart. But while the subject is heavy, Purcell's opera is often quite buoyant. Under the baton of British conductor Christopher Moulds, the superb musicians of Akademie für Alte Musik Berlin confirmed their reputation as one of the world's finest period-instrument ensembles. A violinist even joined the action on stage, strolling around during a solo at the beginning of the grove scene. The 15-member Vocalconsort Berlin was equally impressive and quite comfortable with the orchestra — they often collaborate. Well-versed in repertoire from the early Baroque and Baroque periods, their voices blended harmoniously. Without any distraction from less-than-stellar diction, phrasing or blending, listeners could feel the unfettered joy in "To the Hills and the vales" in Act 1, and the lamenting, weeping quality written into the final chorus as they bid farewell to the departed Dido.
The soloists were as fine as one would expect for a Staatsoper production in which there was much else to demand attention. The tone of Baroque specialist Deborah York was ideal for the role of Dido's handmaid, Belinda. Aurore Ugolin was an effective Dido, although she had some intonation issues during "Ah! Belinda" and at the beginning of her character's famous lament. Reuben Willcox cut a dashing figure as Aeneas, particularly when his costume involved a breastplate which, combined with his curly hair, made him resemble Michelangelo's David. All solo singers were assigned one or more dance counterparts, although this often wasn't obvious.
Waltz has a fondness for setting opera to dance. She has done this six times, most recently in a production of Monteverdi's Orfeo that will premiere in September at Dutch National Opera. Her athletic choreography, a signature of her brand of dance theater, suits Purcell's lively score. At times it was comedic and incorporated camp elements. The ensemble, dressed in overdone, brightly colored period costumes posed as if for a family portrait taken by a 17th-century Andy Warhol; a dancer paraded around with a blow-up dolphin. Per reconstruction by Attilio Cremonesi, a dialogue/dance interim was added, in which a male dance master dressed in a long turquoise gown ordered his troupe to begin a minuet. He berated them verbally in French, English and German ("stomach in, chest out!") and wielded a small whip, which he was unafraid to use. While I don't claim to have entirely comprehended the significance of the actions, which were especially bizarre during the dance interim (was that an exorcism?), I was impressed by Waltz's choreography and the way it was enacted by her skilled troupe.
It is a quirky if unorthodox production that certainly can't be criticized as a watered down version of Purcell's original.
Sarah Hucal