Germany Handel: Alcina, Staatskapelle Dresden, Rainer Mühlbach (conductor), Dresden Semperoper, 5.6.2014 (JMI)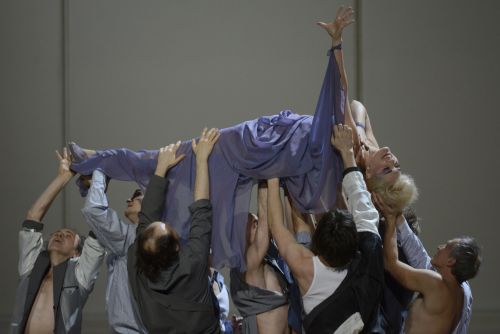 Cast: Alcina: Vanessa Goikoetxea Ruggiero: Diana Haller Bradamante: Christa Mayer Morgana: Verónica Cangemi Oronte: Semeon Esper Melisso: Markus Butter Oberto: Christel Loetzsch   Production: Dresden Semperoper Direction: Jan Philipp Gloger Sets: Ben Baur Costumes: Karin Jud Lighting: Fabio Antoci
In recent years – even decades – we've become accustomed to attending Baroque operas performed by great orchestras on period instruments, with wonderful conductors who have made Baroque music their specialty and magnificent singers who truly excel in this repertoire. It's very easy to get used to good things.
I was curious about attending a Baroque opera presented by a repertory theater and featuring artists from the company. In this case, the final result was not convincing.
Jan Philipp Gloger's staging premiered here three years ago. It makes clever use of movable walls that allow for fast scene changes and the possibility to reconfigure scenarios quickly. The action takes place in modern times which makes sense since this kind of fantastic opera doesn't need to be confined to a particular period. The costumes for Alcina and Morgana are colorful and attractive.
The stage direction is good, and overall the production doesn't perturb although it's not particularly appealing. Mr. Gloger has no better idea than to have Ruggiero kill himself at the end of the opera so that there isn't a happy ending. Comparisons are odious, but it is not easy to forget David McVicar's wonderful production, still alive in my memory.
Rainer Mühlbach's musical reading was better in the second part of the opera, or perhaps I just got used to it. Mr. Mühlbach is not one of the best Baroque conductors (their names are in the minds of all opera lovers). I found his conducting no more than correct during the first half but improved in the second part, where there was more emotion and inspiration. The Dresden Staatskapelle does not play on period instruments, and its sound therefore was not what one is familiar with, although it is an excellent orchestra.
Vanessa Goikoetxea was Alcina, and she sang with gusto and moved easily on stage. Her performance was all right while the score stayed in the middle range, but as her timbre changes it becomes less attractive and even shrill, with shouted notes at the very top.
Mezzo soprano Diana Haller replaced Barbara Senator, and she was not convincing. She performed with more pain than glory, and her singing of Verdi prati did not deserve any applause from the audience.
Bradamante requires a real coloratura contralto, and Christa Mayer is not that. She didn't do anything wrong, but her voice and style have nothing to do with Baroque opera. I remember seeing her as Brigitta (Die Tote Stadt) and Erda (Siegfried). In both she was convincing, but those characters have nothing in common with Bradamante.
Verónica Cangemi was Morgana and she offered the voice best suited to Baroque opera. She was quite good, although less so than a few years ago: her top notes are now always open. The first applause of the evening was for her after an excellent Tornami a vagheggiar. 
Semeon Esper offered little interest as Oronte, with dubious pitch at times. Markus Butter was a modest Melisso. Christel Loetzsch showed her immaturity in the part of Oberto. The sweet candy (Barbara, io ben lo so) that Handel wrote for this character was rather bitter in her interpretation.
Semperoper was probably below 70% of capacity. The audience gave a polite reception to the artists but no cheers.
José Mª Irurzun