Spain Verdi: La Forza del Destino, Chorus Generalitat Valenciana, Orchestra Comunitat Valenciana, Zubin Mehta (conductor), Palau de Les Arts, Valencia, 10.6.2014 (JMI)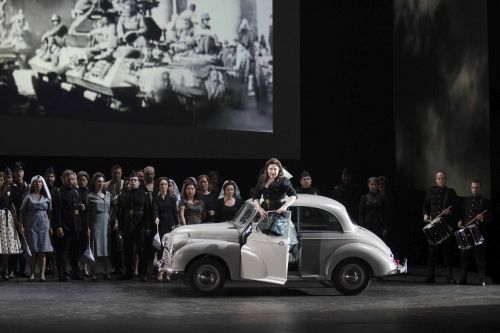 Cast:
Don Alvaro: Gregory Kunde
Leonora: Liudmylla Monastyrska
Don Carlo: Simone Piazzola
Padre Guardiana: Stephen Milling
Preziosilla: Ekaterina Semenchuk
Fra Melitone: Valeriano Lanchas
Marquis Calatrava: In-Sung Sim
Curra: Cristina Alunno
Major: Ventseslav Anastasov
Trabuco: Mario Cerdá
Surgeon: Aldo Heo
New production
Direction and sets: Davide Livermore
Costumes: Mariana Fracasso
Lighting: Antonio Castro
Valencia's Festival del Mediterráneo is presenting two operas, La Forza del Destino and Turandot, both conducted by Zubin Mehta. Because of the uncertainties in recent days about the future of Palau de Les Arts, these performances have been quite emotional: they could be the last appearances by the great conductor at Valencia. Just a few days ago Mr. Mehta declined an offer to take over the musical direction of the orchestra, which is a big blow for Palau de Les Arts. His decision follows the departure of Lorin Maazel a few years ago, and  I wonder if any  renowned conductor will be willing to accept the post, taking into account the problems that Palau is facing. One has to wonder what will be the future of this theater, where so so many nights of great opera have been enjoyed.
The performance of La Forza del Destino was superb: an imaginative stage production, a brilliant  ̶  as well as emotional  ̶  musical direction and a superb cast for the two main protagonists.
There is no doubt that the audience at La Forza del Destino wants Zubin Mehta to continue to appear in the pit here: the repeated and very warm ovations he received throughout the evening prove it. Clearly, a special communion exists between conductor and orchestra which always improves the results. Mr. Mehta exhibited the brilliance that we have seen time and again and there were breathtaking moments, especially at the end of the opera, but to my thinking he didn't reach the exceptional depth he achieved in his last Walküre. This orchestra has been the best in Spain, and the problems affecting the Palau de Les Arts are also having consequences for musicians. Their performance was very good, although the sound did not seem as spectacular as at other times in the past. The choir also gave an excellent performance.
Gregory Kunde made his debut in the character of Don Alvaro, and he was truly outstanding. I cannot think of another tenor today  ̶  except for Jonas Kaufmann  ̶   who can compete with him in this role. The case of this great tenor is a curious one: his true success has come well past the age of 50, and he is now one of the artists most in demand at top opera houses for the main repertoire. Mr. Kunde's voice is fresh, he has no problem with the high notes and he is always a great singer, never pushing but always singing in a most natural way. Who would have thought that the light tenor of some 25 years ago would develop into a true  Verdi tenor, one of the few in the world!
Liudmyla Monastyrska was also making her debut in the part of Leonora, and she was very successful. She is a powerful soprano but is capable of singing piano when required. Her voice is comparable in size with those of Ghena Dimitrova or Maria Guleghina, but I find her to be the better singer. Her interpretarion was faultless, and she was at her very best in Pace, pace.
Simone Piazzola has a voice more or less appropriate to the character of Don Carlo di Vargas. I say more or less because at times I got the impression that he forced his voice to give more drama to his evil character. He seemed to me a little monotonous in his singing.
Bass Stephen Milling was also making his debut as Padre Guardiano. His singing seems to me better suited to Wagner than to Verdi, but overall his performance was fine.
Mezzo soprano Ekaterina Semenchuk was a kind of luxury in the part of Preziosilla, although I find this character rather boring.Somebody must have said to Valeriano Lanchas that the acoustics were not good because he decided to offer just decibels as Fra Melitone. In-Sung Sim left a positive impression as Marquis of Calatrava.
The production is a new one by Davide Livermore, who created an ingenious work, bringing the action into the 1940s and using projections allusive to the plot. Some  of them were like a tribute to Alfred Hitchcock  ̶  scenes from his movie The Birds. The sets are minimal with well-suited costumes and excellent lighting.
Palau de Les Arts was at about 85% of capacity. The audience was very warm during and at the close of the performance. At the final bows there were sound cheers for Gregory Kunde and Liudmylla Monastyrska and especially for Zubin Mehta.
José Mª. Irurzun