Germany Rossini: Il Barbiere di Siviglia, Orchestra and Chorus of the Bayerische Staatsoper, Paolo Carignani (conductor), Nationaltheater, Munich, 30.7.2014 (JMI)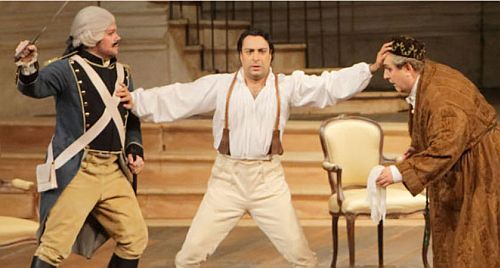 Cast:
Figaro: Rodion Pogossov
Rosina: Kate Lindsey
Almaviva: Juan Diego Flórez
Don Bartolo: Renato Girolami
Don Basilio: Peter Rose
Berta: Hanna Elisabeth Müller
Fiorello: Andrea Borghini
Officer: Dean Power
Production: Bayerische Staatsoper
Direction: Ferruccio Soleri
Sets: Carlo Tommasi
Costumes: Ute Frühling
This year the Munich Opera Festival included only one performance of this Rossini opera, with Peruvian tenor Juan Diego Flórez as Count Almaviva. Seldom would it have been been more appropriate to revert to the opera's original title, Almaviva o sia L'inutile precauzione. Flórez completely influenced the outcome of the performance, making it a huge success rather than just one more Barber of Seville.
It is now 25 years since the stage production by Ferruccio Soleri premiered in Munich. It's a pleasant, traditional work that does not bother to add anything fresh to what has been seen so many times in the past. There is a revolving stage with the facade of Don Bartolo's house on one side and, on the reverse, the interior of the house, where most of the opera takes place. The set allows ample space for the singers to move about, and the costumes complement it.
The direction goes along a buffo road, especially with regard to Don Basilio and Don Bartolo, with comments added by other performers. I should mention the response of Juan Diego Flórez, disguised as Don Alonso, when Don Bartolo asks about his identity. The answer: Riccardo Muti! It was evident that singers were having a good time on stage, especially Flórez who is an excellent actor.
The music was again entrusted to Paolo Carignani, who offered a controlled reading but little Rossini style. Crescendos have always been the hallmark of the famous composer from Pesaro, but Mr. Carignani does not seem to share that idea. There were almost none, and it sounded more like Donizetti than Rossini. There were also some coordination problems in the ensembles that close the first act of the opera, perhaps due to the lack of rehearsals.
Juan Diego Flórez had the double merit of offering a magnificent Almavivas and, as I mentioned above, of shaping the performance as a whole. I think his voice has widened somewhat in the middle range, which does not prevent him from reaching the very top notes. It goes without saying that he brought the house down with Cessa di piu resistere. I have the impression that if he continues this evolution, there will not be many more Almavivas by Juan Diego Flórez. We'll miss them.
Rodion Pogossov was a competent Figaro. His baritone is reduced in size and short on color and, in the end, he is somewhat monotonous.
Mezzo soprano Kate Lindsey offered an attractive voice in the part of Rosina. She sang with good taste and easy vocal agility, but her voice is rather small and her projection is not very good. In the ensembles, she was almost inaudible.
Renato Girolami was a Doctor Bartolo with a powerful voice and not a basso buffo in the best tradition. He tends to show that he has this strong voice, which is not very well suited to A un dottor della mia sorte. His vocal agility is somewhat precarious.
Something similar happened with Peter Rose in the part of Don Basilio. He was much better the night before as Baron Ochs. Soprano Hanna Elisabeth Müller was a luxury as Berta, particularly in her aria.
Once again, the theater was sold out. The audience was pleased with the performance and gave the biggest ovation to Juan Diego Flórez after Cessa di piu resistere, exactly two minutes and seven seconds. At the end there were cheers for everyone, and especially for the Peruvian star.
José Mª Irurzun