Austria  8th Schloss Laudon Kammermusikfestival to Illuminate More Corners of the 20th Century Quartet Repertoire (SS)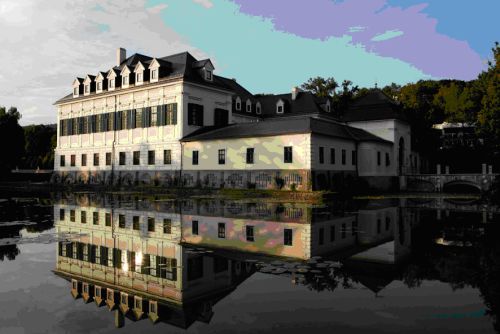 For the last seven years the Vienna-based Aron Quartet (stylized aron quartett) have provided an upbeat to the new musical season with their Kammermusikfestival Schloss Laudon. Held in a moated baroque château at one of the western entry points to the Vienna Woods, the festival takes place this year with a daily concert from August 25 to 30.
The artistic impetus behind the event is the revival of chamber works by composers oppressed by the Nazis – applied broadly to encompass those who were murdered, those who fled, those who stayed, and the odd name from outside the Nazi-occupied territories and satellite states (one of this year's composers, Mario Castelnuovo-Tedesco, fled Italian fascism). The music performed isn't limited either to 'exile music' or works written during the years of fascist rule in Europe. Karl Weigl, Austrian émigré and composer of eight string quartets, features on August 25 with a performance of the third quartet he wrote in 1909.
Besides Castelnuovo-Tedesco and Weigl, oppressed composers programmed this year include Hanns Eisler, Joachim Stutschewsky, Bohuslav Martinů, Zoltán Kodály, Erich Wolfgang Korngold and Arnold Schoenberg. Part of the festival's identity since its inception has been the principle that these composers aren't profiled in isolation or 'ghettoized', as the aron quartett has put it, but performed alongside standard and less familiar works from the 18th and 19th century. Some concerts end up looking not so different from mainstream programming, others are more eclectic.
The opening concert on August 25 features the Ravel string quartet, Eisler's 1938 string quartet, and Chausson's op. 21 Concert for violin, piano and string quartet. Karl Weigl's third quartet is programmed the next night alongside Schubert's quartet no. 15 in G major and Julia Purgina's fourth quartet, written in 2013. Female, young, and herself a one-time quartet player with Vienna's ensemble LUX, Purgina brings a different voice to a 'contemporary work' spot which has seen some uniform choices since it was introduced in 2011. At the festival's halfway point there's a violin & cello duo evening on the 27th with Klara Flieder and Christophe Pantillon playing duets by Stutschewsky, Eisler, Martinů, Kodály, and some of Stutschewsky's Bach arrangements thrown in. Pantillon, the aron quartett's cellist, will talk before the concert about Stutschewsky as a representative of the New Jewish School.
Castelnuovo-Tedesco's second piano quintet and Korngold's first string quartet bookend Dvořák's popular 'American' quartet in the fourth concert, followed by a Liederabend for the final of the evening concerts on Saturday 29. Mezzo Janina Baechle will sing songs by Mahler, Korngold and Eisler, with the aron quartett joining her for Chausson's 'La Chanson perpétuelle' and Respighi's 'Il Tramonto'. The final concert takes place at 11:00 on Sunday 30, with a Pleyel string quartet, Schoenberg's Ode to Napoleon, and Beethoven's third Razumovsky quartet.
Schloss Laudon is easily commutable from the city center with a 35 minute public transportation ride. The interior and grounds might ring a bell as a former setting for the ballet interludes from the New Year's Day concert TV broadcast.
Seb Smallshaw