Argentina 'Bayreuth in Buenos Aires' And More In Interesting Teatro Colón 2015 Season (JSJ)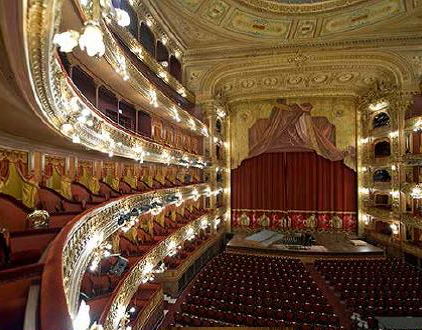 Almost at the end of the last working week before the end of year holidays, the Teatro Colón slipped out its 2015 season – by email in place of the usual press function, and dispelling the rumours doing the rounds of a much reduced season. Nevertheless the programme is down by one work (if one counts a double bill as one) – the announced season opener Berlioz's Les Troyens, which has been given just once before (in 1964), is off. There is also no operatic contribution this time from Daniel Barenboim in his second 'Festival of music and reflection' (with Martha Argerich). However, there is still plenty of interest to come.
The season opens with a new production of Massenet's Werther by Hugo De Ana with Ira Levin the conductor on April 14. The cast includes Ramón Vargas in the title role and Anna Caterina Antonnacci as his love Charlotte, while Jaquelina Livieri will play her sister Sophie, Cem Beran Sertkaya her betrothed Albert and Alexander Vassiliev her father Bailli.
A new production of Donizetti's comic L'elisir d'amore follows on May 8. Sergio Renán is the director and Ivan Ciampa the conductor, and the principals include Adriana Kucerová as the flirtatious Adina, Ivan Magri as the lovelorn Nemorino, Giorgio Caoduro as the self-important sergeant Belcore, and Simón Orfila as the itinerant quack Dulcamara.
Luca Francesconi's 2011 'epic' Quartett will have its Argentine premier opening June 16. This production from La Scala de Milán is by La Fura dels Baus with Brad Lubman the musical director. Principals include Allison Cook as the Marquesa de Merteuil and Robin Adams as the Vizconde de Valmont.
José Cura returns once again as director, this time with his Opera Liège production of Cavalleria rusticana and Pagliacci in a double bill – also taking the role of Canio in the latter – opening July 14. Roberto Paternostro is the musical director. Principals in 'Cav' include Enrique Folger as Turiddu and Guadalupe Barrientos as his crossed lover Santuzza. In 'Pag' Mónica Ferracani is Canio's wife Nedda, Fabián Veloz the clown Tonio, Gustavo Ahualli Nedda's lover Silvio, and Sergio Spina the actor Beppe.
Verdi will be represented with Don Carlo, in a production by Eugenio Zanetti with Ira Levin conducting, opening September 20.  Ramón Vargas takes the title role, Tamar Iveri as Elizabeth de Valois, Violeta Urmana as Princess Eboli, Fabián Veloz as Marquis de Posa, Alexander Vinogradov as Philip II and Alexei Tanovitski as Grand Inquisitor.
Prokofiev's Fiery Angel will have its revival after more than four decades at the Teatro Colón in a new production opening November 3. Ira Levin is once again on the podium and Florencia Sanguinetti directs principals including Vladimir Baykov as Ruprecht, Elena Popovskaya as Renata, Roman Sadnik as Agrippa von Nettelsheim/Mefistófeles, and Alexei Tanovitski as the Inquisitor.
And to close the season a new production of Parsifal opening December 4, also with a long gap of almost three decades since the last one. With the difficulties over the so-called "Colón Ring" of 2012 presumably buried, Katharina Wagner will direct what will amount to a "Bayreuth in Buenos Aires" with Bayreuth participants in both production and cast. Among them will be Christopher Ventris in the title role, Irene Theorin as Kundry, Stephen Milling as Gurnemanz, Ryan McKinny as Amfortas (to debut at the Bayreuth Festival in 2016), and Kay Stiefermann as Klingsor. Roberto Paternostro will be on the podium for what promises to be a crowning event in this 5th anniversary year of the Teatro Colón's reopening (to be celebrated in a special classic/jazz/tango series).
Teatro Colón's 2015 Season Updated (JSJ)
In one of his first acts as the new director general and artistic director of the Teatro Colón, Darío Lopérfido has cancelled the contract with the controversial co-director of the Bayreuth festival and great granddaughter of the great German composer, Katharina Wagner, to produce the planned new production of Parsifal in December.
 Reportedly telling the publication Ambito.com that her name was not liked within the doors of the Teatro Colón, he said the episode with the reduced so-called 'Colón Ring' in 2012 (when she left during the production stage, apparently because of a failure of the house to be sufficiently advanced with it) was "not a good precedent and had left a bad taste".
 The production will now be taken over by Marcelo Lombardero, who until crisis hit La Plata's Teatro Argentino in 2012-13, was the artistic director. There, among other works, he produced a well-regarded Tristan und Isolde in 2011 and in 2012 a localized Das Rheingold as the first part of what was an eventually aborted Ring cycle.
 The cast for Parsifal is supposed to remain as programmed, with Christopher Ventris in the title role and including Irene Theorin (Kundry), Stephen Milling (Gurnemanz), Ryan McKinny (Amfortas) and Kay Stiefermann (Klingsor). However, Roberto Paternostro, the programmed musical director, is also being replaced by Alejo Pérez who, likewise until its crisis, was at the Argentino as its principal conductor and also worked alongside Lombardero on the two Wagner productions.
 Lopérfido has also declared that the production of Parsifal will form part of a special 'season' of works drawn from across the Colón's programmes that will be open to people under the age of 35 years at 40% discount.
 The second announcement concerning opera is that South African Brett Bailey's Democratic Republic of Congo-set adaptation of Verdi's Macbeth will be presented in the Teatro Colón (no dates given yet). The work had been planned as part of the Buenos Aires International Festival (FIBA), of which Lopérfido was and continues as director. However, it will not form part of the opera subscription season.
 Jonathan Spencer Jones