United States Strauss, Ariadne auf Naxos: Soloists, Curtis Opera Theatre and Opera Philadelphia, Chas Rader-Schieber (director), David Zinn (set designer), Jacob A. Climer (costume designer), Mike Inwood (lighting designer), Curtis Symphony Orchestra, George Manahan (conductor), Perelman Theater, Kimmel Center, Philadelphia, 8.3.2015 (BJ)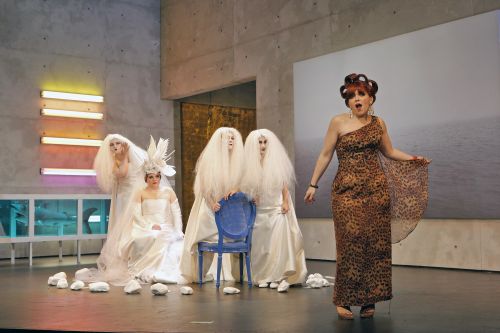 Cast:
The Major-Domo: Dennis Chmelensky
A Music Master: Sean Plumb
A Lackey: Vartan Gabrielian
An Officer: Evan Johnson
The Composer: Lauren Eberwein
The Tenor/Bacchus: Kevin Ray
A Wig-Maker: Doğukan Kuran
Zerbinetta: Ashley Milanese
The Prima Donna/Ariadne: Heather Stebbins
A Dancing Master: Roy Hage
Najade: Elena Perroni
Dryade: Anastasia Sidorova
Echo: Kirsten MacKinnon
Harlequin: Johnathan McCullough
Brighella: Mingjie Lei
Scaramuccio: Jean-Michel Richer
Truffaldino: Thomas Shivone
Supernumeraries: Rocco DeFinis
Catherine Logan
Maria Mavromatis
Ryan Tygh
S.O.C.T. = 25'
There are operas whose milieu is in a mythical world of magic and enchantment: think of such disparate examples as Die Zauberflöte and Rusalka. Then there are operas that live in an altogether more materialistic world, like Falstaff and Albert Herring. The central fascination of Strauss's Ariadne auf Naxos is the interaction it creates between those two sharply contrasted settings.
In the Prologue, it is the everyday concerns of the prospective performers that predominate, the practicality of Zerbinetta and her commedia dell'arte colleagues leavened only by the idealistic young Composer, whose dedication to art for art's sake is put under pressure by the need to make a living. But once we move to the Opera proper, with its island setting and its central theme of Princess Ariadne and her highfalutin, often vaporous imaginings, the worldly four-plus-one do not disappear from the scene. Rather they spark an absorbing study of the widely different values of those two worlds. The fascination is heightened, for any well-informed spectator, by the consciousness that Richard Strauss himself lived in both worlds, for while he was a canny businessman, always willing to cut or otherwise modify his works for practical purposes, the inspiration that those works display could only have come from a mind attuned to higher things. And the central fascination of this inexhaustibly inventive and thoughtful production, for me, was that it made me more vividly conscious than ever of the conflict between those worlds—and more inclined than ever to side with commedia dell'arte canniness rather than ditsy notions about the Messenger Who Should Come and whisk the admittedly much wronged Princess off to A Better World.
A large part of the reason for my craven capitulation to the everyday, in addition to director Chas Rader-Shieber's prodigality of entertaining and even uproarious ideas, was the quality of Ashley Milanese, the young singer who took the role of Zerbinetta. I usually think of Zerbinetta as a sort of tiresome but necessary element in the piece, rather like the Fiakermilli in Strauss'Arabella. But both dramatically and musically Ms. Milanese commanded the inner strength, and the inner probity, to remind one that practical-minded persons have ideals too, and it was the progress of her relationship with the Composer that therefore became the central theme of this wonderfully many-sided work. It helped that she sang better than anyone else on stage. As the Composer, Lauren Eberwein wielded a voice of some quality that needs to be liberated from the pervasive veil that comes close to negating its beauty, and Heather Stebbins was firm and conscientious rather than magical in her negotiation of Ariadne's intensely rapturous lines.
The rest of the cast was thoroughly competent, and the young bloods of the commedia dell'arte group made the most of their many opportunities to amuse and also charm. Dennis Chmelensky's made the Major-Domo (a speaking role) a suitably odious personage, and the mythical group of Naiad, Dryad, and Echo, all splendidly coiffed with voluminous white manes, surrounded Ariadne with touching solicitude, no trace of the prosaic atmosphere that directors too often project onto them, and a welcome willingness to respond to the Fab Four of the commedia group when they arrive on stage.
I found David Zinn's set a tad ugly—would the richest man in Vienna really have lived in a sort of bunker?—but it did its job of at once proclaiming and undercutting wealth, and Jacob A. Climer's costumes were perfectly suited to their various characterizing duties. With conductor George Manahan leading the talented musicians of the Curtis Symphony Orchestra in a clean and skillfully paced account of Strauss's sparkling score, Prologue and Opera alike were splendidly served musically as well as dramatically.
Bernard Jacobson
(Were you wondering what S.O.C.T. = 25' might mean? Well, I am so fed up with the tired directorial cliché of having operatic characters stand on chairs that I am thinking about instituting "Standing-On-Chairs Timetable," a running count of how long it takes before one of them, usually with no obvious purpose, jumps up onto the seat. It was 25 minutes in the present case. But I can forgive Mr. Rader-Shieber for that, in the light of the generally superb show he crafted for us.)