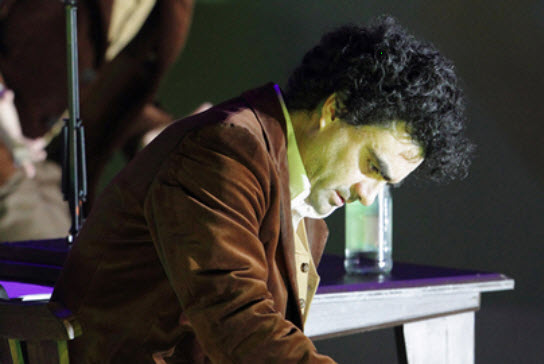 Germany Offenbach: Les Contes D'Hoffmann, Bayerische Staatsoper Orchestra and Chorus, Constantin Trinks (conductor), Nationaltheater, Munich, 28.3.2015 (JMI)
Cast:[elbat]
Hoffmann: Rolando Villazón & Arturo Chacón-Cruz
Lindorf,Coppelius, Dr. Miracle, Dapertutto: Christian Van Horn
Nicklausse: Angela Brower
Olympia: Jane Archibald
Antonia: Serena Farnocchia
Giulietta: Brenda Rae
Cameos: Kevin Conners
Spalanzani: Ulrich Ress
Schlemil: Christian Rieger
Crespel/Luther: Peter Lobert
Antonia Mother's Voice: Qiulin Zhang
Nathanael: Dean Power
Hermann: Andrea Borghini
Wilhelm: Petr Nekoranec
Production: Bayerische Staatsoper and London's English National Opera
Direction: Richard Jones
Sets: Giles Cadle
Costumes: Buki Shiff
Lighting: Mimi Jordan Sherin
With any production of this opera, one needs to be aware of which version is being offered. It's well known that Offenbach left the work unfinished and that parts of the orchestration were destroyed in a fire at Paris's Salle Favart in the late 19th century. Munich uses the critical edition by Michael Kaye and Jean-Christophe Keck (which is the same one that Barcelona's Liceu put on two years ago). Differences arise, as usual, in the Venice act: the so-called Septet disappears, there is an aria for Giulietta which is best-suited to a light-lyric soprano, and the story returns to the original ending where Giulietta dies, having accidentally drunk poison prepared for Nicklausse. There are also some novelties in the Epilogue, especially in the last scene when all the characters come on stage and accompany Nicklausse's final aria.
 This production by Richard Jones premiered in Munich in October 2011, with Diana Damrau singing the parts of all the heroines. There is a simple stage with a large room that is basically the same for all the acts. In the prologue, it is first Hoffmann's room and then becomes Luther's Tavern. Different atmospheres in the other acts are achieved through careful lighting  ̶  essential in this production. The costumes are appropriate, fun in the case of Olympia and elegant for Giulietta.
 The staging is quite successful, with Nicklausse played as a double of Hoffmann: both are dressed exactly the same, including their wigs. The Olympia act is conceived as a children's party with chorus members in suitable disguise. In the act of Antonia, the remarkable appearance of Doctor Miracle inside of the score that Antonia sings is a real theatrical coup. Perhaps the least interesting is the Venice act, with a rotating mirror that plays with the theft of human reflexes.
 The musical direction was entrusted to Constantin Trinks: not yet  40, he has become one of the most in-demand German conductors, and for good reason. He's a reliable conductor, a true Kapellmeister, but I've always found him prone to abuse of orchestral volume, which occurred in this case. I don't believe that French opera is his best choice  ̶  he lacks finesse and emotion on many occasions  ̶  but nonetheless he drew remarkable performances from the Orchestra and Chorus of the Bayerische Staatsoper.
 Rolando Villazón interpreted Hoffmann in the Prologue and in Act I. All opera lovers know the problems this great artist has gone through in recent years, and he still has the sympathy and admiration of aficionados, particularly in Germany. Vocally, he is far from the great tenor he was, with a reduced and tight top. He knows his limitations and has a great ability to hide his weaknesses, escaping from difficulties whenever possible. He was a great actor here but a disappointing singer. In fact, at the start of Act II, it was announced that he was unwell and would be replaced for the remainder of the opera by another Mexican tenor, Arturo Chacón-Cruz, who had previously sung Hoffmann in this production.
 Given the circumstances, I must say that Chacón-Cruz was a treat. He knows the production, moves with ease on stage and has a voice that is adequate for the demands of the character. His biggest problems lie in a somewhat monotonous style that is based mostly on open sounds, and a compromised top range where he pushes significantly.
 American bass Christian Van Horn gave life to the four Evils (Lindorf, Coppelius, Dr. Miracle and Dapertutto) but rather modestly. His voice has amplitude but it's not particularly attractive, and his singing is quite impersonal.
 American mezzo soprano Angela Brower was good as Nicklausse, singing with gusto and emotion in her arias, although I found her a bit weak on the lower notes. I have liked her better on previous occasions, particularly when singing Mozart.
 This time, rather than a single interpreter of the heroines, there were three singers. Olympia was Canadian soprano Jane Archibald, who offered a flawless performance as the puppet, reaching the stratospheric notes without problems and offering a remarkable stage interpretation. Italian Serena Farnocchia was all right as Antonia, although somewhat impersonal both in timbre and singing. She is the kind of soprano that you soon forget.
 Finally, Giulietta was a surprising Brenda Rae. I say surprising, because this American soprano has a light-lyric voice, which does not seem suited in principle to the demands of the character of the Venetian courtesan. In this production, her Giulietta is certainly not the almost mezzo soprano of tradition. Ms. Rae was good  in her aria, but went unnoticed in the barcarolle. I would have preferred to see her as Antonia.
 The cameo roles were interpreted by Kevin Conners, who solved Frantz's couplets with ease and made Cochenille a funny maid. Ulrich Ress was good as Spalanzani. The voice of Antonia's mother was Qiulin Zhang, who was not particularly brilliant. Peter Lobert lent his sonorous voice to the characters of Crespel and Luther.
 Once again, the Nationaltheater was sold out. The audience gave a warm reception to the artists, but without great enthusiasm. The biggest applause was for Angela Brower, Jane Archibald and Arturo Chacón-Cruz.
Jose M. Irurzun