Switzerland    Rushton, Mendelssohn, Mahler  London Symphony Orchestra, Janine Jansen (violin), Daniel Harding (conductor), Tonhalle,  Zurich    29.5.15 (JR)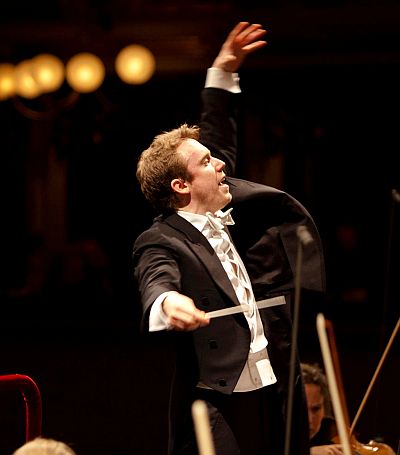 Rushton:   "I nearly went, there"
Mendelssohn:  Violin Concerto
Mahler:   Symphony No. 5
The name Edward Rushton will not, I suspect, be generally known in the music world: Rushton is a youngish personable British composer and pianist resident in Zurich who has now written for the opera, orchestra and choir with some success and acclaim. The Swiss retailer Migros commissioned him to write a piece for the London Symphony Orchestra on tour in Germany (the Alte Oper in Frankfurt a few days ago) and Switzerland (taking in Lucerne, Zurich, Geneva and Berne). Rushton based his piece for orchestra entitled "I nearly went, there" on Mahler's Fifth Symphony. Quirky title, quirky piece. He explains in the programme note that, from anecdotal evidence, Mahler reduced the amount of percussion in the symphony at the request of his wife Alma and Rushton's initial thought was to attempt to restore that level of percussion and he does so at the very start of his piece. "I nearly went, there" is I suspect meant to be a comment by Mahler along the lines of "This is what I wanted to compose but my wife wouldn't let me". Anyhow, Rushton then wanders off into his own eclectic sound world hinting at other elements of Mahler's works. I heard no snippets, however, of Mahler's Fifth, but rather Kurt Weill. Rushton's works (including an entertaining work for the Gemischter Chor Zürich – in which I sing – commissioned from him a few years ago) are witty and principally tonal; he likes to throw in unusual sounds, in this case some buzzing noises and whooshing sounds which had everyone guessing which member of the orchestra was making them and how. It was not, I suspect everyone's cup of British tea; it was probably the wrong audience – too many grey hairs and conservative Swiss. Nevertheless the playful piece had interest and was politely received if not with any degree of elation barring a few of Rushton's friends in the back row of the balcony.
Rushton is a friend of conductor Daniel Harding's from school days at Chethams in Manchester; they were also both at Cambridge though Harding left after six weeks to become Claudio Abbado's assistant. Harding was therefore a more than happy collaborator to conduct Rushton's piece. The orchestra played dutifully and, probably, accurately.
Dutch violinist Janine Jansen came on stage for Mendelssohn's Violin Concerto wearing a long black dress with flashes of orange. Orange is the colour of the Dutch Royal family which hails from the House of Orange and is therefore also sported by the Dutch football team. Perhaps Jansen was celebrating the re-appointment of Sepp Blatter as FIFA President that very evening? I jest, of course. Jansen's sumptuous playing was mesmerizing throughout, though Harding had not got the measure of the hall's acoustics. The Tonhalle is not the Barbican, and the orchestra often drowned out the soloist.
Jansen knows this piece very well; it was hardly an innovative choice for this tour. Jansen's 1727 "Barrère" Stradivarius sounded sweet and the concerto was a master class in how the concerto should be played: the Andante was delicate, the first movement cadenza had the audience enraptured and the Finale showed off her deft and lightning finger work.
Mahler's "Fifth Symphony" needs no introduction. The LSO's principal trumpet cut through the air like a diamond to open the work and we sensed immediately we were listening to one of the world's top orchestras. The strings may not perhaps have the bloom of the Viennese or the Concertgebouw or the strength of the Berliners but the woodwind are finely blended and the brass suitably sonorous. It was good to see many of the experienced principals still in situ after many decades.
Harding is a keen young champion of Mahler's works (he is closely associated with and Honorary Conductor of the Mahler Chamber Orchestra, which is a spin-off from the Gustav Mahler Youth Orchestra founded by Claudio Abbado). It must be hard nowadays for a young conductor to make his or her personal mark in standard repertoire such as Mahler symphonies. It has all been done before, whether "straight" such as from Haitink or Abbado, cool and analytical (Boulez) or neurotic (Tennstedt) and bombastic (Bernstein). Of course many of today's new audiences need an introduction to Mahler's works and Harding is a strong and accomplished advocate. His reading was "no nonsense", he played a straight bat. If I have a quibble, it's Harding's choice and use of varying tempi. Sometimes they were considerably slower than I expected, occasionally faster – only the Adagietto got it spot on, with no hint of undue sentimentality. On the plus side, and to his credit, Harding uncovered some passages, particularly in the second violins, which normally remain under the radar; he also whipped up the orchestra in the closing pages to considerable dramatic effect.
On a entirely non-musical note, it was shameful that the powers that be in the Tonhalle could not allocate a changing room to the double bass section. Their instrument cases lined up at the back of the foyer providing a partial screen and members of that section were forced to change in almost full view of the audience entering the hall.
John Rhodes