Nielsen, Mahler, Nielsen: Hanno Müller-Brachmann (bass-baritone), Gillian Keith (soprano), BBC Philharmonic Orchestra/John Storgårds (conductor), Bridgewater Hall, Manchester, 18.6.2015 (MC)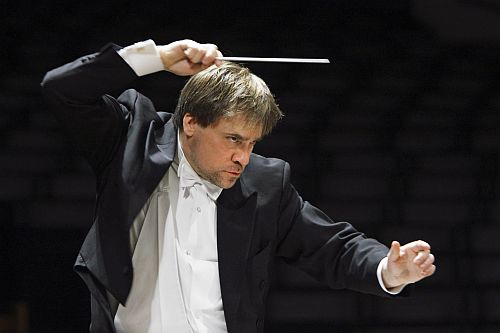 Nielsen: Symphony No. 6 'Sinfonia semplice'
Mahler: Songs from 'Des Knaben Wunderhorn';Rheinlegendchen; Das irdische Leben; Revelge; Lob des hohen Verstandes
Nielsen: Symphony No. 3 'Sinfonia espansiva'
At the Bridgewater Hall the BBC Philharmonic Orchestra's concerts of the complete Nielsen symphonies entitled 'A Celebration of Life' and conducted by John Storgårds have proved a riveting series, performed with a rarely achieved sense of integrity. Between October 2012 and February 2015 Storgårds and the BBC Philharmonic were in the studio at MediaCityUK, Salford recording these Nielsen symphonies, resulting in a recently released box set on Chandos, works both conductor and orchestra know scrupulously.
With four Nielsen symphonies already performed tonight's concert included the two remaining works Symphony No. 3 'Sinfonia espansiva' and Symphony No. 6 'Sinfonia semplice'. Ideally I would have much preferred tonight's pair of symphonies played chronologically. I can only think that playing the earlier work last was because of its longer length, some seven or so minutes, being more suitable for a second half and it's more jubilant conclusion.
A product of the years between the two World Wars Nielsen's final Symphony No. 6 known as 'Sinfonia semplice' is a tough nut to crack as is the intention behind the curiously deceptive title. Certainly his least immediately appealing symphony, it's a work which still challenges the listener today. He was a composer who strongly felt that 'life-force' was all encompassing, and here Nielsen's audacious harmonic schemes and jarring dissonances are paramount. At times it felt as if Nielsen had settled on a number of abstract ideas rather than arrange a cohesive whole which gives 'Sinfonia semplice' its distinctive, rather enigmatic character. I'm not sure I like the work but, my goodness, I certainly respect it. Steadfastly assured, Storgårds confirmed his prowess with this testing score providing a spontaneously sounding account, that felt decisive and full-blooded yet revealing plenty of detail from Nielsen's complex textures. Eminently rewarding was the final movement, a theme and set of variations, which contains some intriguing writing, especially Variation 6 – a haunted rather disconnected waltz which soon gets knocked out of the way with angry brass outbursts. It is nice to know it wasn't only Malcolm Arnold who blew brass raspberries; as the symphony comes to a riotous conclusion Nielsen's final note is an irreverent raspberry on the tuba.
In this concert series the thinking behind including twelve orchestrated settings from Mahler's Des Knaben Wunderhorn was the opportunity of hearing works by this truly symphonic master working in a different genre. As I have written before, although the orchestration is consistently outstanding it is hard to take the triteness of most of these German folk texts seriously. The Bridgewater Hall acoustic proves tricky for many singers to be clearly heard over an orchestra, but there were no such problems with German bass-baritone Hanno Müller-Brachmann – a splendid singer who has impressed me consistently on record and in the concert hall. Despite his significant stage presence Müller-Brachmann couldn't make the songs better than they are but did a sterling job displaying an appealing, fluid tone throughout his range, excellent diction and a firm and robust projection. 'Revelge' ('Reveille') an eerie march of dead soldiers with prominent snare drum was the pick of the songs. In Müller-Brachmann's assured performance of 'Revelge' his low register opened out to splendid effect.
After the rather iconoclastic 'Sinfonia semplice' it was good to return to the European symphonic mainstream with the distinctive Nordic flavour of the Symphony No. 3 'Sinfonia espansiva'. It seems that Nielsen elevated the tempo title of the first movement to become the subtitle of the symphony. Storgårds was clearly revelling in Nielsen's characteristic sound world with the warm and colourful textures emerging with unaffected expression. In the discerningly unhurried second movement Andante pastoral, bass-baritone Hanno Müller-Brachmann and soprano Gillian Keith took the two wordless vocal parts creating a magical effect as good as I have heard in this work. With Storgårds ramping up the proceedings the optimistic Finale was even more memorable. Fresh and reinvigorating, with a sense of striding out on a mountain walk in breathtaking landscape this movement could easily have come out of Richard Strauss's 'Alpine' Symphony. How the Bridgewater audience relished Storgårds's advance to the determinedly stirring and forceful conclusion! All evening the playing of the orchestra seemed to engage the sensibility of the audience. In particular the sagacious volumes of the brilliantly played brass sounded effective and the gloriously full body of unified strings is becoming a force to be reckoned with on the world stage. This was a performance of the 'Sinfonia espansiva' that sent me away on my motorway trek home knowing I had heard something special.
I've enjoyed every second of my immersion in the Nielsen symphonic output. What more can I say, this series of the complete Nielsen symphonies has been an unquestionable triumph for the BBC Philharmonic under John Storgårds. With the success of the Nielsen series one wonders where the BBC Philharmonic will turn next. Looking ahead maybe 2019 the centenary year of Mieczysław Weinberg's birth will prompt a survey of his works.
Michael Cookson
Introduced by Martin Handley the concert was broadcast live on BBC Radio 3 and will be available for 30 days via the Radio 3 website and BBC iPlayer Radio.