Edinburgh International Festival 2015 (2) – Vaughan Williams, Schubert, The Nash Ensemble, Queen's Hall, 08.08.2015 (SRT)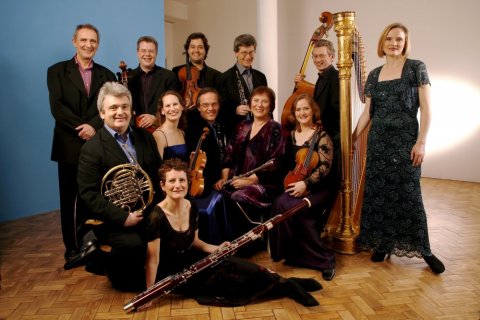 Vaughan Williams    Piano Quintet
Schubert                   Octet
One of the great joys of the Edinburgh Festival is the sheer variety of what is on offer.  OK, the Proms might have more music, but the vast majority of it boils down to an orchestra in the Albert Hall.  You can't imagine a much greater contrast between the spectacular outdoor theatrics of last night's Harmonium Project and this morning's chamber music in the intimate surroundings of the Queen's Hall.  It's also a typical example of the Festival's eclectic programming to pair classical music's favourite Octet (sorry, Mendelssohn!) with Vaughan Williams' early, rarely heard Piano Quintet.
 Hearing it played with such conviction by the Nash Ensemble made me wonder why on earth the youthful Vaughan Williams suppressed it in the first place.  The first movement has a propulsive forward momentum that came into its own with the dark string textures which would become so key in Vaughan Williams' mature music.  The slow movement, on the other hand, was full of interior lyricism, led with architectural clarity by the piano before the strings took it up with melting beauty.  The finale is a set of variations whose theme seemed to be inflected with the church modes that would characterise much of Vaughan Williams' choral music, fairly severe in its first iteration but dissolving into something very sweet, before its final variation, impressively magisterial, wound the whole work down to a surprisingly peaceful close.
Schubert's Octet made a very different but strangely fitting companion piece, and confirmed the Nashers to be a model of responsiveness and integration, particularly in the Variations, which everybody on stage seemed to be enjoying enormously.  They attacked the main subject of the first movement with such joi de vivre as to be utterly infectious, and their perfectly balanced texture gave just the right level of prominence to the wind instruments, never finer than in the melting sweetness that characterised the opening of the Adagio.  With a bright, vigorous Scherzo, a winsomely elegant Menuet, and a finale whose slow introduction seemed pregnant with all the drama and anticipation of an operatic scena, this was a thrilling way to kick of 2015's Queen's Hall series.
The concert was recorded by BBC Radio 3 and will be broadcast on Thursday 13 August.  See here for details.
The 2015 Edinburgh International Festival runs until Monday 31st August at venues across the city.  For full details go to www.eif.co.uk
Simon Thompson