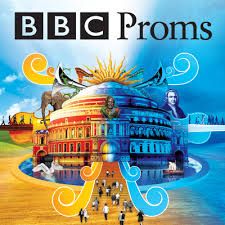 United Kingdom Prom 26 Walton, Vaughan Williams, Grace Williams, Elgar and Walton. Chloë Hanslip (violin), Ailish Tynan (soprano), BBC National Orchestra of Wales/Tadaaki Otaka (conductor), Royal Albert Hall , London, 5.8.2015 (CST)

Walton: 'Spitfire' Prelude and Fugue
Vaughan Williams: Violin concerto in D minor 'Concerto Accademico'
Grace Williams: Fairest of Stars
Elgar: Overture 'Froissart' op. 19
Walton: Symphony No. 2 Op. 95
Tadaaki Otaka's long association with the BBC National Orchestra of Wales stretches back to 1987 when he became the orchestra's Chief Conductor, a position he was to hold until 1995. His current position of Conductor Laureate inevitably sees him visit Wales less frequently (he is also Permanent Conductor of the NHK Symphony Orchestra, prior to which he had spent a three year stint with the Melbourne Symphony Orchestra), yet the respect in which he is held by the BBC NOW seemed to hover like a halo over this engaging all-British Prom.
William Walton is a favorite composer of Otaka's and although it was the concluding performance of his Second Symphony that was to emerge as the highlight of concert, the 'Spitfire' Prelude and Fugue proved to be a welcome opener, marked by sonorous, beautifully balanced brass in the opening of the Prelude, lush strings in the stirring ensuing march theme and a rhythmic vigour in the Fugue that was to play a telling part in the Second Symphony later in the programme.
On the evidence of its sparkling performance here by Chloë Hanslip, it is something of a mystery that Vaughan William's effervescent, Bachian-modeled Violin Concerto in D minor remains a little known work in his output. The tag of 'Concerto Accademico' perhaps doesn't help its case in this respect, although in reality it is a work that is anything but academic in its spirited, melodious aura, its two outer movements framing the exquisitely beautiful Adagio at its heart.
Neglected as it might be, it's a work that is rightly viewed as a hidden gem by aficionados of Vaughan Williams' music and if ever there was a strong case made for its reputation this was it. Displaying dynamism, character and crystal clear articulation in the deceptively tricky concluding Presto, Chloë Hanslip approached the work with both vigour and relish, although it was the aching beauty of line in the Adagio, aided by gloriously subdued accompanying dynamics from the strings of the BBC NOW that cast a clear spell over the Royal Albert Hall audience.
The soloist's deeply affectionate encore of Elgar's Salut d'amour could hardly have been better chosen.
It is perhaps notable that in his brief interview in the concert programme  Tadaaki Otaka names Grace Williams last in a list of three Welsh composers – namely William Mathias, Alun Hoddinott and Williams herself – that were the pivotal Welsh creative figures in performance terms during his years with the BBC NOW.  That's sheer coincidence perhaps, but the fact remains that Grace Williams is a neglected figure outside of her native country – the same could be said of Daniel Jones and his impressive if arguably over-cerebral cycle of thirteen symphonies.
Yet Williams' distinctive melodic voice was evident in the very opening bars of Fairest of Stars, a highly demanding concert aria for soprano, setting a text drawn from Milton's Paradise Lost and sung with both passion and stratospheric range by the excellent Ailish Tynan. That issue of range did create problems at times as the words became all but inaudible in soprano writing that is at times almost coloratura-like in its extreme upper register and line. Yet the overall impression was of an atmospheric, emotionally powerful work written from the heart. Williams' better known Sea Pictures is more accessible on first hearing but this was a welcome first Proms performance of music by a composer whose musical life was inextricably bound up with Wales and its scenery.
The voice of youth was very much to the fore in the performance of Elgar's Overture 'Froissart' that opened the second half of the concert. Although aged 32 when he wrote it, this is the music of a composer still trying desperately to find his way in the musical world and is music underpinned by a spirited, chivalric energy that seems a long way from the emotional complexity of a work such as the Second Symphony, played the previous week at the Proms in magnificent fashion by the Hallé and Sir Mark Elder (review). 'Froissart' is 'unmistakably Elgar, though, and that youthful optimistic energy was evident from the opening bars of what proved to be an ebullient reading by Otaka and his Welsh forces.
It is perhaps surprising these days that Walton's Second Symphony was viewed with what amounted to disdain by critics and audience alike following its premiere in 1960. Stylistic issues were perhaps partly to blame at a time when modernism was rearing its head prominently in the British musical establishment although there is little doubt that the gulf between the work and its vastly differing predecessor of twenty-five years previously played a major part.
Otaka's opening Allegro molto was by turns mercurial, snarling, elusive and at times downright menacing, marked by a sense of irony and pointed by spiky rhythmic energy, driving momentum and a noticeable awareness of the intricacies of Walton's strikingly transparent scoring. The gritty, committed playing of the opening movement was replaced by impassioned, heartfelt string playing in the central Lento assai that served to make the effect of the ensuing break down of the music to flutter-tongued brass and woodwind all the more unsettling, whilst the bold, bracingly powerful twelve note statement that opened the final movement variations – surely Walton cocking a snook at his detractors – was almost brutal in its crushing impact. This was Walton played with both innate understanding and abundant technical brilliance.
It is to the immense credit of a dedicated Proms audience that the Royal Albert Hall was close to full on a night when a London Underground strike was to wreak travel havoc after the concert. Those that made the effort to attend will not have regretted it.
Christopher Thomas